Have you heard of Stoney Clover Lane? If you haven't, I'm here to share with you what it is and why I like their products. *This post contains affiliate links which earns me a small commission if you use my links. Thank you!*
Stoney Clover Lane is a travel accessory brand by sisters Kendall and Libby Glazer. What started out as a hobby making bracelets has turned into a successful business! They opened up their first store in Palm Beach in 2018 and is named after the street they grew up on. In addition to their Palm Beach location, they have store fronts in East Hampton, New York City, Newport Beach, New Orleans, and Nashville.
I have been a fan of the brand since 2020 but didn't make my first purchase until later during the summer of 2020. Their Hello Kitty Collaboration (it's sold out now) is what made me go for it and buy a few items. After receiving my fanny pack and patches, I saw how the quality was better than I thought and I decided to invest in more pieces. Then in November of 2020, they opened up a storefront in Newport Beach and it made me so happy to be able to see bags and patches in person!
So what's the big deal with their products? They look like nylon pouches and bags you can get anywhere. Well, one of the things that makes Stoney Clover Lane so unique is their customizable accessories. They have various pouches, fanny packs, duffle bags, backpacks and totes but the patches give you the ability to make each pouch or bag your own. You can really let your creativity shine! Another thing I personally love about the bags is that they are better quality than other similar travel accessories, backpacks and totes I have used in the past. The hardware is substantial and the quality of the materials is thicker and very durable.
Classic Core Colors
Stoney Clover Lane offers pouches and bags in various sizes in classic core colors, collaboration prints and special seasonal collections throughout the year. They also sell travel accessories, patches, and have in-store exclusives. Their core colors pouches and bags are available all year long while collaboration and seasonal items are available until they sell out.
The classic core colors are the following and are available all year long.They occasionally swap out their classic core colors and items but these are the products that have been available for the last year.
Flamingo
Bubblegum
Peach
Lemon
Lime
Avocado
Cotton Candy
Sky
Periwinkle
Lilac
Grape
Blac
Sand
Noir
Sapphire
They come in the following bag styles.
Fanny Pack
Pencil Case
Mini Pouch
Small Pouch
Large Pouch
Clear Flat Pouch
Clear Travel Pouch
Mini Mirror Open Top Pouch
Mirrored Open Top Pouch
Textured Open Top Pouch
Jewelry Roll
Mini Tote
Classic Tote
Mini Backpack
Classic Backpack
Mini Duffle Bag
Duffle Bag
Passport Case
Travel Case
Luggage Tag
These are some other products that they've made in the past: clear front pouches, flat pouches, cell phone wallets, scrunch purses, phone cases, packing cubes, woven totes, heart-shaped pouches, heart totes and more.
Collaboration Prints
As I mentioned earlier, Stoney Clover Lane also collaborates with various brands- usually brands that align with their company or personal sense of style. When they collaborate with a brand, they offer bags, pouches, and sometimes clothing or other travel accessories. The products are limited edition and often sell out. They are not offered in all bag styles.
Here are a few of the brands that they have collaborated with over the years:
Love Shack Fancy (no longer available)
Hello Kitty/Sanrio (no longer available)
American Girl
Target
My personal favorites have been Hello Kitty and Disney. I also love that they always come out with new collaborations and collections!
Customization
If you're lucky enough to live near one of their stores, you'll be able to get the whole Stoney Clover Lane experience and work with a customization specialist to design your pouch or bag with patches from their patch bar to make the piece truly yours. They even have an in-store seamstress who sews on the patches while you wait. Depending on how busy the store is, you can have your customized pouch or bag back that day or the next day. They will even mail it back to you but you do have to pay for shipping unless your total is $250 or more. There is a one-time customization fee per item (not per patch) so you can put as many patches on an item. I usually wait at the store or come back the next day or a few days later.
One common mistake that people make is not getting their patches sewn on their bags or pouches. I am guilty of having patch commitment issues but have been better about getting my items patched and sewn. The bags look a lot more polished and finished when they are patched but sometimes some prints look awesome without anything! If you're wondering what to patch on your bags, Stoney Clover Lane also has a SCL Design Concierge Instagram Account that can help give you ideas!
My Favorites and What I Use Them For
I own several of their bags and have tried to curate my collection to things I will love and use often. It's very tempting to buy more than you'll use because it's all so cute but my logical side makes me take a step back and be realistic about what I will really use.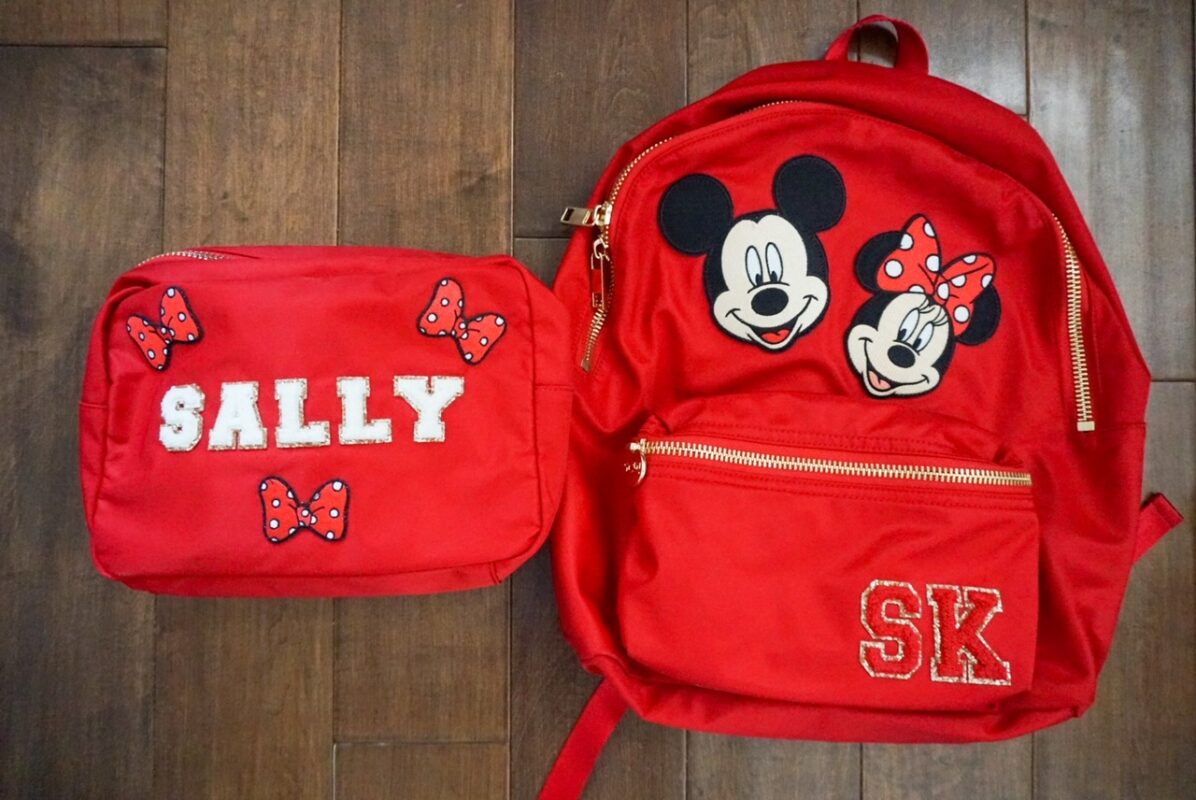 Classic Backpack
I love using my classic backpack for theme park days. The backpack doesn't have internal pockets or organization in the front pocket but I personally like it that way because I can just use my pouches to organize everything. I have had backpacks in the past with tons of pockets and I would forget what I put inside the pocket! It also doesn't have a water bottle holder on the outside but I just put the water bottle inside the backpack. You can fit two large pouches inside the classic backpack. You can even use it as a book bag for school. The straps have padding so it is comfortable to wear and I've never had the strap slip out of the hardware while using my backpack- even when I pack a lot inside!
Classic Tote
My classic tote will eventually be used as a carry-on item when I travel. The classic tote is really big and some people like to use it as a work bag. It can fit 2 large pouches, 2 small pouches and there's room for other items like a sweater or jacket.
Mini Tote
I use a mini tote every day as a purse. I usually put a small pouch and mini pouch inside to organize my makeup and other items. There's plenty of room for your computer, too! (I have a MacBook Pro.)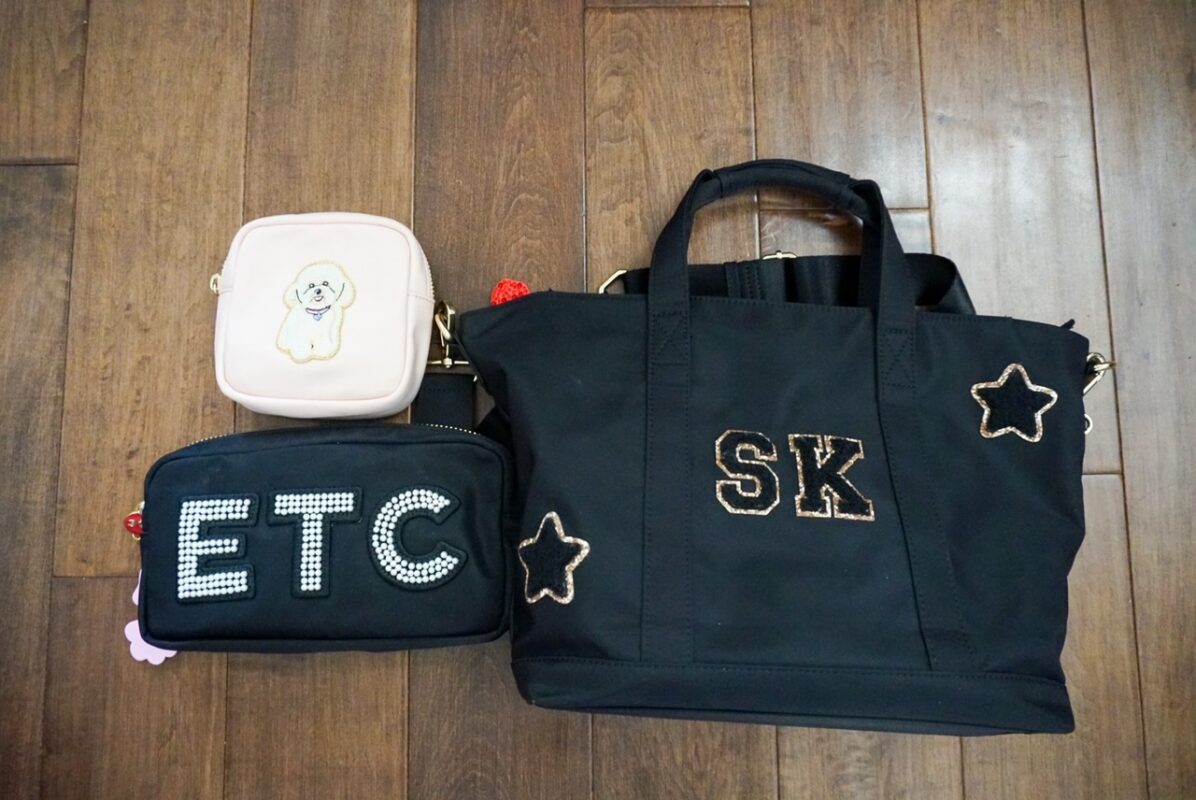 Large Pouch
I use my large pouch in my backpack on theme park days to put sunscreen, a small pouch with makeup and personal items, and whatever else I need. The large pouches make great travel pouches and can replace packing cubes. I roll up my clothes for a weekend and pack it up in the large pouches which fit great in a suitcase. I also use a large pouch to put all my planner stuff in with stickers and pens. It fits so much!
Small Pouch
The small pouch is great for organizing your purse. I tend to use it to put my makeup, small wallet, hand sanitizer, and extra masks. It's great for everyday organization!
Mini Pouch
Even though the mini pouch looks small, it can fit quite a lot. I usually use it in a fanny pack to put chapstick, hand sanitizer, medicine and a mirror. It can even be used as a small wallet!
Fanny Pack
This is probably one of my favorite items. It's such a nice size for running errands or solo theme park days. You can fit all your essentials (small wallet, keys, mirror, chapstick, phone.) I have several and love wearing it crossbody. The newer collaboration fanny packs have longer straps so they don't need a fanny pack extender. They even have Jumbo fanny packs which fit everything you need and more!
So Are They Worth It
Things being "worth it" are all relative. If you like it, it makes you happy and you can afford it, go get it. I love being able to customize my pouches and bags and it's brought me a lot of joy in the last few years with the world being up and down. I also love the community I've found through it. Geeking out over patch placement and new prints has been fun! It sometimes makes me want to buy other prints or bag styles I wouldn't have purchased otherwise. Like I said, I think the bags are better quality than many other bags on the market so to me they are worth it but to others, it might not be. To each their own.
Where Can You Buy It
Stoney Clover Lane's website is open 24 hours a day, 7 days a week. If their website is down, they will always keep their community informed via social media on their Instagram account. They also have a "Plan Your Buy" which is always sent via email (sign up for their email list on their website!) and posted on Instagram which shows all the bags and prices before a collection launches so it will literally help you plan what you want to buy.
You can also go into one of their store locations. Some small boutiques carry their products as well as Saks Fifth Avenue, Bloomingdales and Shopbop. I've also seen Anthropologie carry items from time to time. I'm lucky to live near the Newport Beach location at Lido Marina Village. The girls there are so wonderful and helpful!
Miscellaneous Information
I have cleaned my Stoney Clover Lane core bags in the washer on delicate and hung it to dry without any issues. I have not tried to clean any printed bags (like Hello Kitty). Some friends have used Emergency Stain Rescue Stain Remover to spot treat stains. As always, test it out before using it on your bag.
Some friends have converted mini pouches or heart pouches into crossbody bags. The first person I saw do this was from this account. You need sharp scissors and these brass rivets and a crossbody strap. These are all things I've learned from my online friends who love Stoney Clover!
Will you be purchasing anything from Stoney Clover Lane? Let me know if you have any questions! I hope you love whatever you get!