As fans of Disneyland, we absolutely love the holiday season because of the festive decorations, new foods, and seasonal offerings that Disneyland and Disney California Adventure has to offer! This Halloween is no different as Disneyland Resorts celebrates Halloween at both Disneyland and Disney California Adventure.
Everyone gets excited as soon as the giant Mickey pumpkin is placed at the center of Main Street but this year, Disney California Adventure is just as festive if not more so with so many decorations throughout the entrance, Carthay Circle and Cars Land! We haven't had the opportunity to stay very long when it gets dark but the decorations during the day at Cars Land are so adorable with many photo ops, you will absolutely love it!
Favorite Things at DCA
There are so many amazing things to do, see, and eat during Halloween Time at Disney California Adventure! It was hard to narrow it down but here are a few of our favorite things this Halloween season at DCA.
Decorations
The decorations throughout DCA is amazing! As soon as you approach California Adventure, you're greeted by Oogie Boogie in front of a full moon as if he's unleashing bats! This totally sets the tone of Halloween Time at Disney California Adventure. It's a little bit more "spooky" with ominous music playing throughout the park.
Carthay Circle also adds to the magic with their beautiful purple banners, green lighting, and bats "flying" out of the windows at the top of the tower!
Characters in Costume
Mickey, Minnie, Donald, Daisy and Goofy are in costumes appropriate for the time period of the 1920s! They are available for photo ops along Buena Vista street at various times throughout the day!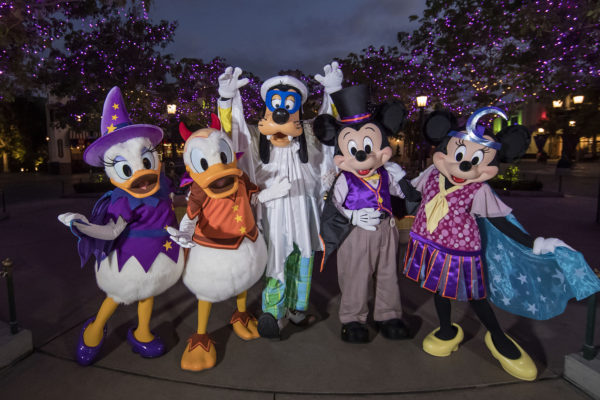 Cars Land Haul-O-Ween Cars
Cars Land Cars are in costumes and available for pictures. This is probably one of our favorite things because we love pictures! Their costumes are so adorable and my A was delighted to see them driving by with such creative costumes! Lightning McQueen is dressed up as a super hero, Mater is a van-pire, Cruz is a pirate, Red is a clown and DJ is a punk rocker! The entrance to Radiator Springs has a new addition- Scary the Scare-Car (looks kind of like a witch car.) You can hear the story of how Scary came to be while riding Luigi's Honkin' Haul-O-Ween!
Sometimes as you are walking on the trail from Bugs Land to Cars Land, you can see one of the cars off to the side for a photo op. It's right across from the Luigi's Honkin' Haul-O-Ween ride.
Food and Drinks
There are so many different treats and foods we want to try but we only had the opportunity to go to the Cove Bar. We had the Ghost Pepper Nachos which were amazing! Be sure to try it out while you're there! You won't regret it!
Disney Pixar's Coco
At Plaza de la Familia (Paradise Gardens), there are lots of activities for your kids for the upcoming Disney Pixar movie Coco! You can get complimentary face paint as soon as you enter to the right. There is also a floral crown cart for a fee. You can also get some Coco inspired Mexican treats. Everything was so beautifully decorated and so colorful! We can't wait to go back and spend more time there!

Headless Horseman
We loved seeing the Headless Horseman Statue on Buena Vista Street despite the fact that A didn't want to go see him up close! Instead, we admired him from the Starbucks across the street. Hopefully before the Halloween season is over, we can muster the courage to go take a picture in front of him!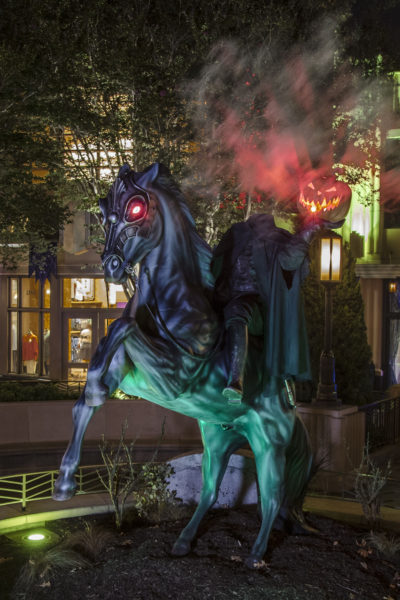 Must Buy Items
Another one of my favorite things at Disneyland Resort is the different "must buy" items that are available! You can't be a Disney mom or Disney fan without making sure you pick them up! This year they have the poison apple cup as well as the Oogie Boogie popcorn bucket for $15 each. Don't forget to be on the look out for those infamous Rose Gold Mickey Ears! They come in stock randomly!
Have you been to Disneyland Resort during Halloween? What are you looking forward to the most during Halloween time at Disney California Adventure? Be sure to visit from now until October 31st to enjoy all the festivities before they're over!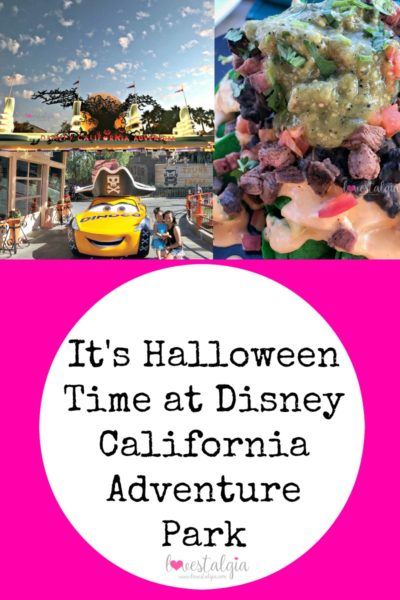 Check out my other Disney posts about Photo Ops at Disneyland, Packing Tips, and Outfit Ideas!
Photos courtesy of Disneyland News unless watermarked.