I can't believe it's already been two months since we started homeschooling! Time is going by so fast! I'll probably say this again and again all year! Anyway, I wanted to update you guys on how homeschooling has been.
As you know, I used to teach first grade for 14 years but that doesn't mean homeschooling my own child is easy. It's actually a little difficult because I had to "unlearn" the traditional views of school and figure out what works for my child and family. This is something I'll continue to learn as we go along. We are still trying to get in a "groove."
Typical Weekly/Daily Schedule
I homeschool A 4 days a week and she goes to an Enrichment Academy class through Inspire Charter Schools once a week for 3 hours. This is our typical schedule:
Wakeup, brush teeth and eat breakfast
Language Arts– Morning message, phonics lesson, writing, making words, reading, read stories, writing on white boards
Math–  Counting, one more, one less, count on. We also work on cutting with scissors to improve fine motor skills.
Science, Social Studies or Art– we usually do something from KiwiCo or Ivy Kids Kit. I also got a few Cultured Owl Kits. We also go to an art class once a week.
Field Trips– We have memberships to a couple of museums, zoos and museums.
Library– We go to the library every week or every two weeks to borrow books.
For Language Arts and Math- we spend anywhere between 1.5-2 hours with lots of breaks in between. So what do I do with all that extra time? We color, read more books, go to Disneyland, meet up with friends, run errands, or go on a field trip. One of the things I love about homeschooling is that learning never stops!
Things That Have Been Hard
Finding a community. I still would love to find a homeschool group/community nearby but it's has been harder than I thought. There are Facebook groups but I just need to be more proactive about attending meet ups and finding a group.
Curriculum: I didn't buy a curriculum set but I've pieced together curriculum from some TpT sellers, Kindergarten Mom, and materials from when I used to teach. I like being able to choose my own curriculum but it's also a little overwhelming.
Make & Take
Handprint T-shirt
I always wanted to do this handprint shirt ever since I saw it on Pinterest many years ago.
I had a friend make the shirt for me because I didn't have enough time to order it on Etsy.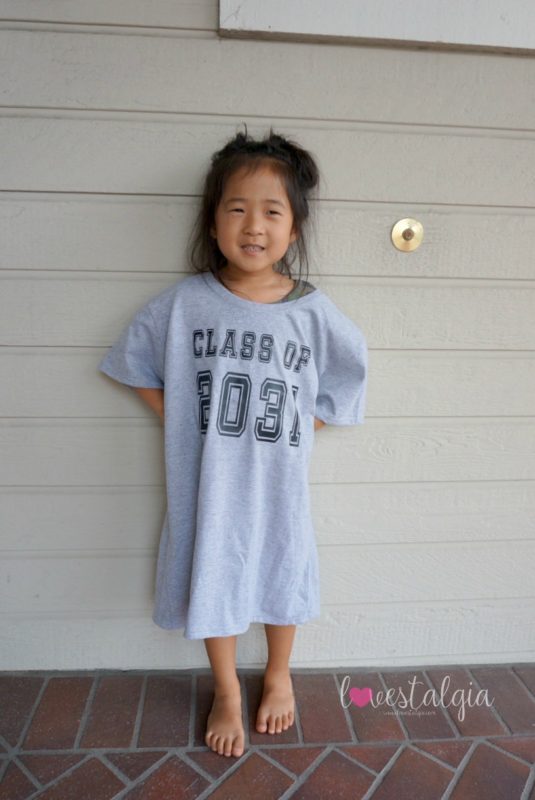 Every school year you put your child's handprint on there to see how much they grow.
Making Words Folder
I used to do this with my first graders. I remember seeing this also on Pinterest. There's a print out you can get. You'll need a file folder, small post-its and a sharpie.
Cut the post-its in half.
Place them on each letter.
Write the letter on each post-it.
This is just another way to practice making words.
For those of you that homeschool, how has the first few months been? For those that don't, do you have any questions?
Read about some homeschooling activities we did when A was in preschool.