Have you heard the news?!! Disney Cruise Line's brand new ship, the Disney Wish, will set sail in the summer of 2022! Families will be enchanted in new ways by Disney's legendary storytelling as they bring the characters and stories of Disney, Marvel, Pixar and Star Wars adventures to life! The Disney Wish is the first of three new Disney Cruise Line ships to be built that will be powered by liquefied natural gas. Bookings will begin on May 27, 2021! Thank you to Disney for sponsoring this post.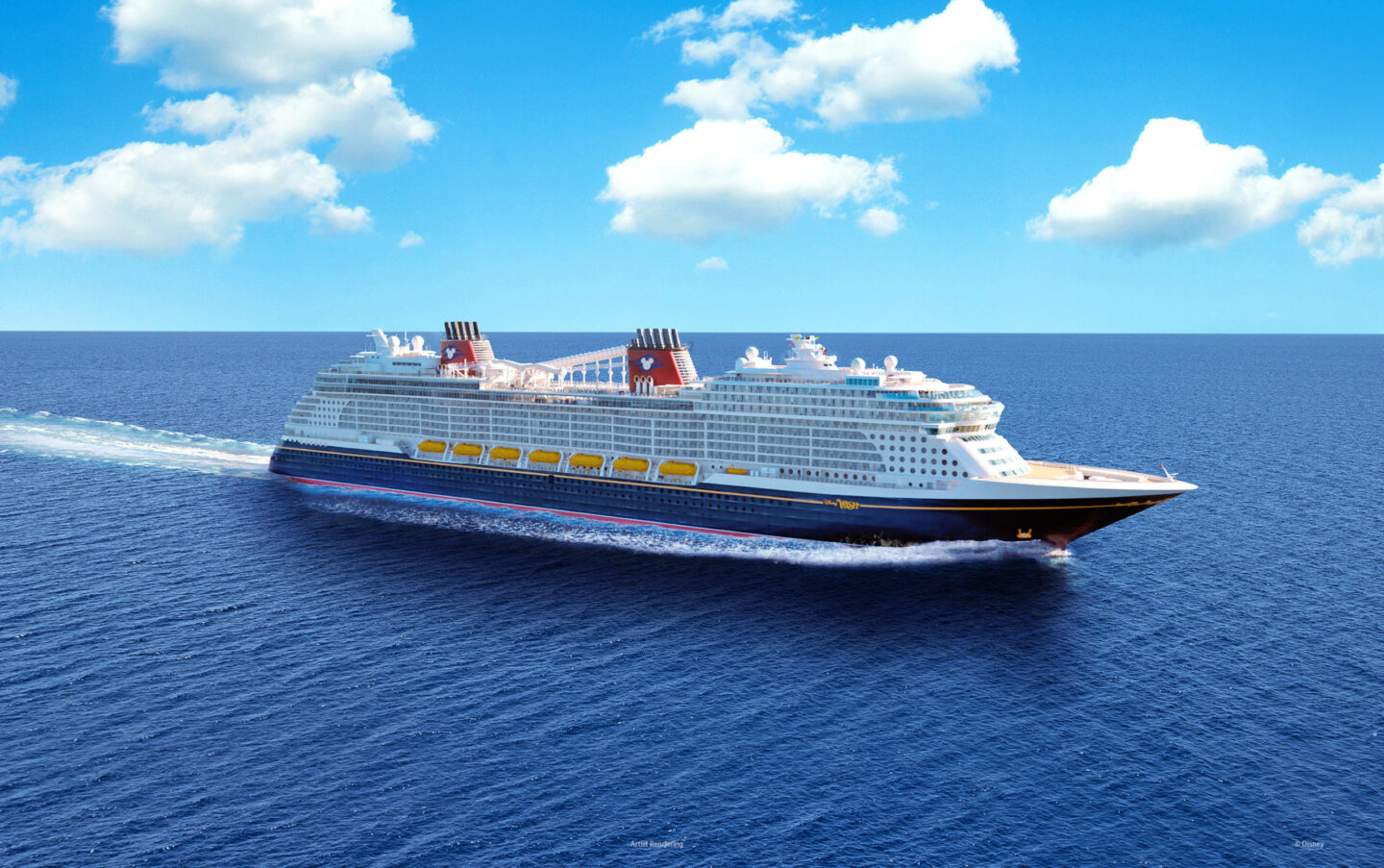 Upper Decks
The Disney Wish will have a brand-new attraction at sea called the AquaMouse which will immerse guests into "The Wonderful World of Mickey Mouse" animated shorts! It will feature show scenes, lighting, special effects and "splashtacular" surprises as you zoom through 760 feet of winding tubes above the upper decks! The deck will also feature six pools, more space and dining in an expansive district themed to Mickey and friends!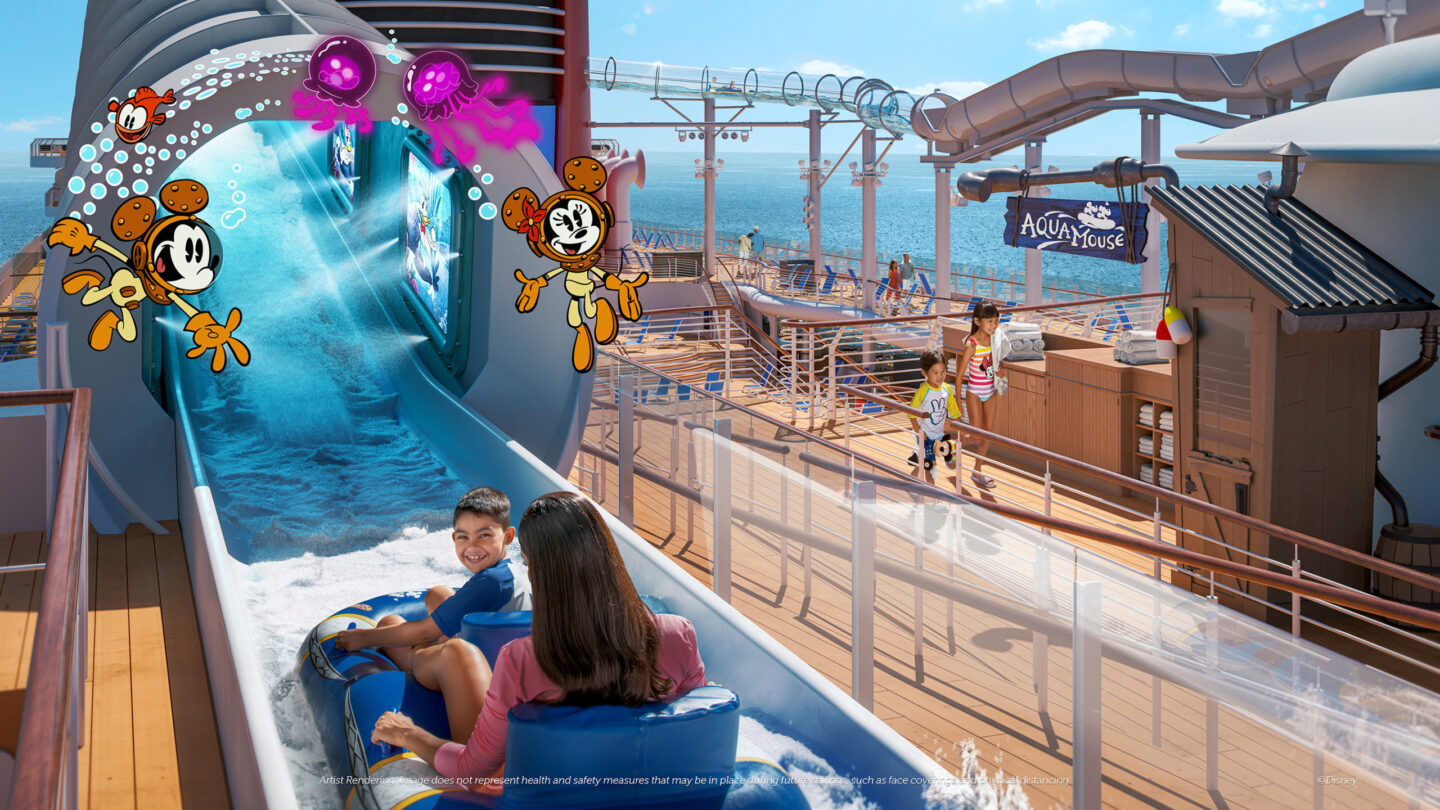 Families with toddlers and young kids will be especially excited for the all-new Toy Story-themed district designed especially for them! Kids and families will enjoy the splash zone, wading pool, family waterslide and smoothie bar.
The Quiet Cove is just that- a peaceful refuge for adults where they can lounge in a secluded adults-only district away from the bustle of family activities. This area will feature a luxurious infinity pool, poolside bar and chic cafe.
Family Dining
Disney Cruise Line is known for its exceptional dining experiences and services. The Disney Wish will offer a variety of dining options ranging from quick bites, 24-hour room service, gourmet cafes, specialty treats, and casual dining. Not only that, the Disney Wish offers families three brand-new family dining experiences:
Arendelle: A Frozen Dining Adventure– Disney's first "Frozen"-themed theatrical dining experience with world-class cuisine infused with Nordic influences.
Worlds of Marvel– the first-ever Marvel cinematic dining adventure where guests will play an interactive role in an Avengers mission while dining on cuisine inspired by the Marvel Cinematic Universe.
1923– named for the year The Walt Disney Company was founded, paying homage to the golden age of animation with dishes inspired by California's unique fusion of cultural flavors.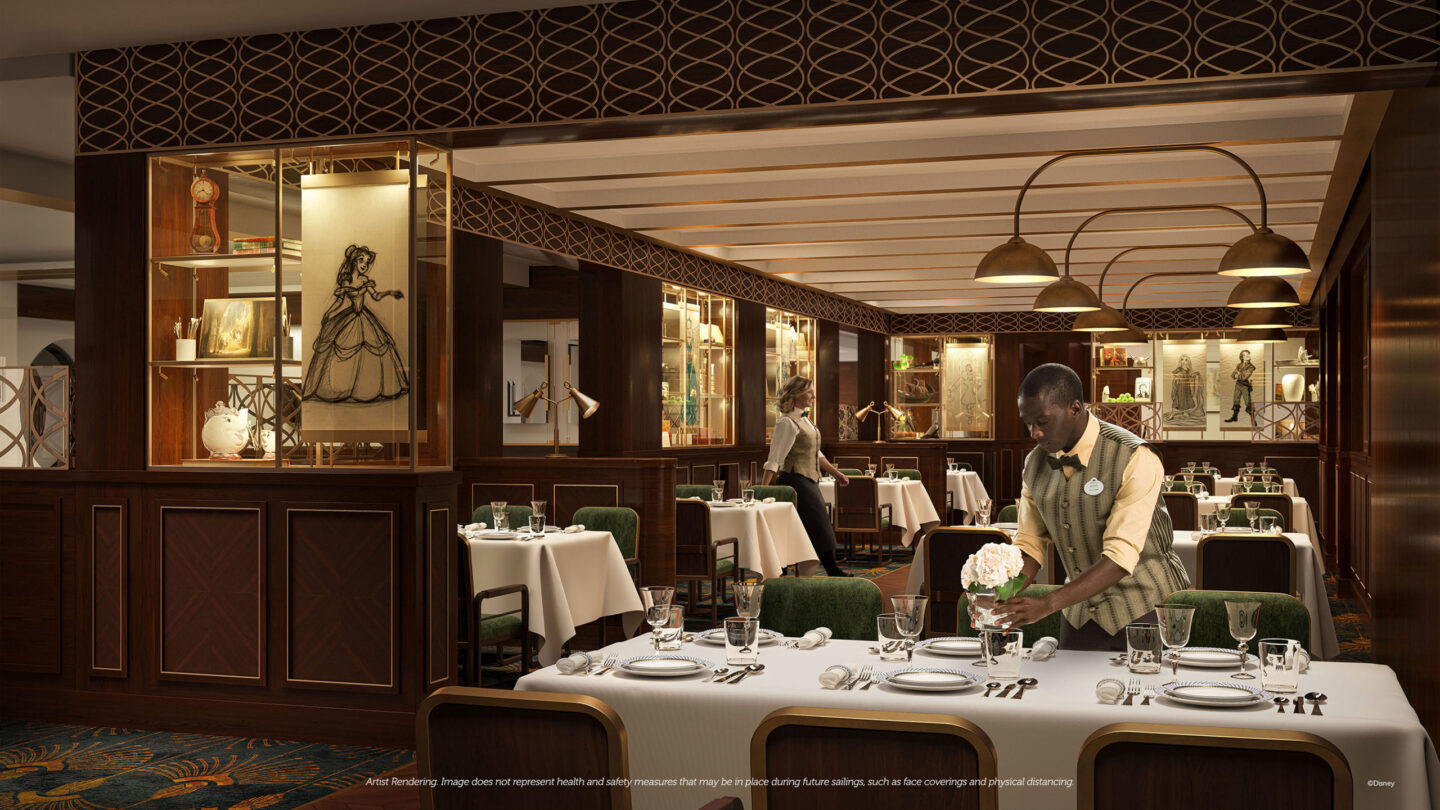 Family Entertainment
The Grand Hall of the Disney Wish will evolve from a fairytale gathering space into an environmental theater through the combination of innovative design and technology. This first-ever atrium stage on a Disney ship will put guests front and center as they play a role in the magic of dedicated shows and interactive entertainment.
Luna is a brand-new entertainment hub that transforms from a fun family setting during the day to an elegant adult-exclusive venue in the evening.
A futuristic sports arena called the Hero Zone will delight families as they compete in action-packed challenges and game show-style competitions that blend physical activity with imagination.
The Walt Disney Theatre will bring to life original Broadway-style stage productions designed exclusively for Disney Cruise Line. The Disney Wish will have Aladdin- A Musical Spectacular and two other shows that are still in development.
Guests will have more options than ever to watch classic and first-run films from Disney, Pixar, Marvel, Lucasfilm and more in the Wonderland and Never Land Cinemas aboard the Disney Wish.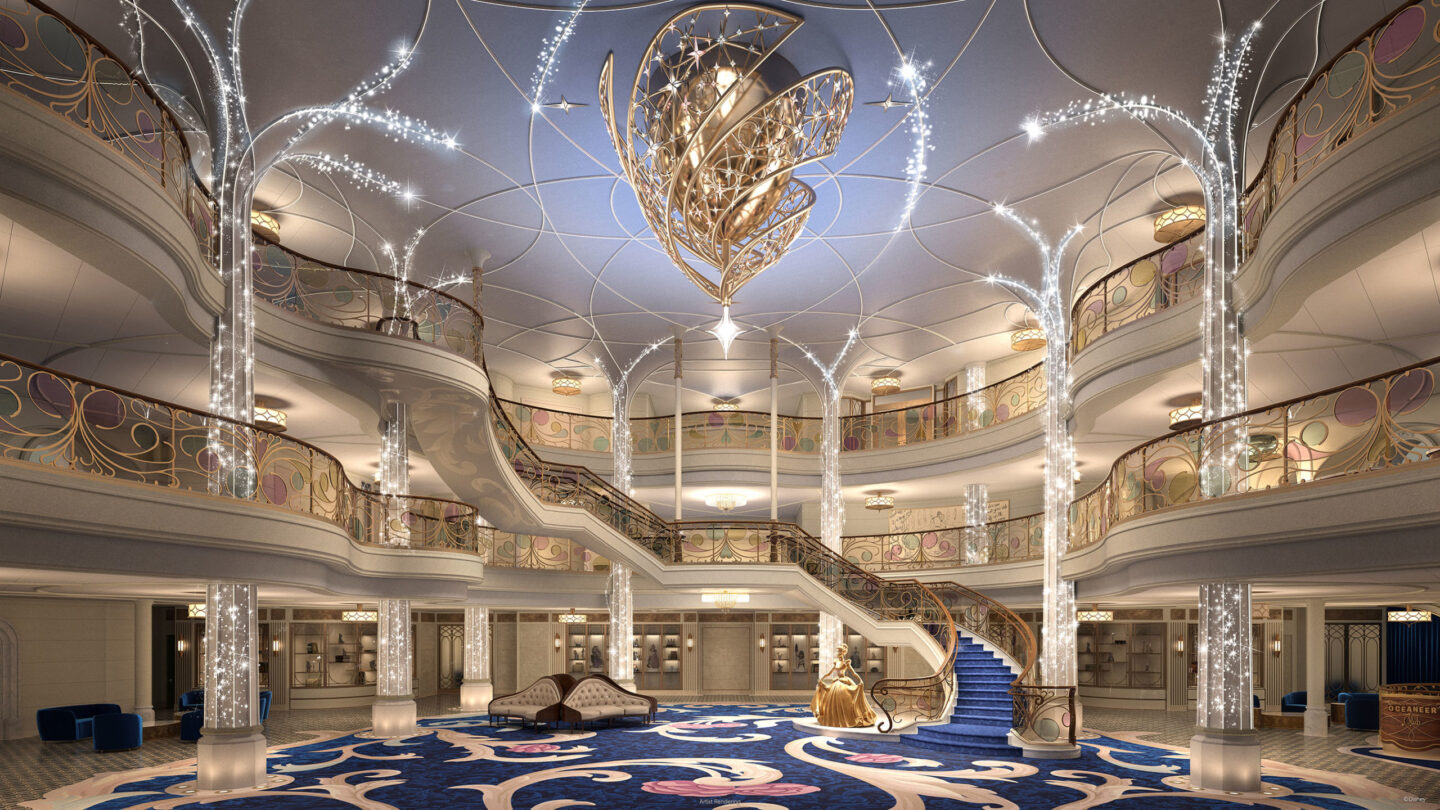 Something for Kids of All Ages
Disney's Oceaneer Club is a real-life wonderland that immerse children ages 3-12 into the captivating worlds of their favorite Disney stories. On the Disney Wish, children can enter the club through a secret slide in the Grand Hall! 
At the Marvel Super Hero Academy, young recruits can train to be the next generation of Super Heroes with the help of their favorite Avengers.
There's so much for princesses and princes to do at the Fairytale Hall's royal trio of activity rooms! They can let their creativity shine at Rapunzel's Art Studio, read and act out stories at Belle's Library or test out icy powers at Anna and Elsa's Sommerhus.
Kids can discover the secrets of Disney Imagineers with hands-on activities and experiments at the Walt Disney Imagineering Lab!
It's a Small World Nursery offers babysitting services for kids ages 6 months to 3 years old.
Tweens and Teens can chill and play in their own way at Edge (ages 11-14) and Vibe (ages 14-17) with dedicated programming that's designed specifically for their unique interests.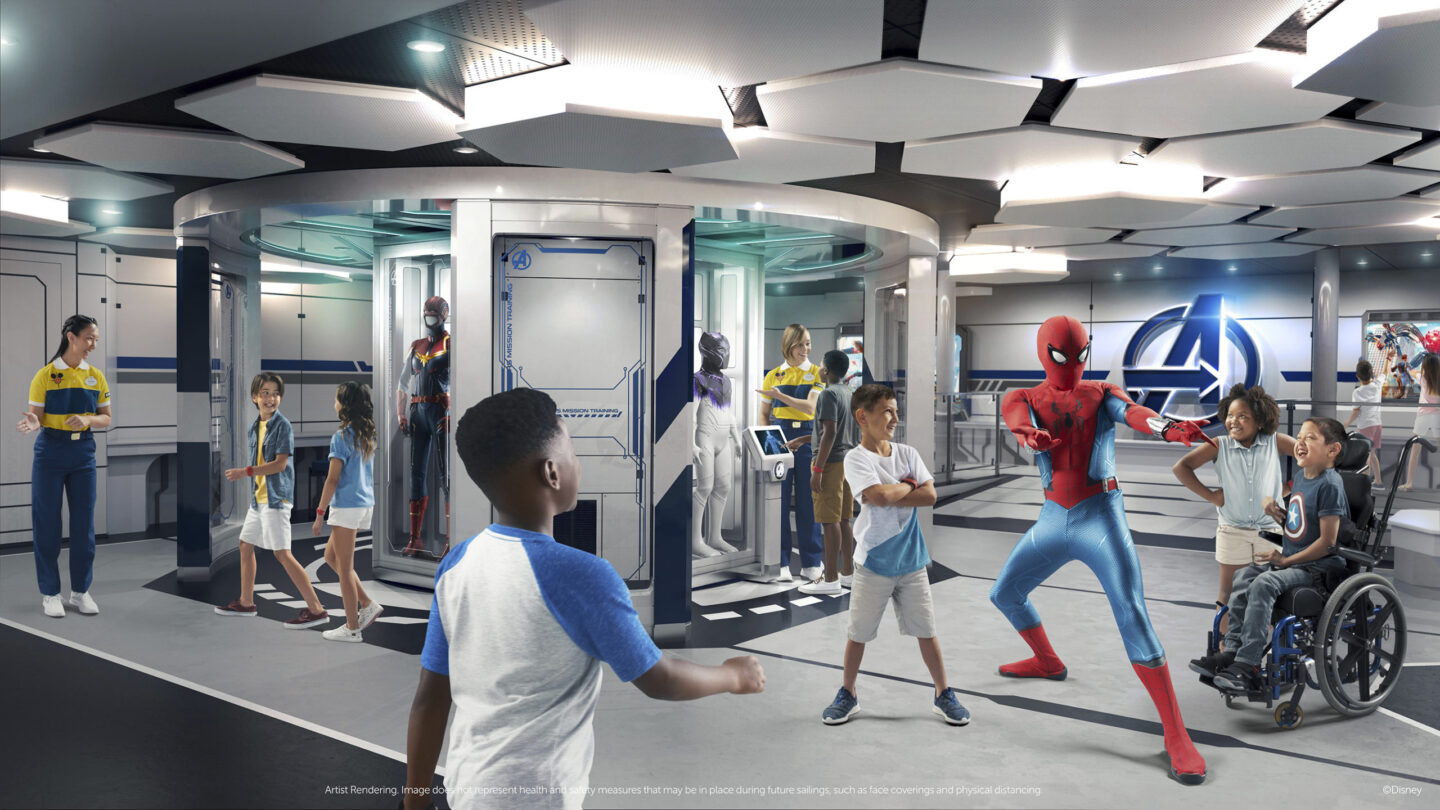 Exclusive Adult Experiences
Adults can experience so many exclusive venues and entertainment tailored just for them aboard the Disney Wish. For the first time on a Disney ship, adults can experience special tastings and signature beverages inspired by Batuu, Tatooine and Mustafar in the Star Wars: Hyperspace Lounge!
Guests can also savor gourmet dining experiences at three adults-only restaurants inspired by the elegant icons of Walt Disney Animation Studios' "Beauty and the Beast."
Palo Steakhouse combines the sophistication of the Palo restaurants that Disney cruisers know and love with the refinement of the modern steakhouse, inspired by Cogsworth.
Enchanté by Chef Arnaud Lallement features a gourmet menu crafted by the three-Michelin starred chef, perfect for a romantic dinner and inspired by Lumiere.
Inspired by the fateful flower at the heart of the story of the Beauty and the Beast, The Rose lounge is the perfect setting for a pre-dinner aperitif or after-dinner cocktail.
Check out the Senses Spa for indulgent spa and beauty treatments which feature private treatment rooms. Senses Fitness is available for state-of-the-art exercises and wellness facilities.
Staterooms
Staterooms on board the Disney Wish are designed with ample room for families, plenty of storage and upscale amenities. Most of the 1,254 staterooms will offer an ocean view! 877 of them will have a spacious verandah and 451 of the rooms will have connecting doors that adjoin rooms to accommodate larger families!
The Disney Wish also includes Disney's first-ever staterooms located above the bridge with floor-to-ceiling windows that reveal amazing ocean views and overlooks the bow of the ship. Four royal suites that accommodate up to six guests and features first-class amenities and extravagant details will debut on the Disney Wish. These include a pair of the first-ever two-story suites with an elegant spiral staircase and two-deck-high stained-glass frieze.
Celebrate the Disney Wish
I'm so excited for the Disney Wish to join Disney Cruise Line! While we patiently wait for the Disney Wish, I wanted to share with you guys a fun craft idea to add some flair to something that would be perfect for a sunny day on Castaway Cay- SUNGLASSES! You can repurpose an old pair of sunglasses or add some Disney magic to a pair of your favorite ones.
DIY Disney Sunglasses
Here's what we'll need to get started:
a pair of sunglasses
craft glue- I squeeze some out into a water bottle cap as I'm working on my craft.
toothpicks- I use them to apply the glue as well as to clean off excess glue or move the beads around.
flat back beads in various sizes
wax pencil
rubbing alcohol and cotton balls
Directions
Decide how you want to decorate your sunglasses.
Lay out the beads on your work area.
Before you begin, clean the sunglasses with rubbing alcohol.
Use the toothpick to put some glue on the sunglasses.
Use the wax pencil to pick up the beads and place it on the area with glue.
A clean toothpick can be used to adjust the placement of the beads and wipe away any excess glue.
Repeat steps 4-6 until you're done with your design.
Let it dry for about a day.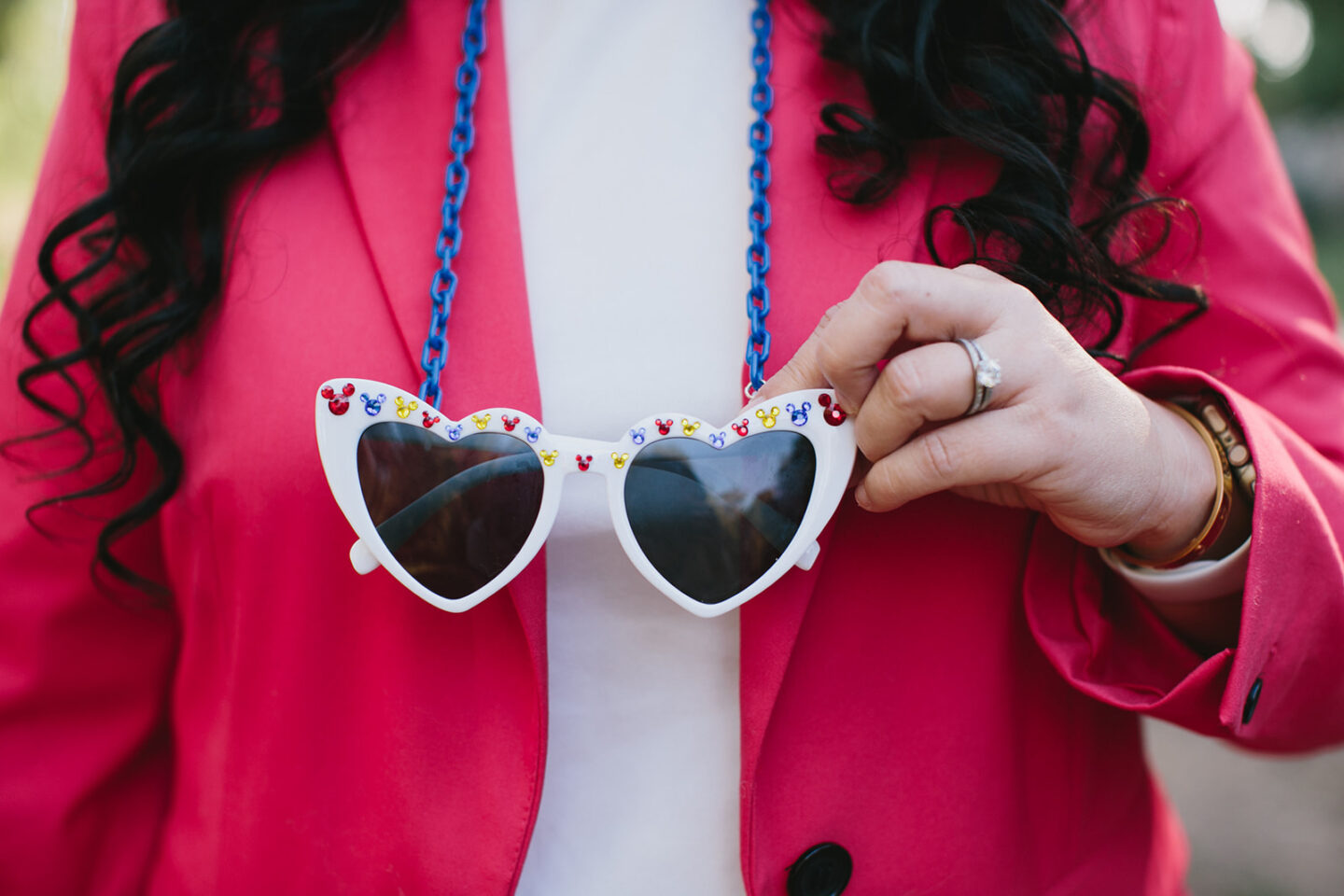 Anchor Sunglasses Chain
I also decided to make a simple sunglasses chain and thought it looked like an anchor chain on a ship! Here's what you'll need to make it:
plastic chain links
rubber eyeglasses chain ends
jump rings
12 inches of stainless steel necklace chain
jewelry pliers and wire cutters
Directions
Cut the plastic chain in half using wire cutters. Set aside.
Using two jewelry pliers, open up a jump ring.
Loop one end of the plastic chain and necklace chain.
Using jewelry pliers, close up the jump ring.
Repeat steps 2-4 with the other half of the plastic chain.
Open up a jump ring.
Loop the end of the plastic chain and the rubber eyeglasses chain end.
Repeat steps 6 & 7.
You're all done!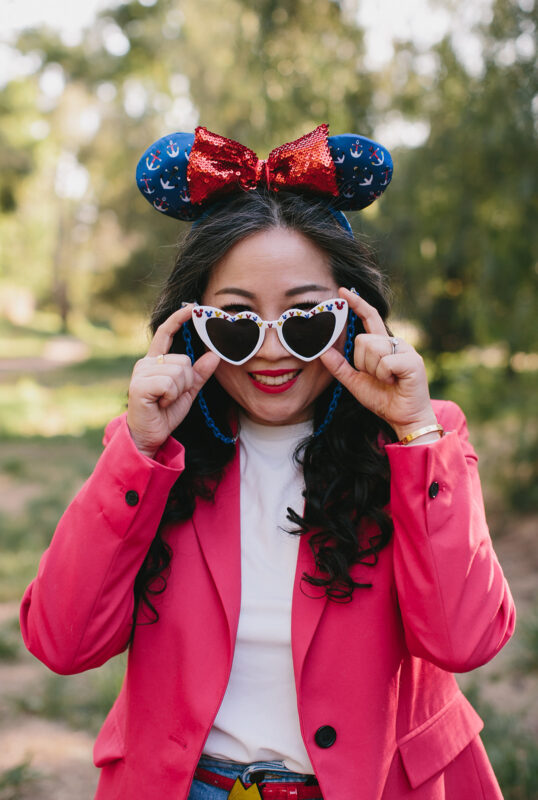 Check out the Disney Parks Blog for more information about the Disney Wish.