April 30, 2021 will go down in history as the day that healing began in the hearts and lives of many Disney fans- including me. If you remember my last post, about why Disneyland was so needed in 2020, you'll know why I feel this way. I am so happy that Disneyland is now open and wanted to share my experience as well as some Disneyland tips for 2021.
The Wait Is Almost Over
After spending 9 hours trying to get tickets and reservations for opening day, I was only able to get reservations for the 2nd weekend in May. Plans changed for my family so I stalked the Disneyland reservation calendar for a few days and was able to change my reservation when I saw that reservations were available for April 30th. To accommodate as many types of ticket holders as possible, reservations are sometimes made available on a rolling  basis. Theme park reservations can't be modified but it's easy to cancel a reservation and make a new one. More information about theme park reservations and tickets can be found here.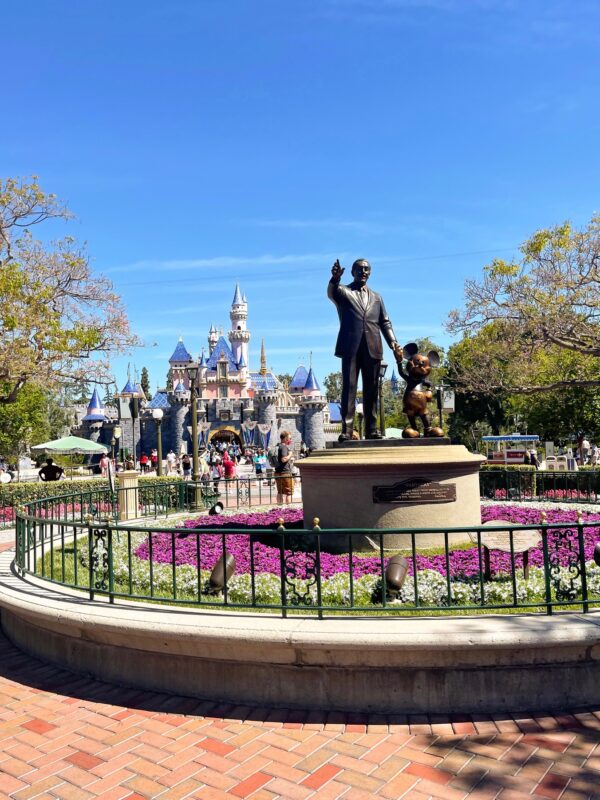 Our Disney Day
We parked at a local hotel on Harbor Blvd. and walked over to the Harbor side entrance by 7:45am. Normally, I would have parked at Mickey and Friends Parking Structure but I wanted to try out the Harbor entrance. We waited about 30 minutes in a socially distanced line. Then we went through the line, temperature check, security and walked into the esplanade by 8:30am. We stood in another short line to get our ticket scanned on the Disneyland app. I had my ID ready and was scanned in and inside the park by 8:38am!!
Walking down Main Street as Cast Members waved hello and shouted "Welcome home!" and "We missed you!" was unlike any experience. It was so magical and cathartic as if all the sadness from the past year melted away. I know, that sounds a bit dramatic but it's the truth.
Disneyland Tips for a Magical Day
I could keep going on about the feelings I felt throughout the day- but I'm sure once you get to experience it, you'll know how I feel. So instead, here are some Disneyland tips to make your first day back to Disneyland easy and fun.
Make a List of Must-Do's
I think making a list of "must-do's" is especially helpful and important when you go with your kids. You can literally do everything you want to because wait times are so short, ranging from walking on rides to 30 minutes for the more popular rides. The longest wait we had was for Snow White's Enchanted Wish which is understandable since it's newly reimagined so everyone wanted to ride it. A and I had a list of 10 things we wanted to do and we did them all and then some!
Mobile Order Your Food Early
We knew we wanted to eat at Plaza Inn for lunch so we mobile ordered before we entered the park for lunch time. When we went to A Touch of Disney, wait times for mobile ordering were pretty long so I was afraid that it might be similar. To be on the safe side, we mobile ordered for lunch as well as snacks at Tropical Hideaway and Jolly Holiday in advance and picked the times we wanted. If you want to eat by a certain time (especially for lunch with kids), do it early. Also, as you're walking to the restaurant to pick up your mobile order, click on "I'm here" because it takes a little bit of time for the blue/purple screen to pop up on your app.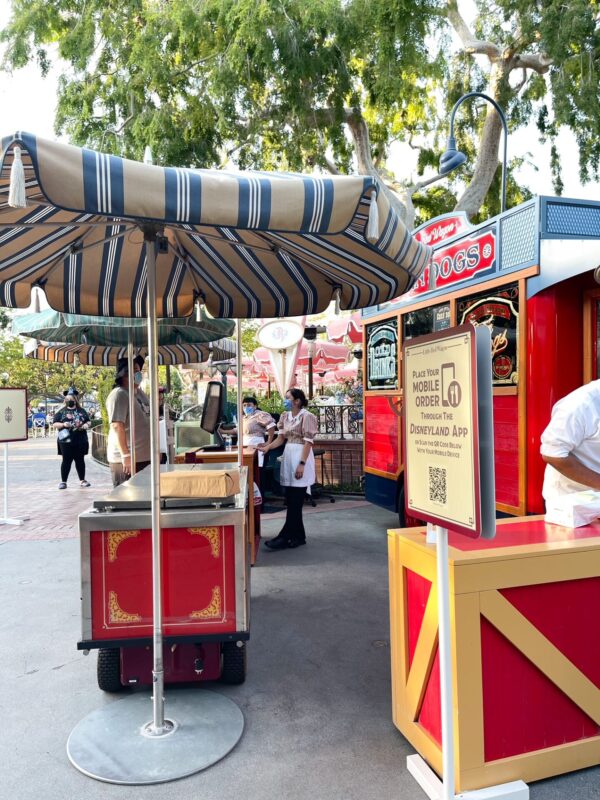 Ride All the Rides
Wait times for rides and attractions may "appear" long but it's due to social distancing. Line queues and the actual ride experience needs to be social distanced. For example, at It's a Small World, you will get a boat to yourself for your group or they space you out at the front of the boat or back of the boat. The lines go by quickly and some rides had virtually no line at all. Look for the Cast Member holding the "Line Forms Here" sign to line up! You can ride all of your favorite rides multiple times if you want to so there's no need to feel stressed or rushed. They also have hand sanitizer stations at the entrance and exit of rides. Use them after you're done on high surface touch rides like Mad Tea Party. Don't forget to check out the newly updated King Arthur Carrousel!
Follow the Rules
Please follow all the rules and safety precautions that are in place per the state of California and the city of Anaheim. Disney is doing an amazing job of providing the safest possible theme park experience but it's up to the guests to follow them. For example, if you're from out of state- don't try to come because Disneyland Resort is for California residents only at the time of this blog post. Things will open up in the future. If you want to take pictures without your masks- do it at home. Masks MUST be worn properly at all times unless you're in a designated dining area, actively eating and drinking. It's for the safety and protection of guests as well as Cast Members. If a Cast Member redirects you or asks you to make a safer choice, please listen. You can read about other important experience updates here.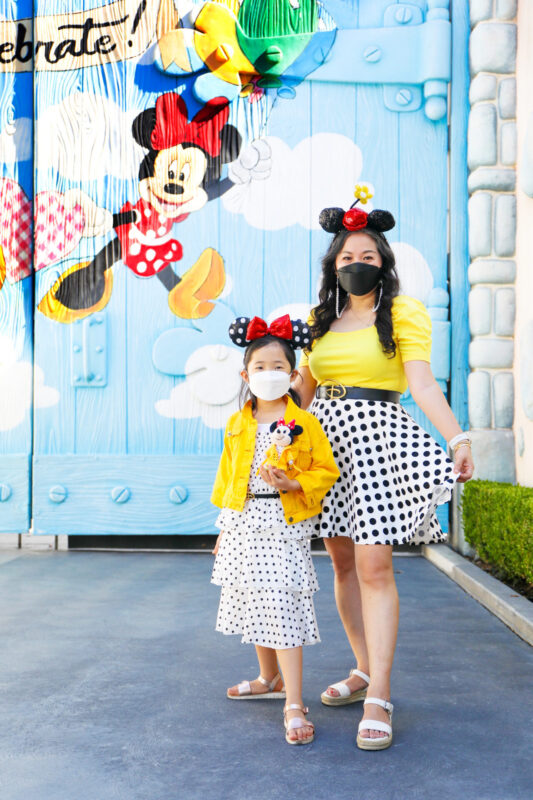 Character Experiences are Everywhere
One of our favorite things to do at Disneyland is to meet characters. Although character meet and greets may be different than before, they did not disappoint. You had to take selfie pictures or someone from your party could take turns taking pictures. You can't ask a Cast Member to take a picture with your phone. Everything has to be contactless but it was still great to meet with characters! Here are the main areas where we found characters.
Main Street– Mickey, Minnie, Goofy, Donald, Chip n Dale, and Pluto rotate throughout the day by the Main Street Train Station entrance. We also saw Pluto by the shaded area between the Disney Showcase store and The Mad Hatter store.
Royal Theatre– We met Cinderella, Aurora, Ariel, Elena, Snow White, and Belle. Sometimes there were only two princesses and another time, we saw four princesses. We had to go there more than once because A really wanted to see the princesses. When you exit the Royal Theatre, sometimes there's another character meet and greet. We saw Rapunzel and Flynn Rider. I heard the Evil Queen makes an appearance as well.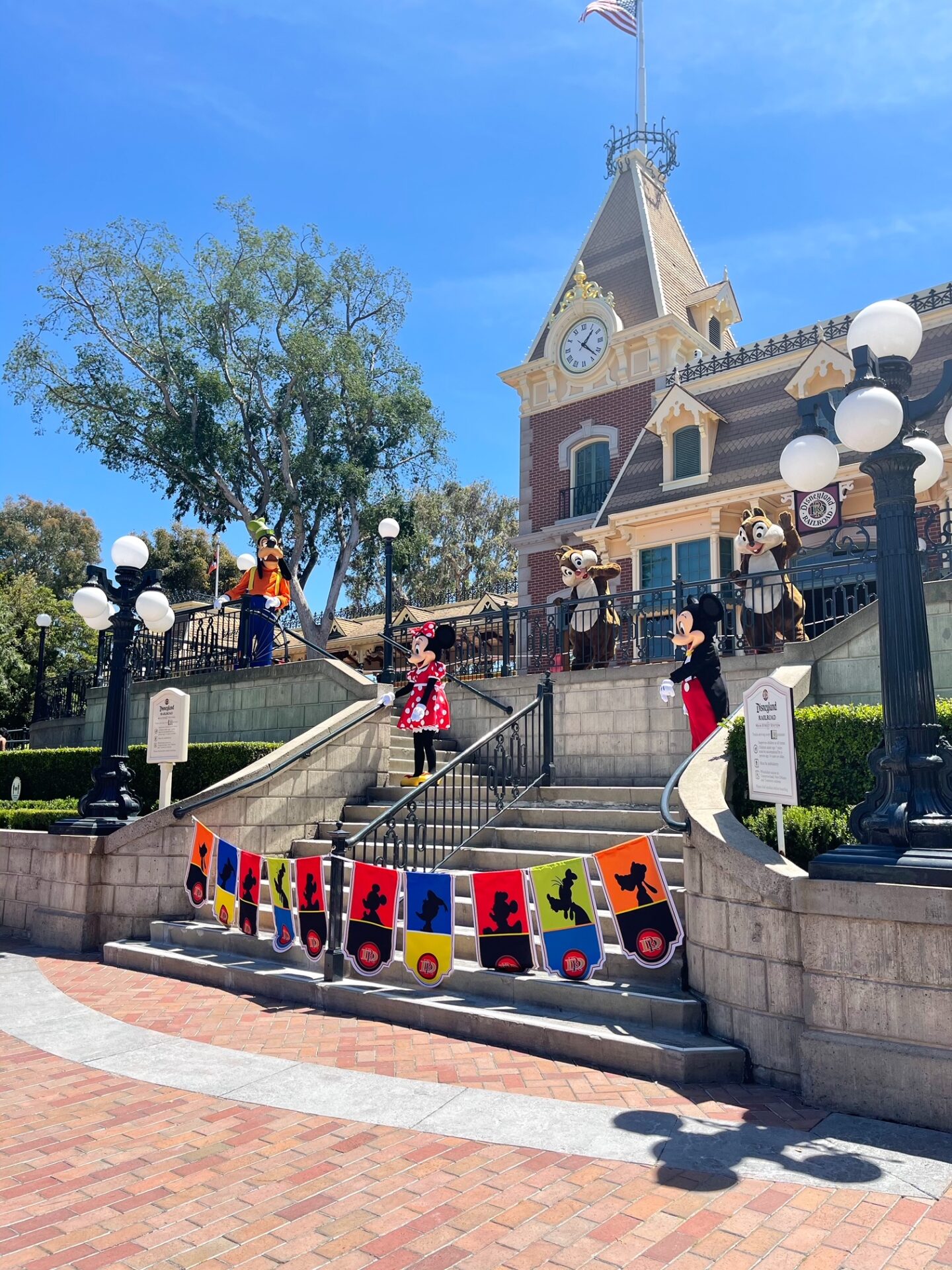 By It's A Small World– on your way to the ride, we found many different characters throughout the day. We met Pooh, Eeyore, Tigger, Mary Poppins, Bert, and Alice. They rotate throughout the day.
Toontown– Toontown was pretty much empty when we went in the morning. Around 9:30am, we saw Mickey at his house for a fun socially distanced meet and greet. Some friends also saw Minnie, Marie, and Clarice (Chip & Dale's friend.)
New Orleans Square– we saw Redd by the Pirates ride. We also saw Tiana!
Galaxy's Edge– for all your favorite inhabitants of Batuu!
Disneyland App is Your Best Friend
One of the most important Disneyland tips is to be sure you have the Disneyland App loaded onto your phone and that it's updated to the latest version. Make sure you bring an extra phone charger/battery pack, too. You'll be on your phone a lot to mobile order your food, take selfies with characters or check ride wait times (which are pretty accurate.)
Disneyland Railroad
There's only one train running right now so if that's on your list of must do's, be sure you do that early on. I heard that they stopped the train at 3pm but when we wanted to ride it around 1:45, the Cast Member said they close the train station at 1:30pm.
Shopping
If you want to buy a lot of souvenirs, be ready to stand in lines at the ending of the day. Remember that lines need to be social distanced so if you only wanted to buy a few things that you can carry, do it earlier in the day. We went into the Emporium around 6pm and didn't have to wait in a line. Shops on Main Street are open one hour after Disneyland officially closes. We saw long lines as we were leaving for the day.
Other Helpful Info
Baby Care Center is open for families with young kids and babies but it's limited capacity. The Cast Member I talked to said they have 3 stations for moms, 2 changing stations, 2 toddler bathrooms and just one person in the kitchen at a time.
I didn't see lockers available inside the park but the ones outside were open.
Bathrooms were never crowded when we used them. They also had social distancing markers outside bathrooms so people can wait outside. They also close certain ones throughout the day to deep clean them.
Water fountains seemed to be working (we only used the ones at Toontown to refill our water bottle.)
Iced water is available at Jolly Holiday and Starbucks- these were the only two places I asked for water. Bringing a refillable water bottle is recommended so you can always have water and sit in designated areas for a sip of water. Plaza Inn did not have free water available but you can buy bottled water there.
Rider Switch is available- just ask a cast member. Remember rides without a height requirement don't offer Rider Switch.
Should You Visit Soon?
If you're a California resident and you feel safe being outdoors with people, than yes. Disneyland is doing an amazing job with their safety measures and protocols! I felt safer there than at a grocery store. It was still so fun and as magical as always! It was almost like time stood still despite the fact that so much has happened in the past year. Be sure to check out this post from Disney Parks Blog for things you need to know before you go and I hope you get to visit soon because magic is here.
Want to now what to pack for a day at the parks? Check out my reel here.
Want to shop our outfits? We were inspired by the Disney NuiMos! Check below for my affiliate links. My belt is from Buckle Down Products and I got A the matching one- which is available from Her Universe.