I've visited Downtown Disney a handful of times since it reopened. So I wanted to share with you guys everything you need to know about safely visiting Downtown Disney in 2020 and beyond. This post is not to encourage you or discourage you from visiting. You have to decide for yourself what you are comfortable with. Every decision we make during this unprecedented time should be made according to the laws of your state and city while following CDC guidelines. You can find the laws for California here.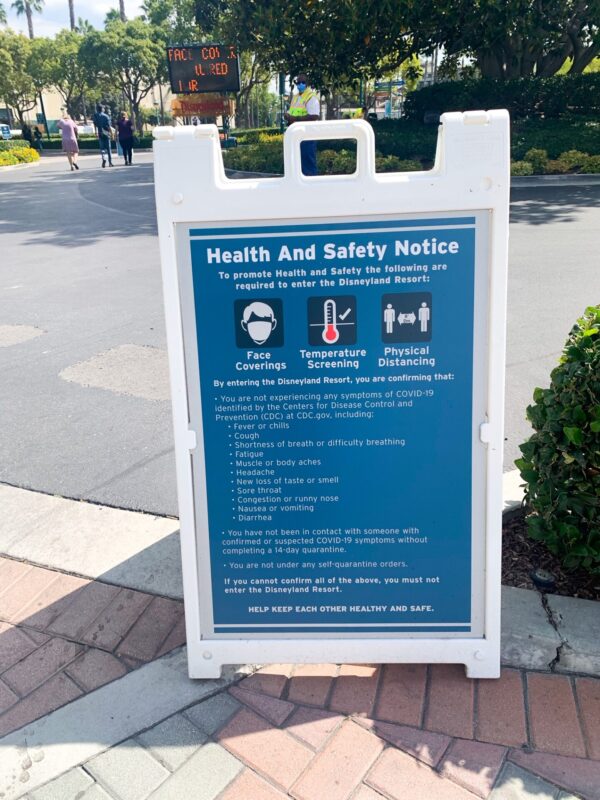 Be sure to check out Disneyland's website about things you should know before you go. I will also go over some of the guidelines as well as share my experience so that you'll be equipped with everything you need to know about visiting Downtown Disney.
IMPORTANT: You MUST have a face covering for guests 2 and older. See below for the guidelines-double layer, no neck gaiters, bandanas, mesh or face masks with holes. Masks must be worn at all times EVEN for pictures. The only time you should take them off is when you are seated and actively eating/drinking.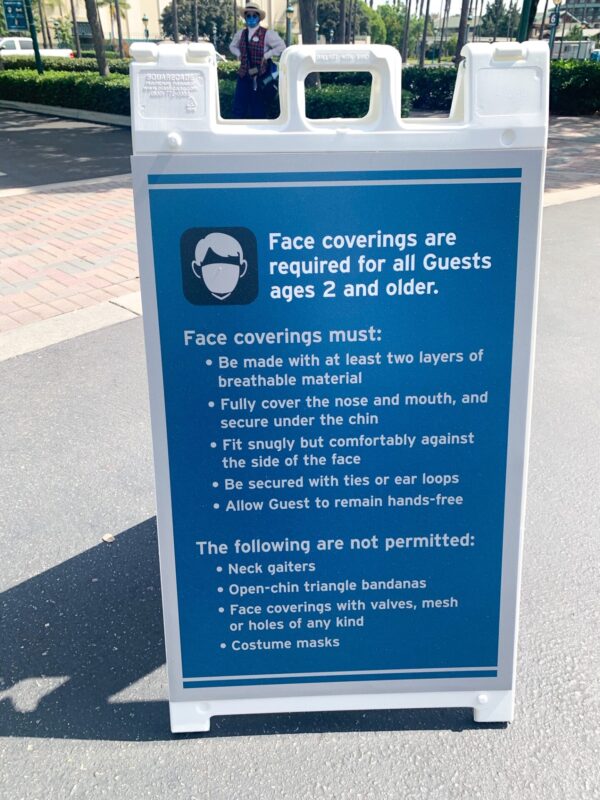 Hours:
Monday- Thursday,10am-8pm
Friday, Saturday, Sunday, 10am-9pm
Some store within Downtown Disney may open later or close earlier. Please check the store you want to visit here!
Where to Park
As of November 19, 2020, complimentary parking is NO LONGER available at the Simba Parking Lot. It is now $10 to park. You pay for parking before entering the parking lot. The parking lot may close occasionally if there are too many cars in the lot. There will be signage to let you know if the lot is closed or you can also keep up to date on Twitter (Disneyland AP or DisneylandToday.) All other Guest Parking lots are closed. You can also use ride share drop off locations which are located on Harbor Blvd or Downtown Drive.
Temperature Screening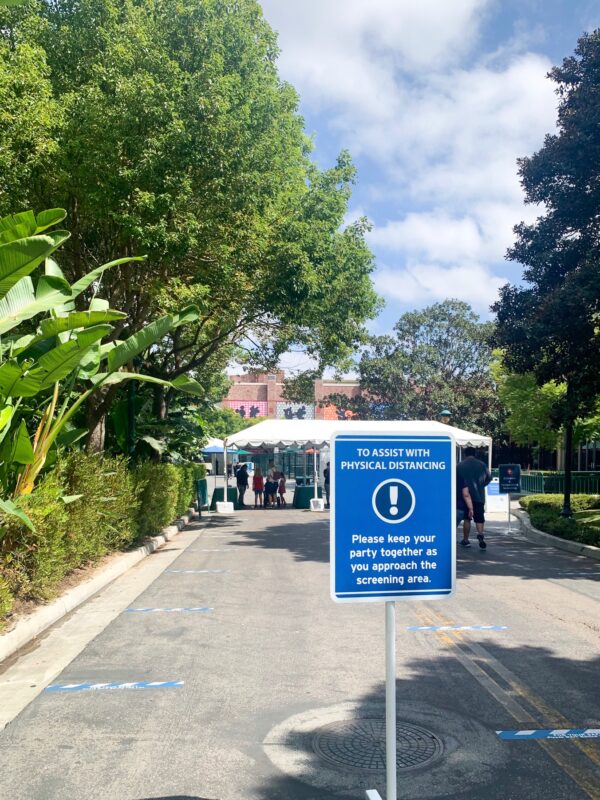 After you park or arrive at Downtown Disney, you walk to the Temperature Screening area where they will take your temperature using a touchless thermometer. The thermometer is used by a screener who is wearing a mask and face shield. There are social distancing reminders everywhere- indicated by markers on the ground as well as signage.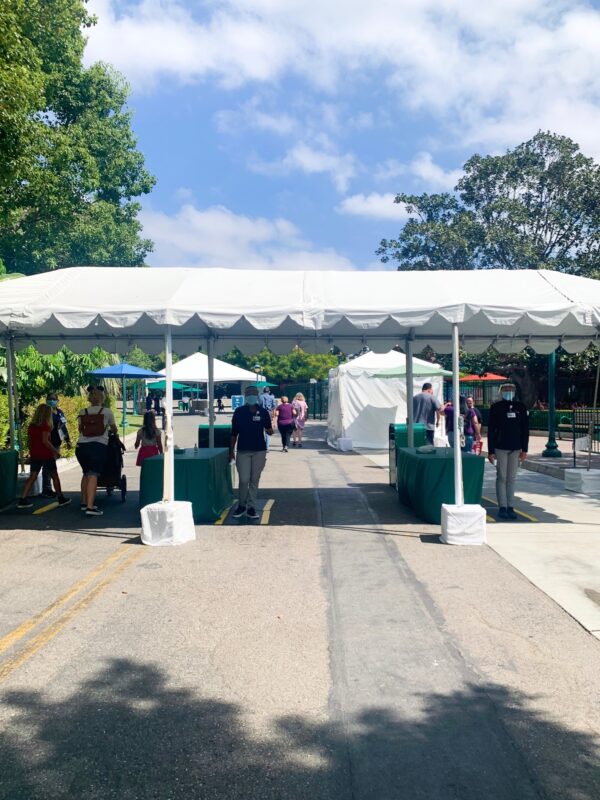 After your temperature is screened, you are directed to walk through a second tent with security and security dog. You are instructed to just walk through and not try to pet the dog or stop.
Bag Check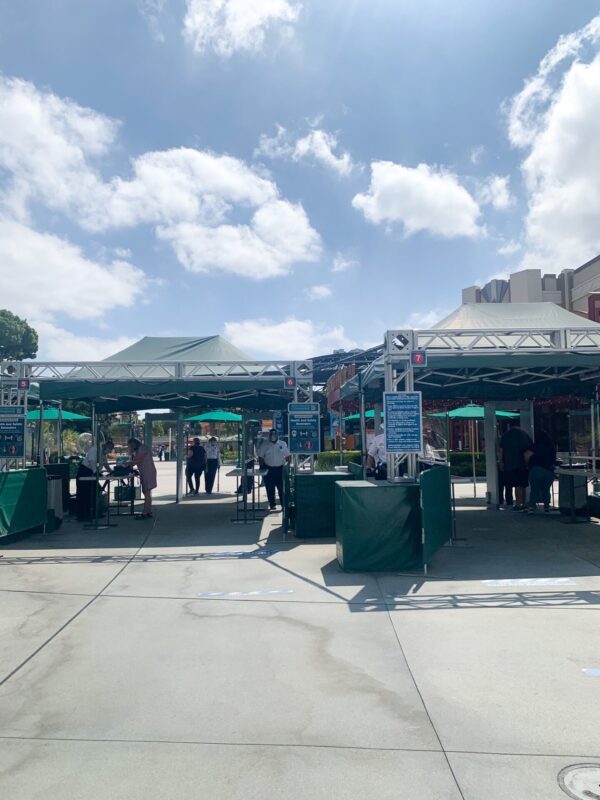 The next stop is bag check! You put your bag on the table, open it up and they look at it. There's plexiglass for protection as well as gloves being worn by security. You slide your bag under the bar and move things around inside your bag to show security. They may also take your bag for a closer look.
After you get through security, you're in! I went on a weekday and arrived at 10:20am. It was not crowded and there were no lines for parking or any of the screening procedures.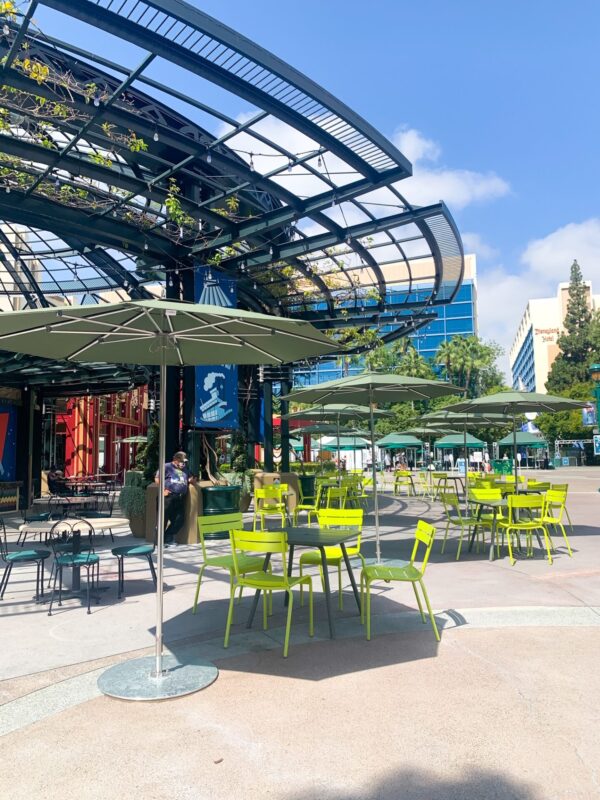 Procedures for Store Entry
There are umbrellas and social distancing markers set up outside of the stores that are open. The most popular places to visit seem to be Marceline's, Lego Store, and World of Disney. If the line isn't very long or there is no line for a store, you can walk right in. If there is a line, you just wait in it (social distanced).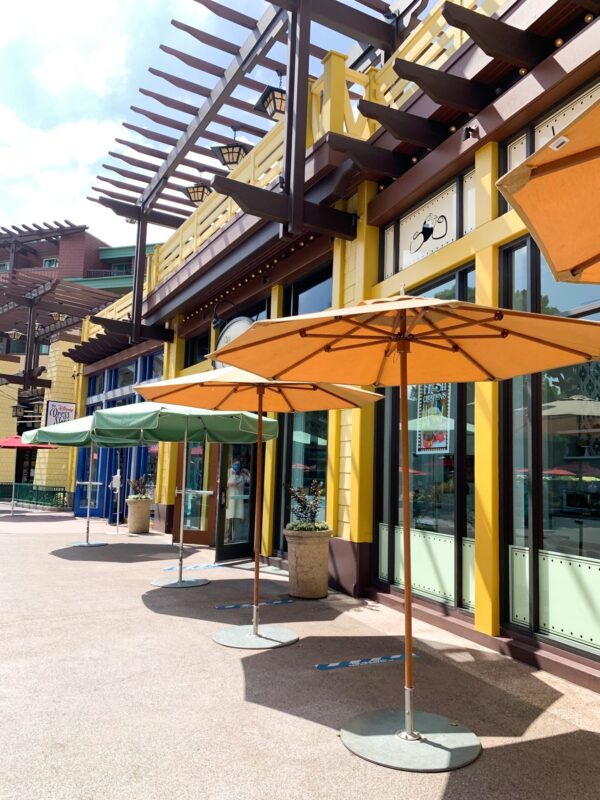 I talked to a CM at World of Disney and they said that if the line there is 40 minutes or longer, they will do the reservation/virtual queue otherwise, you just wait in the line. You will look for a sign with a QR code or ask a CM and they will direct you. Most stores with two entry/exits had one designated entrance and one designated exit to maintain physical distancing and flow of traffic.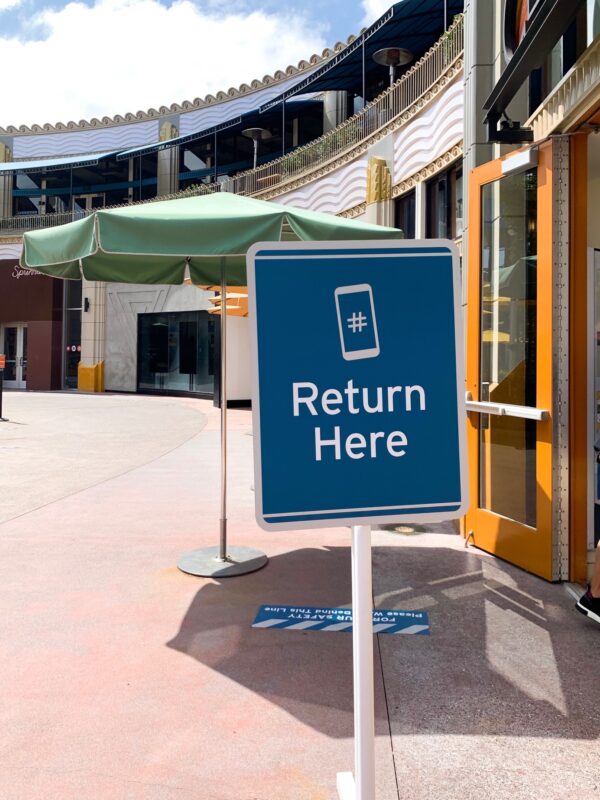 Procedures for dining
Same as with stores, you can stand in line for outdoor seating. I decided to eat at Uva Bar because there was no line and the outdoor seating didn't look crowded. I loved that they had a Touchless Menu available via QR Code. You open your camera, scan the QR code, and click the link that popups which will take you to the website with the menu. The server had gloves and masks on. She took the drink order and then took my food order. Tables were clean and nicely spaced out.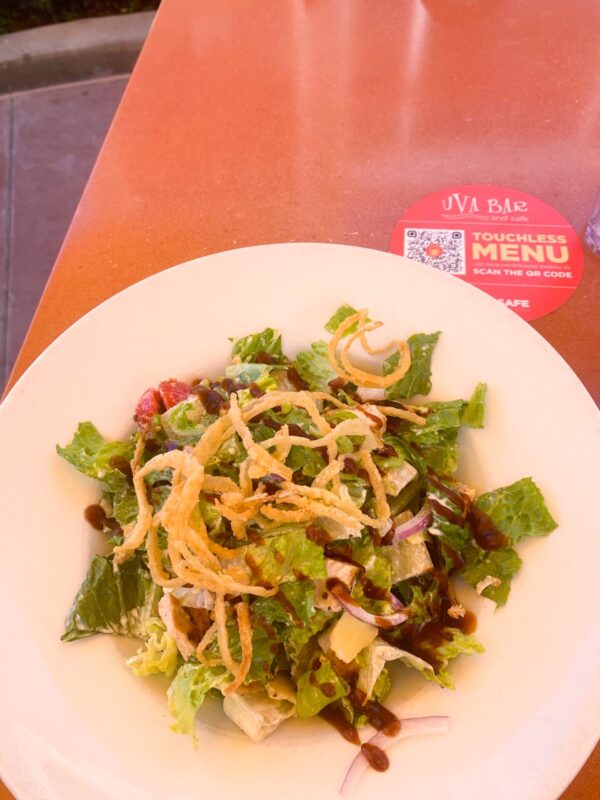 My Schedule:
10:20am– arrived at Downtown Disney and parked at Simba Lot
10:35am– finished going through temperature screening and security
10:45am– walked right into Marceline's. They give you a number when you walk in and they call it so you can order your goodies.
10:55am– walked to World of Disney and got in line. Look for the CM to see where the end of the line is.
11:10am– entered World of Disney. People were good about social distancing within the store. I didn't feel like it was crowded inside. There are signs within the store to remind you to keep face masks on, social distance and also minimize touching products and merchandise. Cash register areas have plexiglass and there are markers on the ground when you check out to maintain a 6ft distance.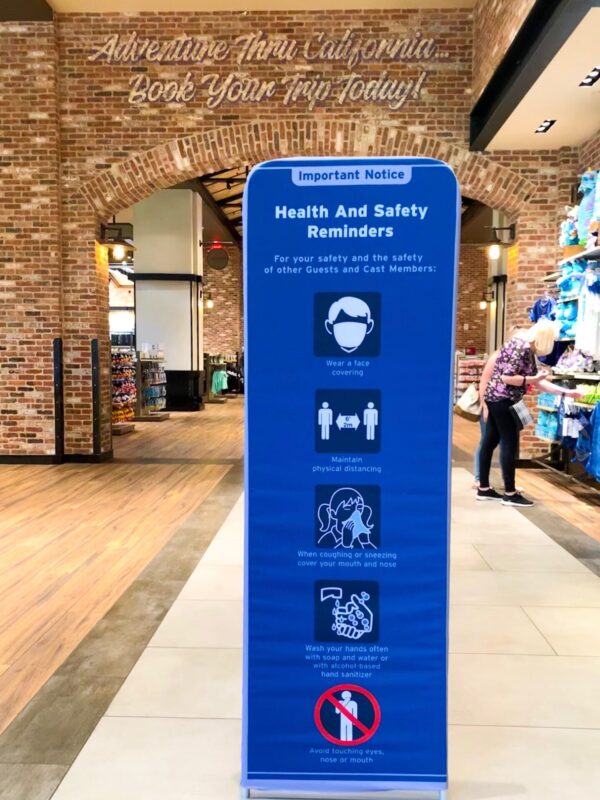 11:55am– went to the esplanade and looked at the empty gates and and park. There's a lot of space here for you to run around (probably really great for kids) and to look longingly at the parks. You can hear the music and just soak it all in.
12:05pm– Checked out Wonderground, Home Store, and Dress Shop. They had minimal wait times (like 5 minutes).
1:00pm– Ate lunch at Uva Bar.
2:00pm– Left to go home!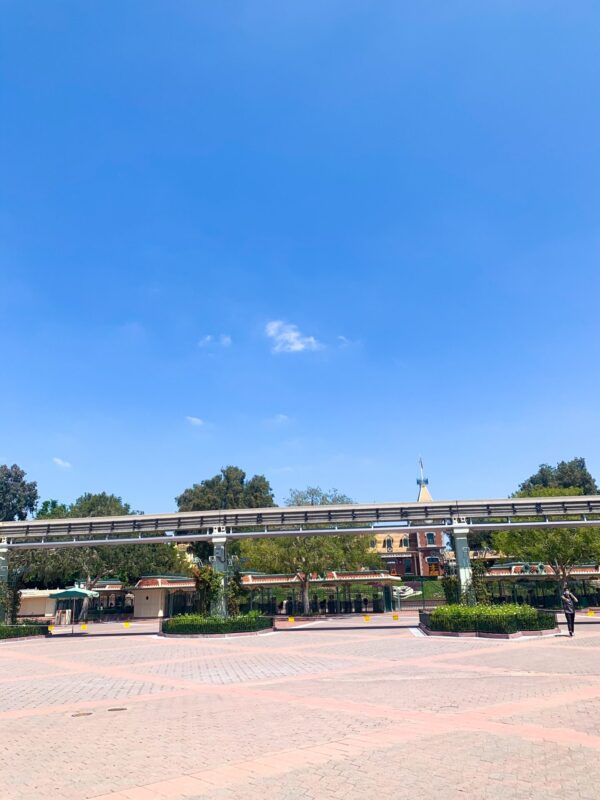 Taking Kids
(Updated 2/19/21) I went by myself the first time because I didn't know how much waiting we would do. The other times I went, I did take her but she didn't have that much fun because it was crowded and I was just taking her to run errands at the different stores. The times it was enjoyable was when I told her exactly what we were doing and for how long. It was also fun when we ran into a friend who was also there the same day and the kids could sit near each other to play or chat.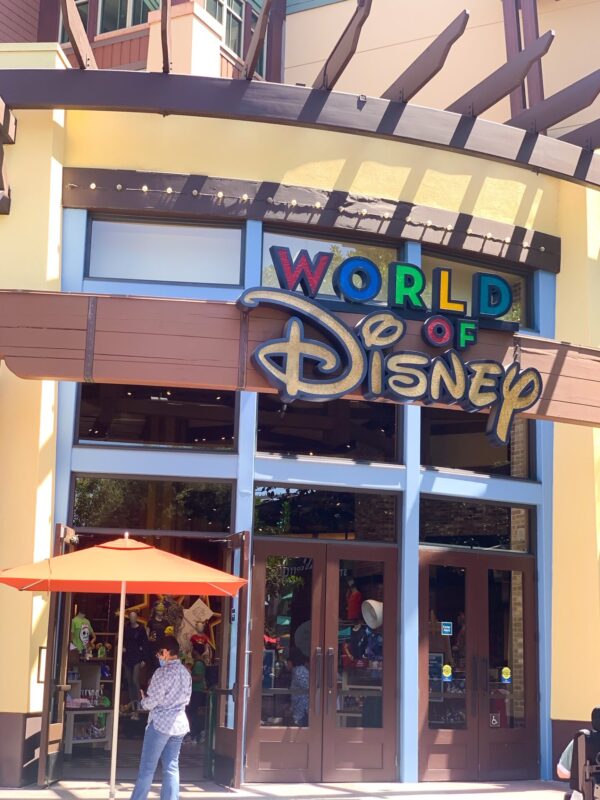 There isn't a lot for kids to do but she still enjoyed going to the Lego Store and shopping at World of Disney. The times we used to go to Disneyland and Downtown Disney was to hang out with friends, ride rides or meet characters. But those things are not available. It really depends on your child and what kind of expectations they have. Shopping at World of Disney was fun when we went to pick out holiday gifts or when she was able to pick out a prize. Of course it IS still magical in that you get to hear Disney music everywhere and just being there brings a sense of joy into your hearts. So if you do take your kids, make sure you talk to them about the rules there and expectations to make it a more enjoyable experience.
Feeling Safe
This is probably one of the most common questions I've heard from people whenever they go out or ask someone when they go somewhere- Did you feel safe? Feeling safe is so subjective and personal in that my comfort level and feelings of safety will differ from yours. Downtown Disney has done a phenomenal job of putting all the safety measures in place for guests who choose to visit. But does that mean they are safe? I don't know because feeling safe and being completely safe are two different things.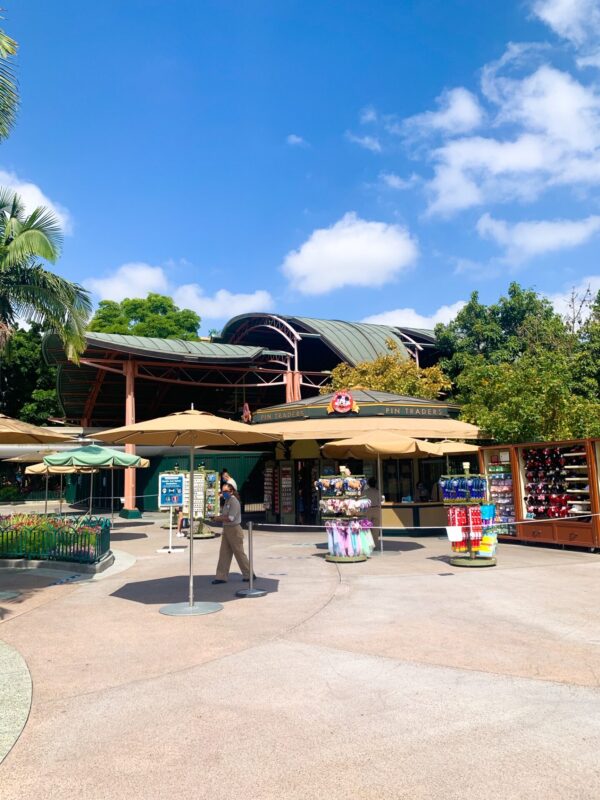 There are always risks involved whenever you leave your house whether you go to the grocery store, go to the beach, have a socially distanced birthday party or go outside the comforts of your "bubble." People may be asymptomatic and be walking around or worse yet, know they are sick but still go out. But that is why the screening process and safety guidelines are put into place at Downtown Disney.
It also comes down to counting on others to do their part as well as doing your own part by wearing masks and maintaining a safe distance from others. Did I feel safe? I did. But I was also cautious. I stayed away from people, tried not to touch things, washed my hands and used hand sanitizer a lot. Before I sat down to eat- I wiped everything down with anti-bacterial wipes. Also, when I got home, I changed my clothes in the garage before entering the house. LOL.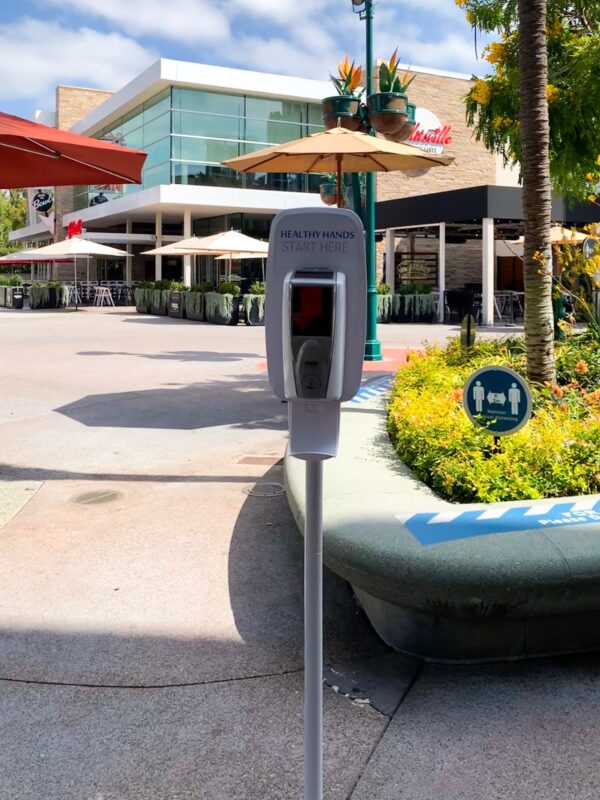 Other Things
If you get dropped off on Harbor (ride sharing or taking the train), you will go through screening and security before you enter the esplanade.
If you are eating or drinking, you must be sitting somewhere or off to the side. You can not eat and drink while you are walking about.
Guests (for the most part) all wore masks and kept their distance.
If a CM asks you to pull up your mask, you should do it. I only saw this happen twice. Like I said, most people were following guidelines.
There are two Starbucks but only the one by World of Disney was open. You can mobile order and pick up your drink there through the Starbucks App.
Bathrooms are closed occasionally for deep cleanings!
There are plenty of hand washing stations set up.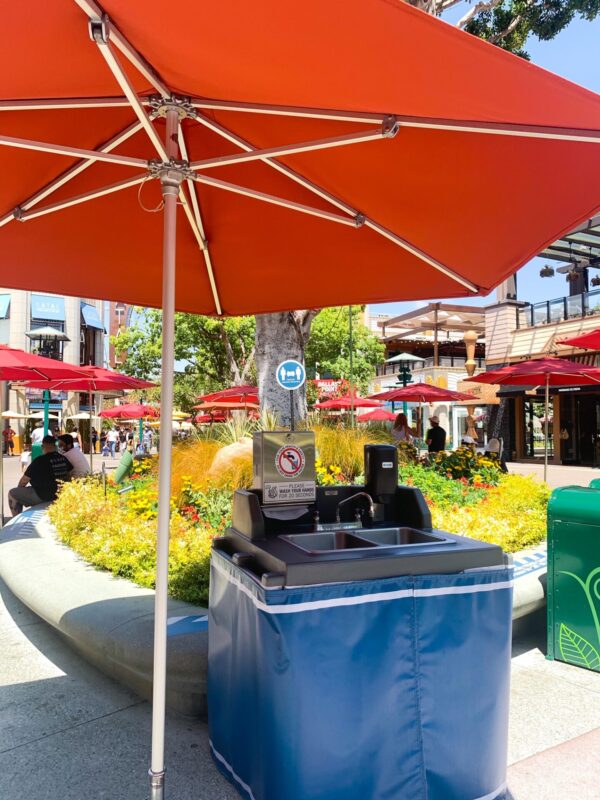 There are so many umbrellas everywhere. I felt like Disney really tried to keep guests' comfort in mind by setting them up especially where they would have to line up for stores or dining.
The part of the trashcan you push to open is left open so you don't have to touch anything.
Contactless payment is the way to go- credit, debit, Apple pay, etc.
Buena Vista Street (which opened 11/19/20) will be open until 3/14/21. Buena Vista Street will close on 3/15/21 to prepare for "A Touch of Disney" which is a special ticketed food event at Disney California Adventure starting 3/18/21. You can read more about that on Disney Parks Blog.
Update 2/19/21- Star Wars Trading Post OPEN!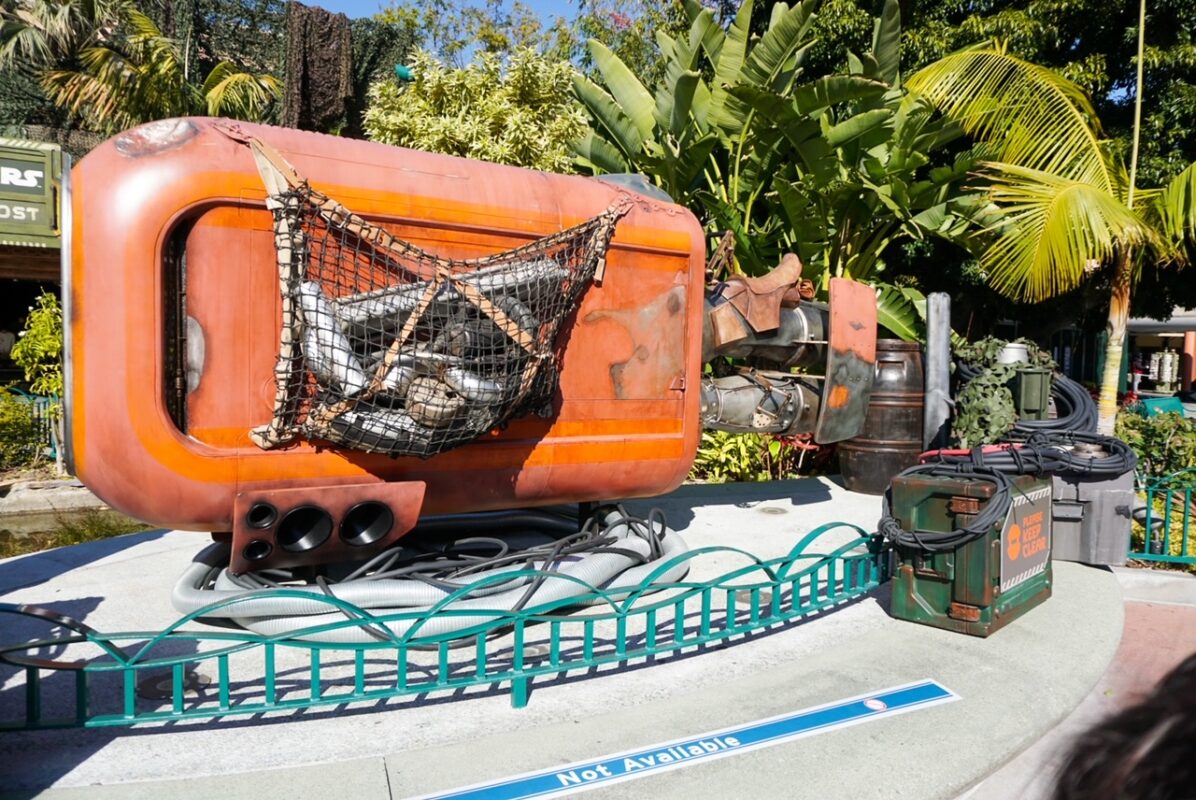 The Star Wars Trading Post is now open! It's located in the old Rainforest Cafe Building which closed in 2018. We went because I was able to get a reservation as a Legacy Passholder. Since it's now open to the public, you don't need to make a reservation- you just go and stand in line. If the line is too long, they will most likely put you in a virtual queue like they do for the other stores in Downtown Disney.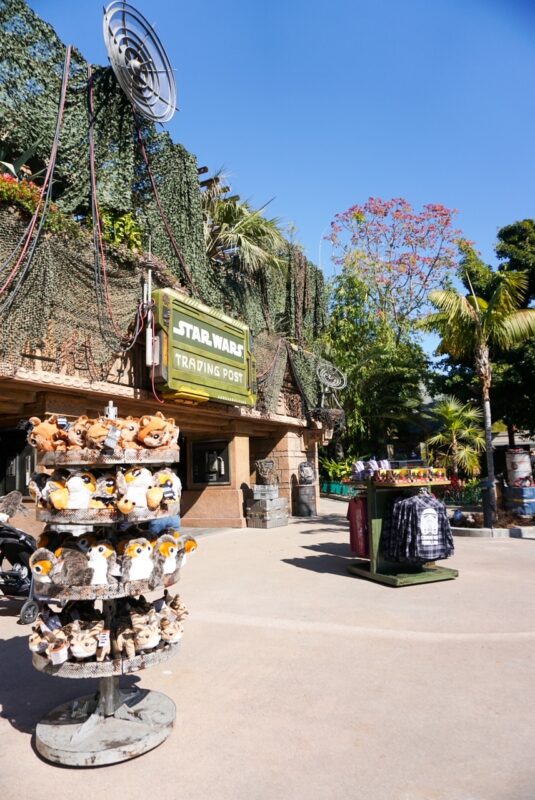 INFO About Star Wars Trading Post
Info:
Located in the old Rainforest Cafe building
Opened on 2/19/21 to the public
If you want to buy a lightsaber, you take a number upon entry and wait for your number to be called.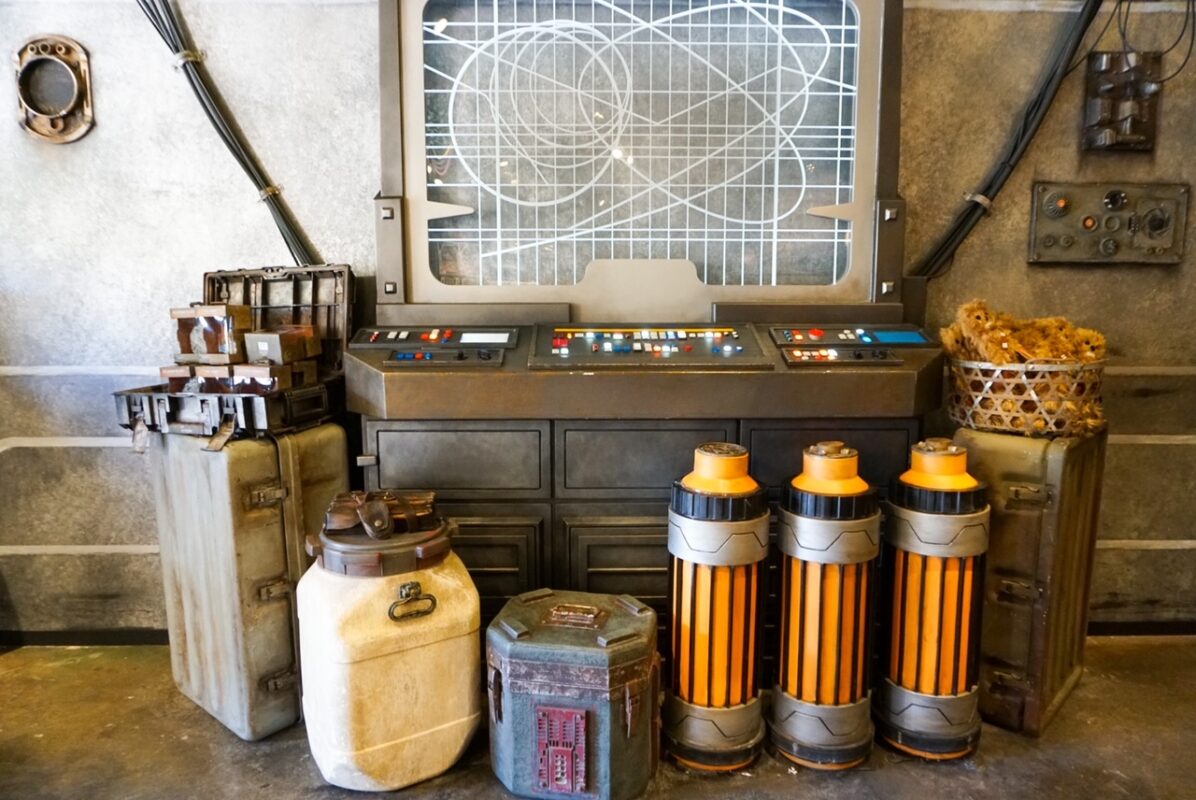 No reservations required but I'm assuming they will do virtual queues like the other stores in Downtown Disney if there are too many people who want to visit.
Passholder discounts apply (30% off Mon-Thurs until 3/11) Regular Passholder discount on other days and weekends.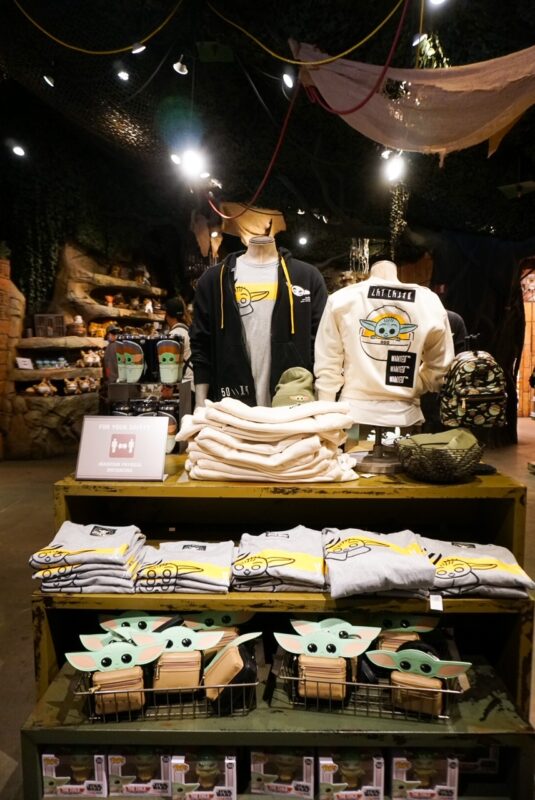 The theming and merchandise available was extensive and amazing. There's something for everyone who loves Star Wars- whether you're a Rebel, First Order, Mandalorian, or creature lover- there's something for everyone.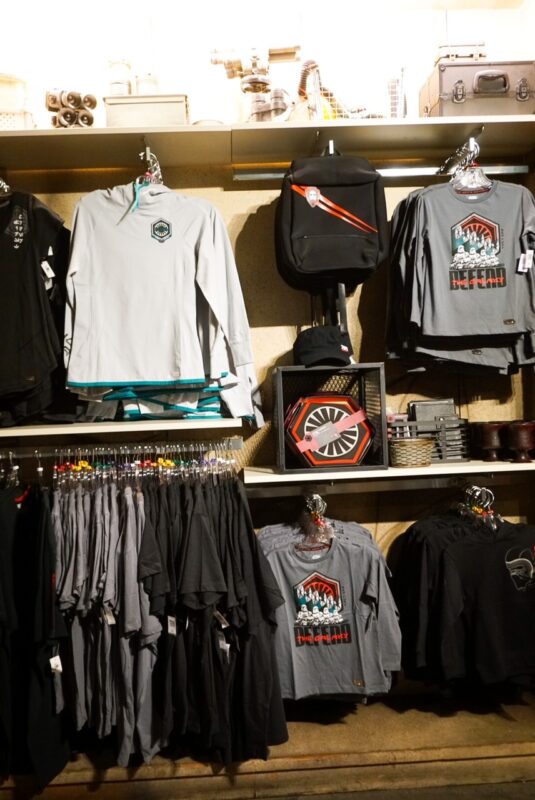 Want the latest gear for Rebels? Look no further. How about a new lightsaber? CHECK! Or maybe a new Jedi Robe or something for the Dark Side in you. How about a Paddy Frog Sipper? You'll be able to find it at the new Star Wars Trading Post at Downtown Disney.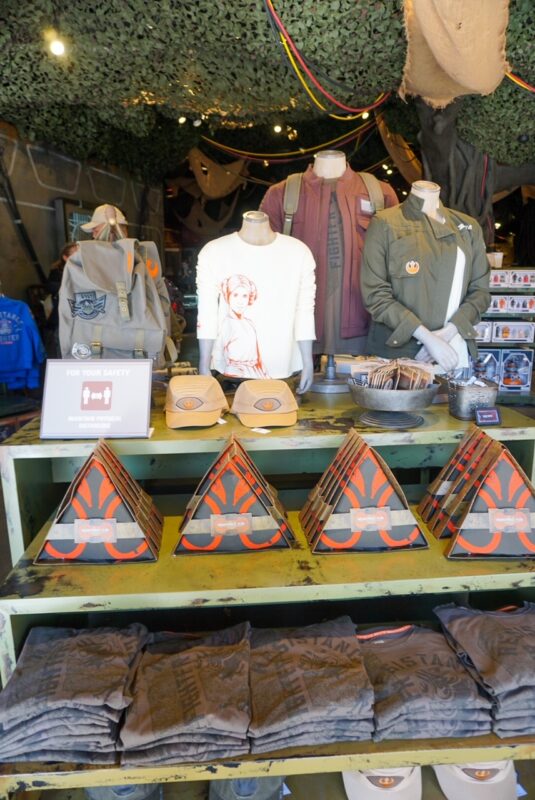 They had Black Spire Outpost merchandise which made me miss Batuu so much!!!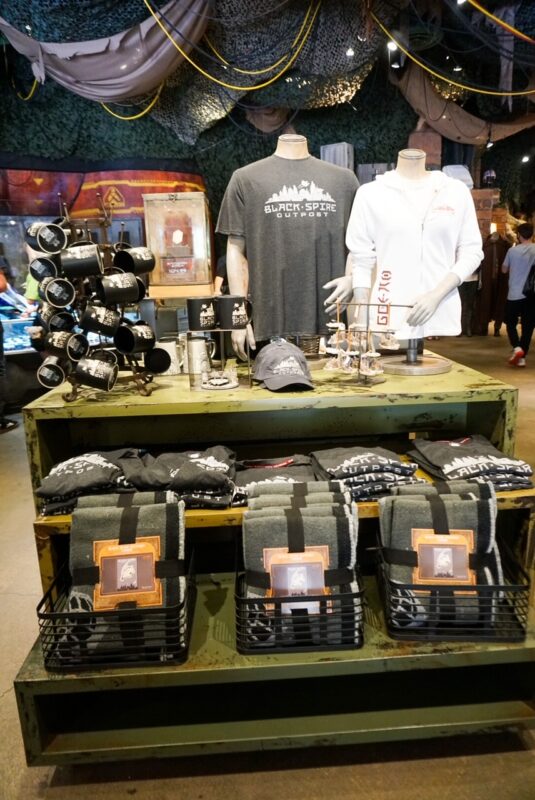 Don't forget to check out the creature stall. They also had some of the unusual creatures you would find in Batuu.

Here are some other pictures of the Star Wars Trading Post!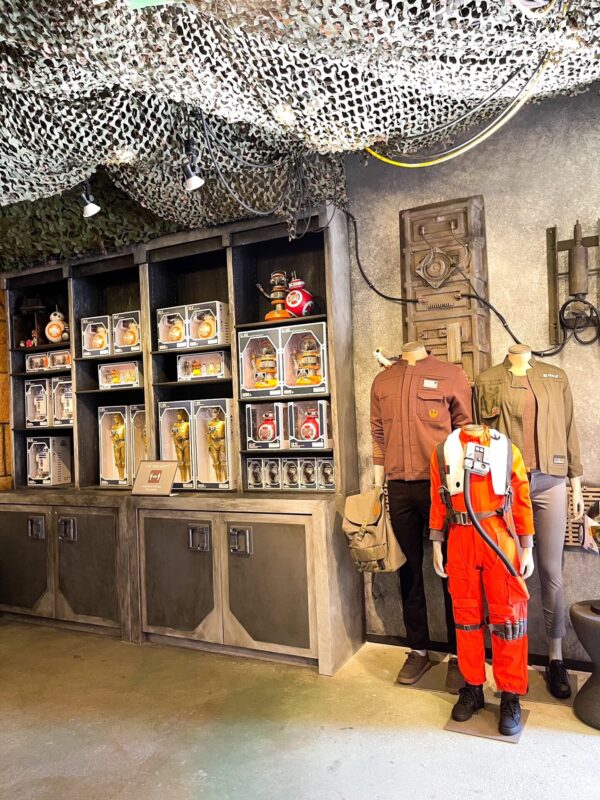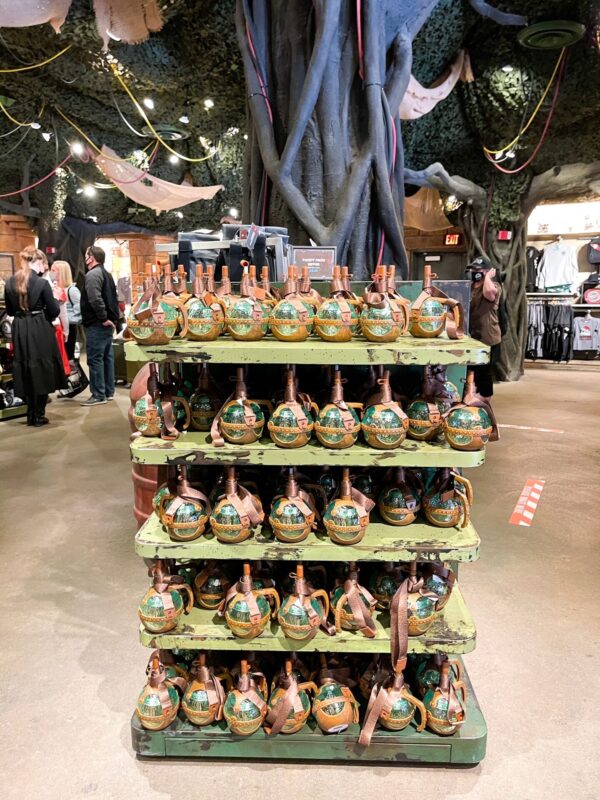 I've enjoyed the times I've visited Downtown Disney. I love that they are doing their best to keep things safe during the pandemic. Hopefully, things will keep getting better and our magical place will be open again.
Remember- wear a mask, wash your hands, keep a safe distance and be safe.