Raise your hands if you like to go through the drive-thru when you have your kids in the car with you? Raise your hand again if you love the convenience of services like Instacart or Amazon Dash to make life easier! Well, now there's mobile ordering at Disneyland through the Disneyland app available at over 20 food and beverage locations at Disneyland and Disney California Adventure Park! It's like Fast Pass (or Max Pass) for food! Your trips to the Disneyland Resort just got a bit easier with this amazing service!
Watch this short video to see how it works!
How To Order
Be sure to download the Disneyland app and sign in with your registered account.
Tap "Order Food' under "My Plans."
Choose the restaurant you want to order from and the window of time you want to pick up your order.
Select the items you want to order and then pay on your phone. AP discounts apply!
When you get to the restaurant during your arrival window, open the app and select, "I'm Here, Prepare My Order." This will let them know to start on your order.
When your food is read, you'll get a notification on the app that your food is ready in the "Mobile Order Pick Up" area.
Locations
Mobile ordering is available at these locations at Disneyland:
Bengal Barbecue
Edelweiss Snacks
Galactic Grill
Gibson Girl Ice Cream Parlor
Harbour Galley
Hungry Bear Restaurant
Jolly Holiday Bakery Cafe
Red Rose Taverne
Refreshment Corner
Royal Street Veranda
Stage Door Cafe
Tiki Juice Bar
Mobile ordering is available at these locations at Disney California Adventure Park:
Award Wieners
Bayside Brews
Clarabelle's hand Scooped Ice Cream
Cocina Cucamonga Mexican Grill
Corn Dog Castle
Flo's V8 Cafe
Hollywood Lounge
Lucky Fortune Cookery
Pacific Warf Cafe
Paradise Garden Grill
Smokejumpers Grill
They also offer mobile ordering at Tangaroa Terrace Tropical Bar & Grill at the Disneyland Hotel. White Water Snacks at Disney's Grand Californian Hotel and Spa also has mobile ordering!!
Our Experience
We used it last weekend when we went to celebrate our daughter's birthday. The line for Bengal Barbecue was a bit long. But my husband remembered that you can use mobile ordering so he went through all those steps. He got his order within 8 minutes. We were able to save so much time! It really is like Fast Pass for food!
Have you tried mobile ordering at Disneyland? If you haven't you should! It's super easy and will make your day at Disneyland even more enjoyable!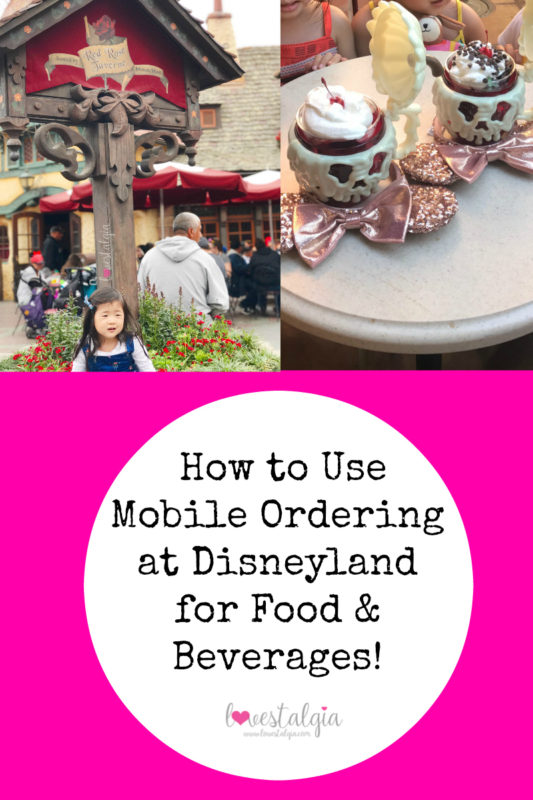 Video courtesy of Disneyland News.
Check out my post on My Preschooler's Disneyland Favorites!