Last month, we were invited to stay at the Great Wolf Lodge Southern California in Anaheim for a weekend of fun with our family! It was an amazing experience and I wanted to share with you some of the fantastic things about a family vacation there.
Being only a 30 minute drive to Anaheim from where we live, I wasn't sure if our family would enjoy a vacation so close to home. When you think of a typical vacation, you think about going somewhere far, traveling and spending time with your family.
I was so wrong to think those thoughts because we had the best time! There was so much to do for both kids and adults. Once we arrived at the Great Wolf Lodge, it felt like we were on a far away vacation. There's no need to leave the resort for anything because there's plenty of activities for you to enjoy. They also have a variety of restaurants and eateries throughout the resort. They've thought of everything for an amazing family vacation! It was the perfect staycation location!
Facts about The Great Wolf Lodge
First class, full service indoor water park resort
9 different suites that can sleep anywhere from 4-8 people.
Great Wolf themed Wolf Den or Kids Cabins in certain suites features bunk beds.
Daily character appearances by Wiley or Violet the Wolf.
Nightly story time before bedtime for the whole family.
Exclusive 105,000 square foot indoor water park for guests with 16 slides and attractions for guests of all ages!
So many attractions and entertainment to keep everyone busy for your entire stay!
Plenty of dining and shopping choices!
Our Stay
We stayed in a Family Suite with two queen beds and a full sofa sleeper. Our room was very spacious and A was so excited to sleep in a full sized bed. We spent the day in the water park and because A is not tall enough for some of the bigger slides, we mostly stayed in the Cub Paw Pool and Whooping Hollow which is perfect for younger kids.
After a couple of hours at the water park, we enjoyed a delicious pizza lunch at Hungry as a Wolf. Then we explored some of the attractions. One of A's favorite things to do was play at the Northern Lights Arcade. She had the best time playing games with her dad and earning tickets! There were plenty of games for guests of all levels. I think she could have spent the whole rest of the day there!
Another activity that A enjoyed was creating a creature from the Creation Station and participating in the Clubhouse Crew Scavenger Hunt. You take the Great Wolf Kids character on a little scavenger hunt that takes you to different stations throughout two floors of the lodge.
Fun for the Whole Family
We loved bowling at Ten Paw Alley! You get 10 frames for $6 and the balls are only 5 pounds so anyone can play!
At Scooops Spa, you can have some Mommy and Me time or even let your little princess get Sprinkled in Scoops and get pampered.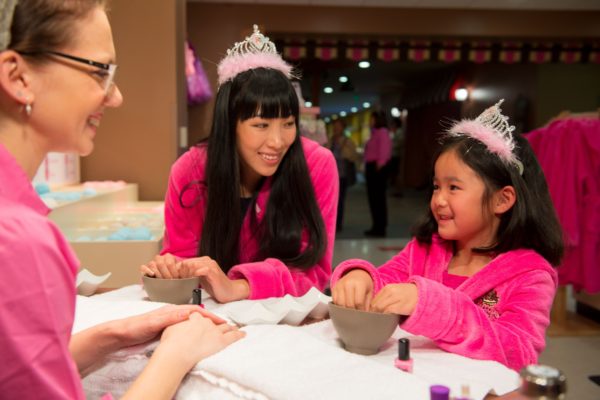 We didn't get to do the MagiQuest but it looked like it would be so much fun! You use a magic wand to go on an adventure throughout the resort which takes anywhere between 15-30 minutes to complete. I think this would be great for slightly older kids than A or if you have a family with older siblings, they can help the younger sibling on their adventure. The cool thing about this is that whenever you return to the resort for another stay, the wand will pick up where you left off in the game!
Special Seasonal Events
Two amazing events that happen at the Great Wolf Lodge are Howl-O-Ween in the month of October and Snowland in December. During Howl-O-Ween, the lodge celebrates Halloween with a special Trick-or-Treat Train, Spooktacular Story Time, Daily Costume Parade, and Monster Bash Dance Party. During Snowland, the lodge is transformed into a winter wonderland!
Some Tips
Make a plan. Since this was our first time at the Great Wolf Lodge, we didn't know what to do first! It can be a bit overwhelming with all the different activities that are available. Do some research on their website of things that you want to do, and make a plan so you can maximize your time.
Buy a Pass. If you are going to participate in different activities during your stay, you might want to look into purchasing either a Pup Pass, Paw Pass or Wolf Pass depending on what you want to do. It will save you up to 35% off on various activities and attractions throughout the resort.
Go with friends or invite them to be your guests at the water park. We had a great time as a family of three at the Great Wolf Lodge but in the back of my mind, I kept thinking A would have had an even better time if her cousin or someone else her age was with us. I think the next time we go, we would want to go with one other family or invite our cousins for the day. The Great Wolf Lodge sells a limited number of wristbands to the water park for $50/day. You can buy one guest band per registered guest in your suite.
If you're from out of town, check out their deals for Disneyland tickets.
Have you ever been to the Great Wolf Lodge? We can't wait to go back!
*Images courtesy of The Great Wolf Lodge PR unless watermarked.*