Last night, I was able to watch Disney on Ice: Worlds of Enchantment at the Honda Center and it was spectacular! This was my first Disney on Ice experience and I was amazed by the skills of the ice skaters and how they were able to skate so beautifully as well as tell the stories of each respective "world" they took us into of our favorite Disney movies and characters.
Prior to the beginning of the show, Mickey and Minnie along with Goofy and Donald led the audience in a few dances to get everyone excited about the show! They had the audience boogying and jamming which really electrified the air and filled the crowd with anticipation and excitement!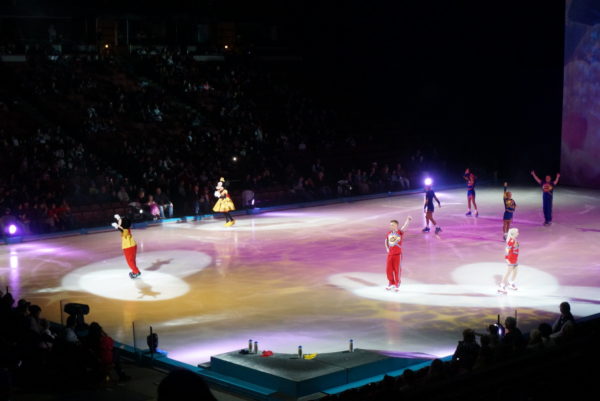 Toy Story: The first segment of the show takes us to the world of Andy's toys and the dilemma he faces as he heads off to college and the fate of his beloved toys. It was pretty amazing to see the toys come to life and they were literally larger than life. This segment of the show was the longest and would be enjoyed the most by fans of Toy Story. If your child has not seen the movie or if they are younger than 3, they might get a little bit antsy because there are a lot of parts where the characters are telling the story so younger children with shorter attention spans might have a harder time. This was at least 30-40 minutes long, if not longer.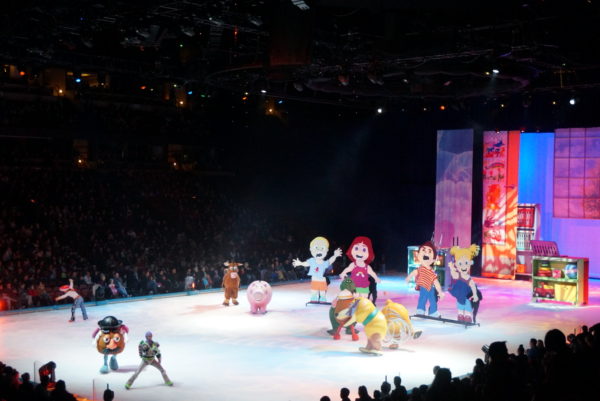 The Little Mermaid: After Andy's tearful goodbye to his toys, Mickey and Minnie came out to introduce the next segment- our absolute favorite- The Little Mermaid. It was so upbeat and entertaining to see Ariel, Prince Eric, Sebastian, and Flounder skate, dance and sing some of our favorite songs from the movie. Even Ursula made an appearance! My daughter definitely enjoyed this part the most because Ariel is her favorite Disney Princess!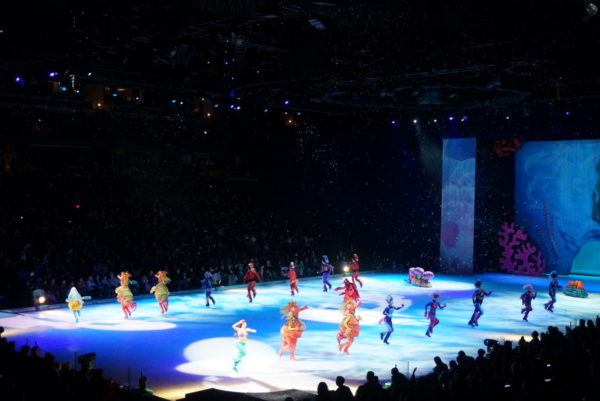 Disney Cars: After a short 15 minute intermission, Mickey and Minnie introduced the next part of the show- Lighting McQueen and all of our favorite characters from Cars! This part of the show was the shortest probably due to the fact that they are cars on the ice but it was still entertaining!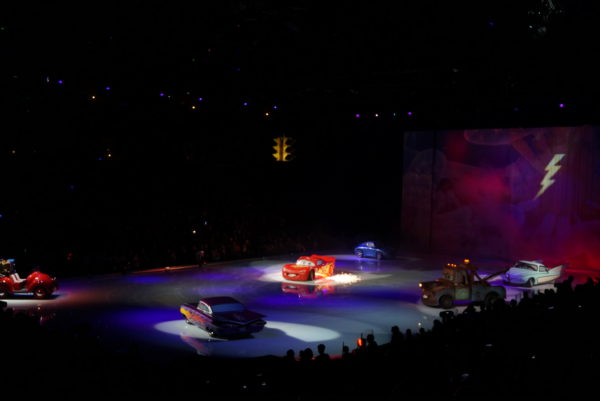 Frozen: Mickey and Minnie returned to introduce us to the next part of the show to transport us to the kingdom of Arendelle, where our favorite characters from Frozen take us on an adventure where we learn how true love comes from within to thaw a frozen heart. We are big fans of Frozen so this segment of the show was very entertaining. It was also amazing to listen to a large crowd singing a long to Let it Go and Love is an Open Door!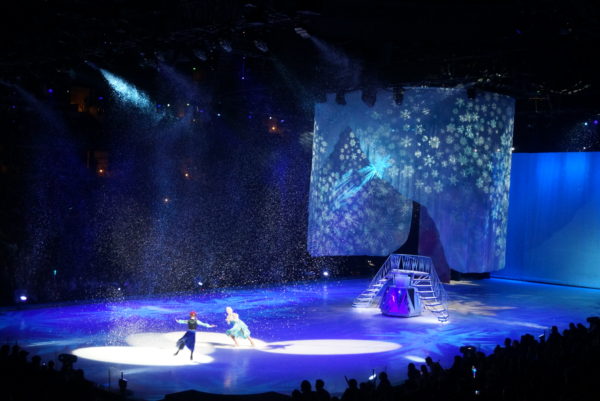 Some Tips:
Wear layers and bring a jacket- the stadium is cold. It's not freezing cold but we were glad to have our jackets. I brought a little blanket for A. It was perfect to put on her legs while she watched the show.
Dress up in your favorite Disney outfits- we are huge fans of Disney and have a lot of princess dresses so of course A dressed up as one of her favorites- Elsa!
Arrive early- the show starts on time so if you are late, you will miss out on the performance. It is also a little disruptive when you are trying to watch the show and late comers are walking in the aisles or down the stairs.
Women's bathroom lines are extremely long during intermission so if you have a newly potty trained toddler, you might want to slip out to get in line a little bit before intermission.
They sell a lot of merchandise right when you enter. If you have a hard time saying no to your child or if your child will have a meltdown because you said no to them, it might be a good idea to purchase something Disney related prior to attending the performance so you can have that on hand for your child.
We had an amazing time and will definitely attend another Disney on Ice performance in the future! Be sure to check it out when and if it comes to a city near you! Tickets and information can be found on Disney on Ice's website. If you're in the Southern California are, be sure to get your tickets before it's over!