Hi Everyone! It's been about a month since my last post due to vacations and gearing up for the new school year but I'm back! I wanted to share with you guys a sneak peek of the Hello Kitty Grand Cafe at Irvine Spectrum Center that will be opening up on Friday, September 14th at 11am!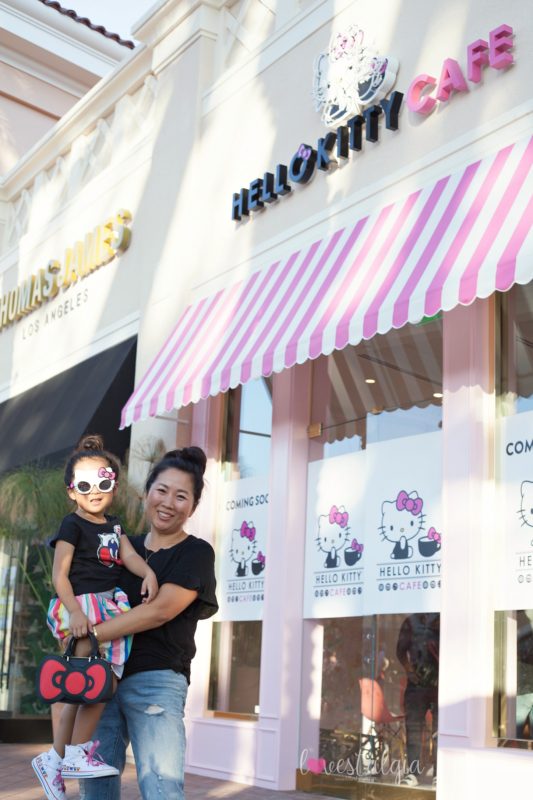 The Hello Kitty Grand Cafe is a permanent brick and mortar store that is located in the newly expanded section of the Irvine Spectrum Center. It's the first cafe of its kind in the United States! How exciting is that?!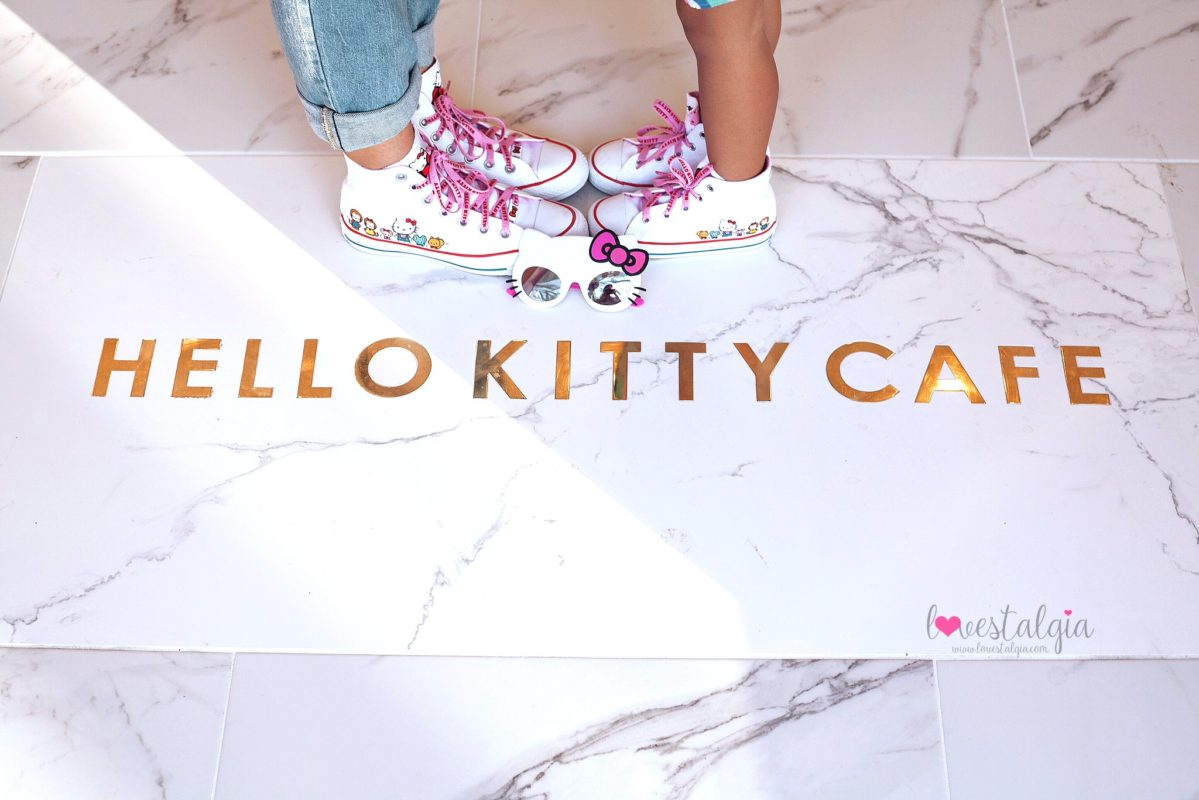 Hello Kitty Grand Cafe
The Hello Kitty Grand Cafe will offer an expanded menu of freshly baked, cakes, cookies, donuts, seasonal goodies and handmade hot and iced drinks as well as a selection of Hello Kitty merchandise. There is also a small seating area inside the cafe and plenty of seating outside at the Irvine Spectrum Center by the Ferris Wheel.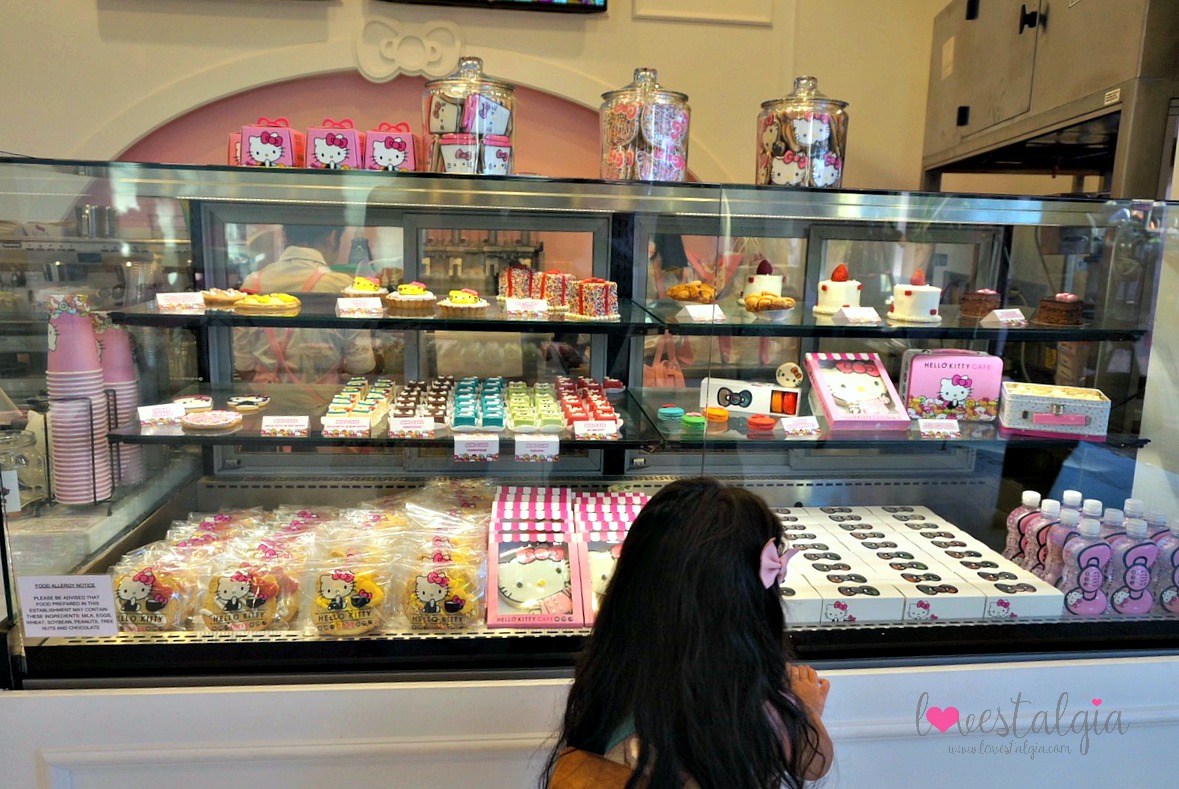 Some exclusive Hello Kitty Grand Cafe merchandise and food include:
Gold bow handle mug
Rose gold sparkle chubby bow
mini hot donuts (cinnamon sugar, marcha, cookies n' cream)
4 piece pick your own Sanrio character mini cake set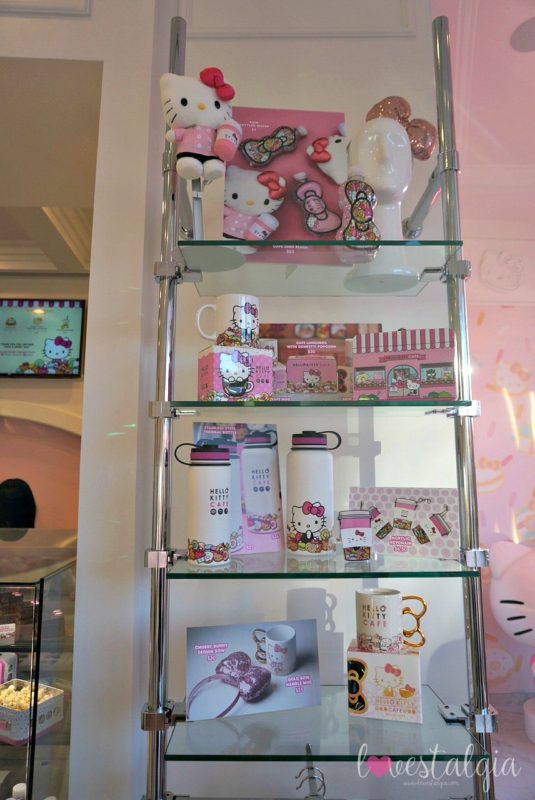 There are so many photo ops throughout the store to delight Hello Kitty fans of all ages!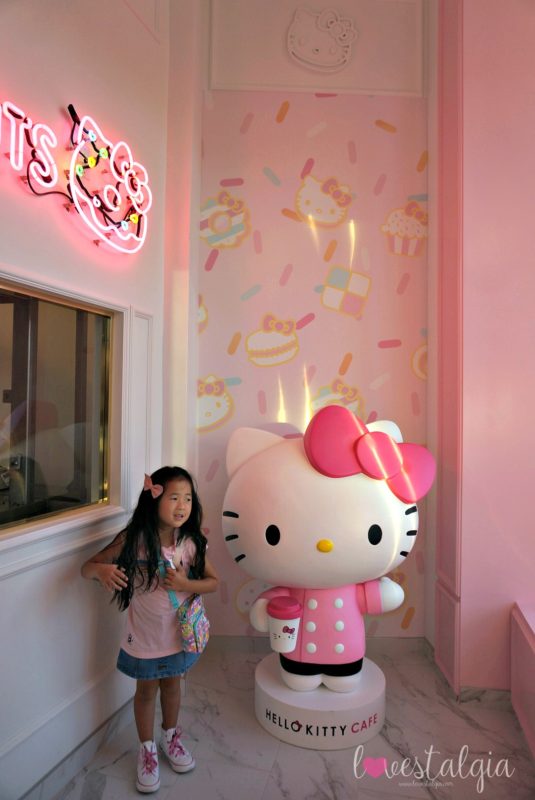 The hours for the Hello Kitty Grand Cafe are:
11am-9pm (Monday – Thursday)
11am-10:30pm (Friday)
10am-10:30pm (Saturday)
10am-9pm (Sunday)
The Bow Room at the Hello Kitty Grand Cafe
One of the most ADORABLE things about the Hello Kitty Grand Cafe and what sets them apart from other Hello Kitty Cafes is that they have a "secret" Bow Room. The Bow Room is behind this white door with a gold bow knocker that you can actually use to knock on the door!
The Bow Room is home to an afternoon tea service or evening cocktail service on select days of the week and weekend. But it is only available by RESERVATIONS online or via telephone (949-329-8629). The reservations are available 30 days in advance. The Bow Room has a maximum capacity of 28 people and can not be reserved for parties or events at this time. That may be something they consider in the future.
Tea Service in The Bow Room
Afternoon tea service in The Bow Room is suitable for guests of all ages however anyone over the age of 3 will need a reservation. It is $55/person. The hours for tea service are:
11am – 4pm (Wednesday-Friday)
10am – 4pm (Saturday and Sunday)
A minimum of 2 people is required to make reservations for the tea service because all tea sets are served in multiples of two. The tea menu includes an assortment of sandwiches, pastries and tea. My favorite was the smoked salmon on a mini pretzel croissant while A loved the chocolate cake and raspberry macaron.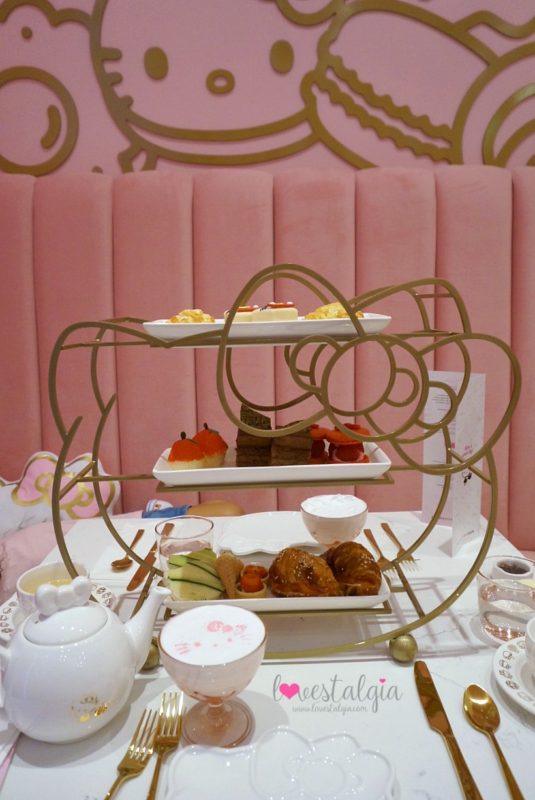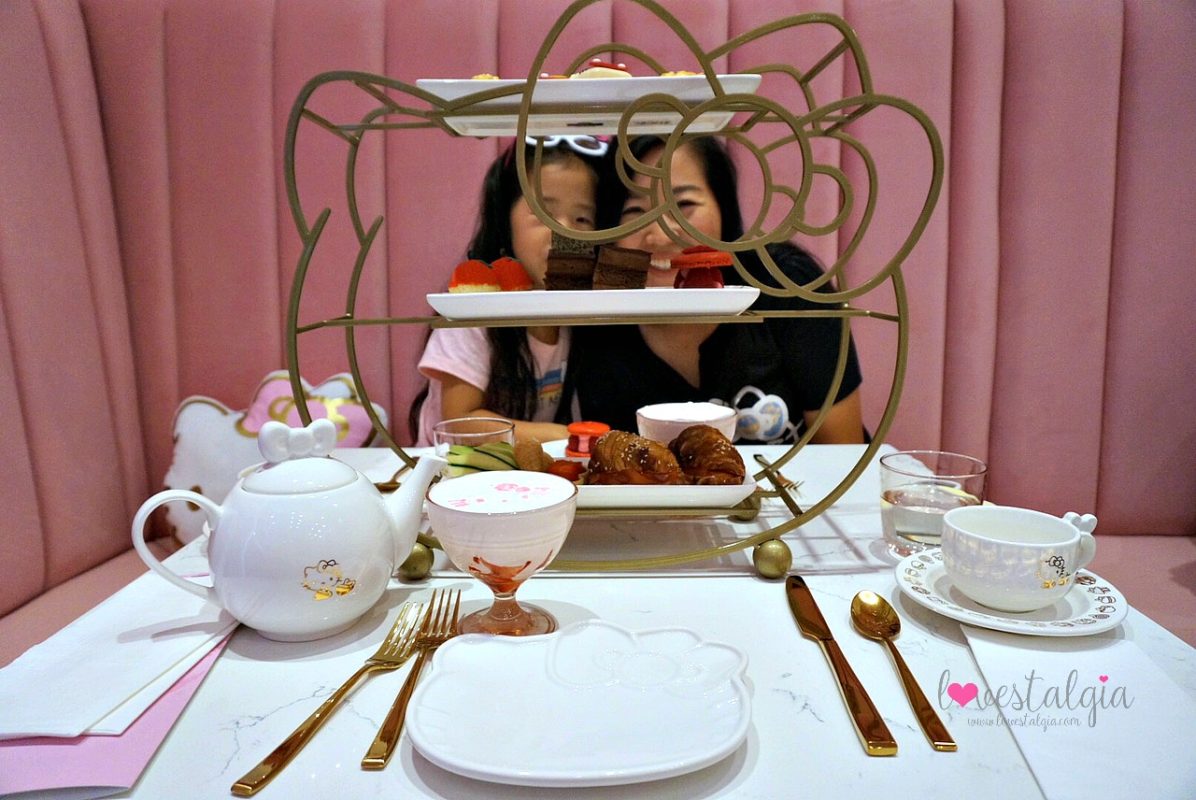 Cocktails at The Bow Room
The Bow Room becomes a cocktail bar for those who are 21 years and older. The cocktail services includes an assortment of adult beverages served in true Hello Kitty fashion in either an adorable cup, Hello Kitty ice cubes, or Hello Kitty's face on top of the concoction! Hours for the Cocktail Service are:
5pm – 9pm (Wednesday, Thursday, Sunday)
5pm – 11pm (Friday, Saturday)
Some of the drinks that are served at the Cocktail Service include:
You Had Me at Hello (Cachaca, aperol, lemon, sherry and pineapple, $21)
Matcha Matcha (Japanese whiskey, yogurt, matcha, yuzu, $15)
Dear Daniel (Mezcal, pineapple, lime, spirulina, salted coconut whip, $16)
1974 ( choice of an Old Fashion or Classic Negroni served with a signature Hello Kitty ice cube, $14).
Curated wine list (sparkling wine, champagne, pinot grigio, rose and more)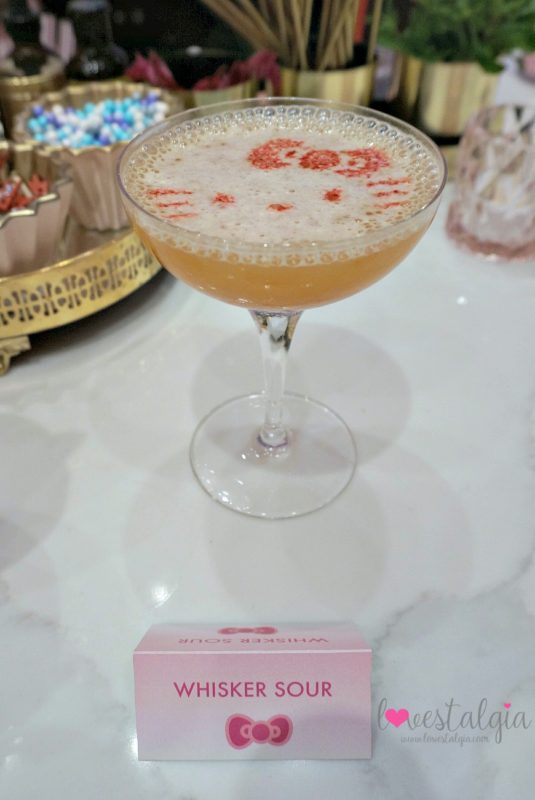 More Pictures of the Hello Kitty Grand Cafe
So is this a place that you need to visit? YES. If you want to go to The Bow Room, you must make reservations because they are filling up fast.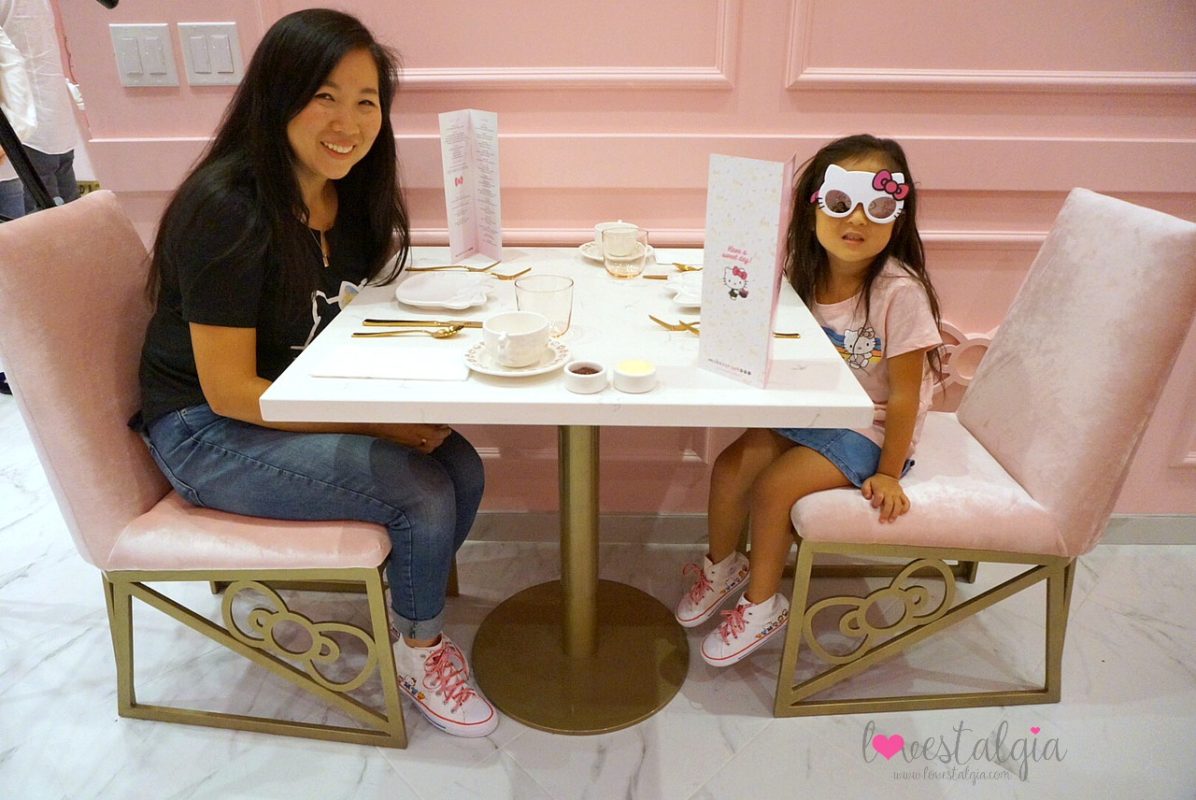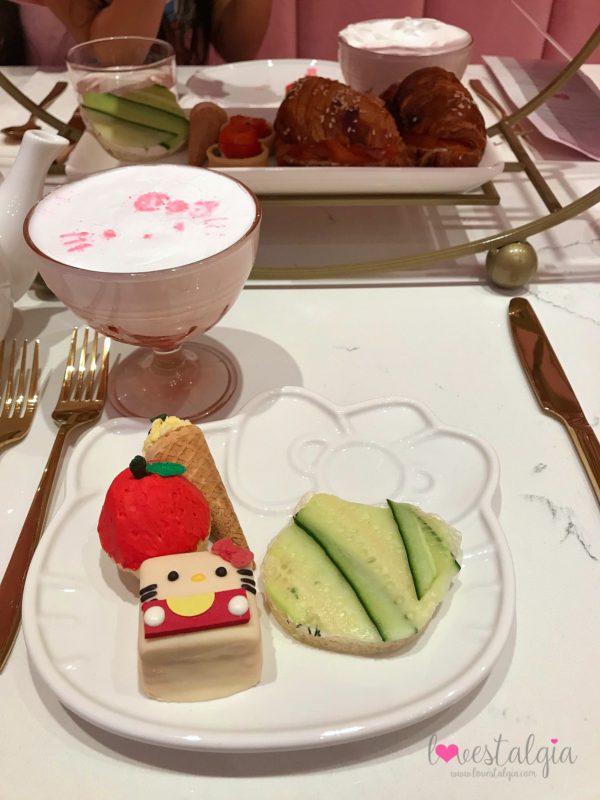 My daughter and I had a great time trying out their tea service and seeing the amazing decor inside The Bow Room. If you think the pictures are cute, seeing it in real life is even better!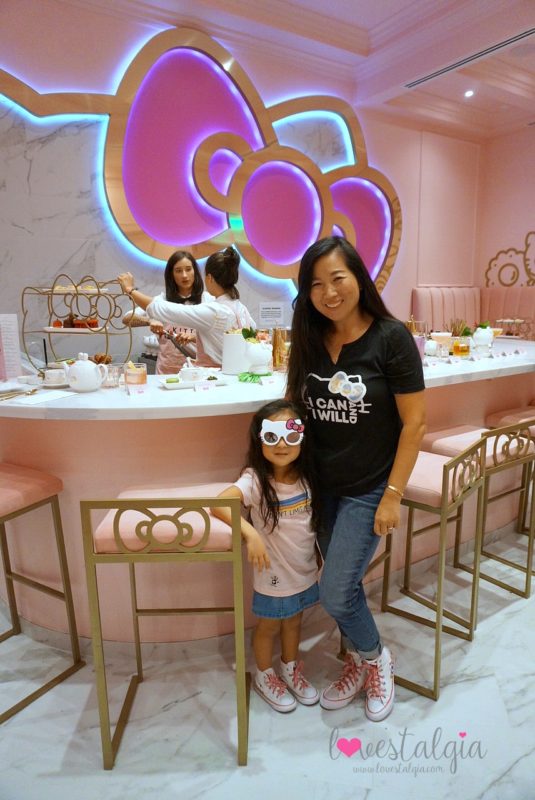 If you don't get a chance to go anytime soon, remember that the Hello Kitty Grand Cafe isn't going anywhere. It will be around for a long time!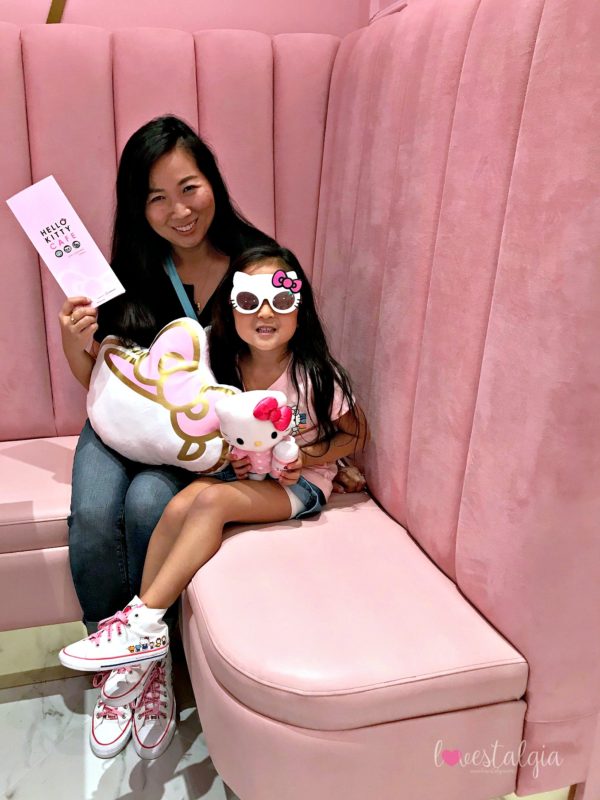 Do you love Hello Kitty just as much as we do?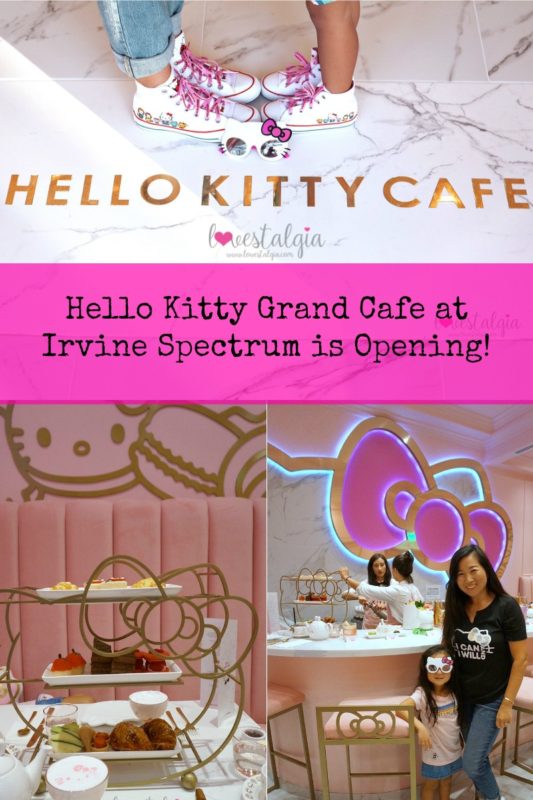 (Thank you to Sanrio for inviting us to this press event!)