*We were given 3 complimentary tickets to Soak City. All thoughts and opinions are my own.
The weather is warming up and what better way to cool off than to head to Knott's Soak City Waterpark! Not only is it Orange County's largest water park but it's the perfect destination for some family fun with their 2-acre expansion!
Expansion
Soak City already had some amazing slides but with the expansion they added two brand new water slide towers- Shore Break and The Wedge. Shore Break is over seven stories high and offers six different water slide experiences! Guests climb into an Aqua Launch chamber which sends them on a vertical free fall through several loops and curves. The Wedge is the newest family raft ride to be introduced which takes up to 6 riders on an exhilarating trip filled with twists and turns.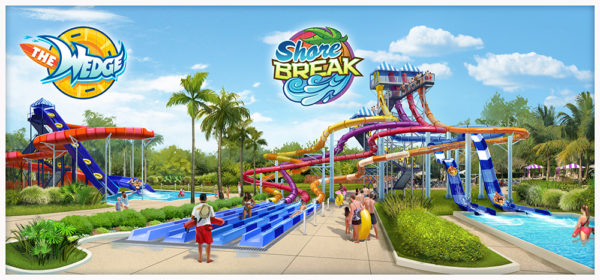 In addition to the two slide towers, Longboard Grill has been renovated and offers more menu options. There are shaded seating in front of the restaurant. Spacious cabanas and seating have been added near the two new slide towers.
We were able to attend last weekend's Opening Day and had such a great time especially since the weather last weekend was in the 90s! It was our first time at Soak City and it won't be our last!
What should I bring?
Bring plenty of water, sunscreen, towels, hat, sunglasses, water shoes, dry/wetbag, and a change of clothes. I really wished I had brought water shoes because the ground got hot and even when walking short distances.
Things to Keep in Mind:
Check the height requirements for the slides. All the slides have height requirements of either 42″ or 48″. Our daughter wasn't tall enough to go on any of the big slides so we did enjoy people watching!
Get there early. Soak City opens at 10am but you should arrive well before 10 am to park, go through security and then secure seats under the shade. If you arrive later, you might not find lounge chairs so it's best to get there early. You can also bring a blanket and sit in the grassy areas that you find throughout the park.
No outside food is allowed. You can bring water into the park but no outside food is permitted unless you have special dietary restrictions or it's baby food. They have plenty of food options throughout the park. Other options include getting a hand stamp and exiting the park to get food across the street at Knott's Berry Farm. You could also pack a cooler and keep it in the car to eat later.
Renting a Cabana is a good idea. If you happen to go with a group of friends, a cabana would be ideal so you don't have to worry about shade or seats. Cabana rentals are $165 during the week and $220 on the weekends. It comes with a table, chairs, umbrella, shaded area, free tube rental, and waiter service.
Floaties? Any floaties brought into the park need to be approved by Soak City after you enter the park. If you forgo your own floaties, there are plenty of life jackets for guests to use. All guests under 48″ tall must wear life jackets.
Most of our time was spent in Gremmie Lagoon, Sunset River (lazy river), Beach House or Tidal Wave Bay. Inner tubes are available to rent to use throughout the day. Sunset River has their own inner tubes you can use when you get there but you have to wait for one to become available. Be sure to check the FAQ section for any questions you may have.
Knott's Soak City is definitely a great place to cool off during the summer. Will you be visiting this summer?
Other things to do this summer in Orange County or Las Vegas.