Pixar's Onward is now on Disney+! It was released for digital download earlier in March but is now available for everyone on Disney+ so if you've been waiting for it to come out, go watch it! You won't regret it.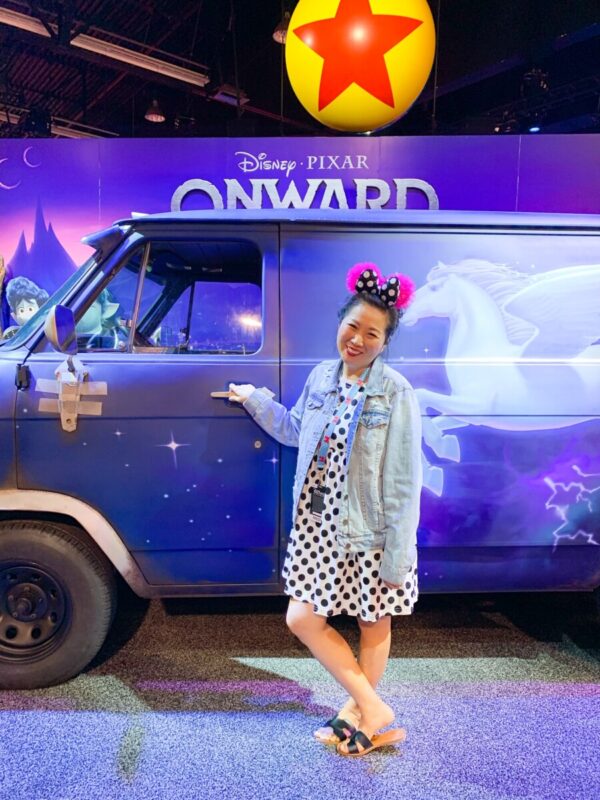 As a way to make it educational, here are some activities you can do with it!
Coloring Pages and Activities
Here are some coloring pages, puzzles, bookmarks from Disney that you guys can do! They even have a memory game! These activities would be great to do after watching the movie. You can even do extension activities which I will talk about later on.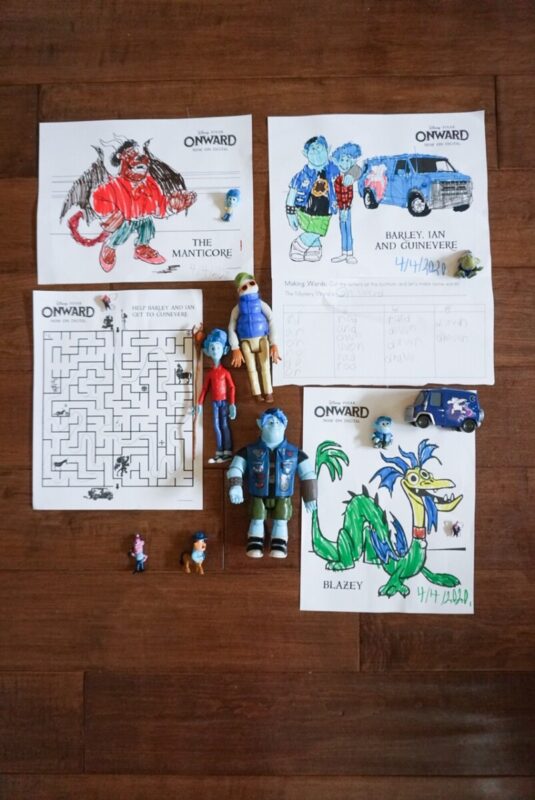 Making Words:
I wanted to share with you a simple way of incorporating spelling that's hands on and can be used for a variety of age groups. It's called Making Words by Patricia Cunningham and Dorthy Hall.
I used to do this with my first graders to help with spelling and language arts. You can actually purchase this book here. But I'll share how to do this on my Instagram.
Basically, the premise of this activity is for kids to be given letters and use them to make words. The activity should take about 15 minutes. The students make words beginning with 2 letter words and continuing with bigger words until the "mystery word" is made. The mystery word will include all the letters that they were given!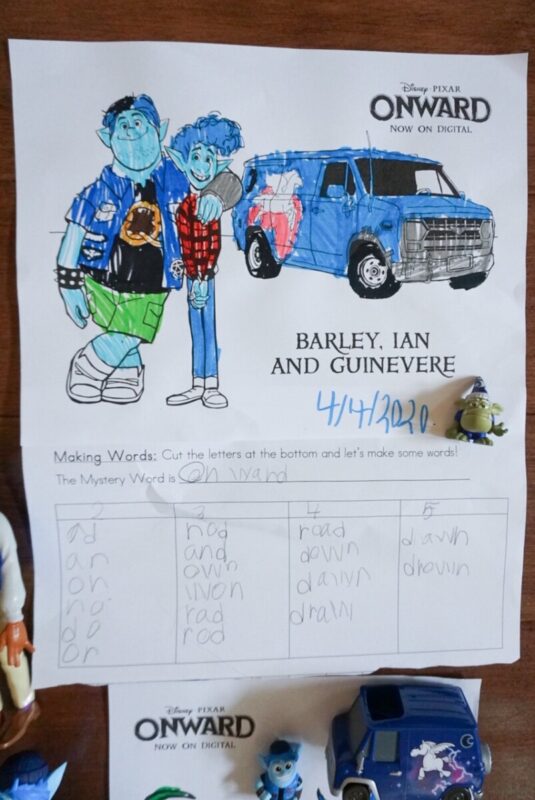 Making Words is a great hands-on activity where kids learn more about the letter-sound relationships and look for patterns in words. They learn that changing one letter can change the word!
Here is the worksheet for Onward and here is a blank one! Here are directions on how to do Making Words! Also, check my Instagram for a video showing how to do the lesson.
Create Your Own Making Words Lessons
To create your own Making Words lessons:
Pick a mystery word.
Use the Scrabble Website to find which words you can make using only the letters from the mystery word.
Sort the words by word family, number of letters, see patterns in words.
The possibilities are endless!
Extension Activities
After the Making Words lesson, you can do additional activities such as writing sentences using the words, picking out a word and brainstorming word families or rhyming words to go with them, and writing the words in alphabetical order.
After watching the movie, get a blank piece of paper, fold it into 4ths. Write or draw pictures of the main characters, what the story was about, whether they liked the movie, and their favorite part.
Pick a character from the movie and draw a picture. Talk about what they did in the movie and why it was important.
Record a video of your child retelling the story in their own words. Use words like first, then, next, after, and finally. They can also write this down in a journal or draw a picture if it's easier!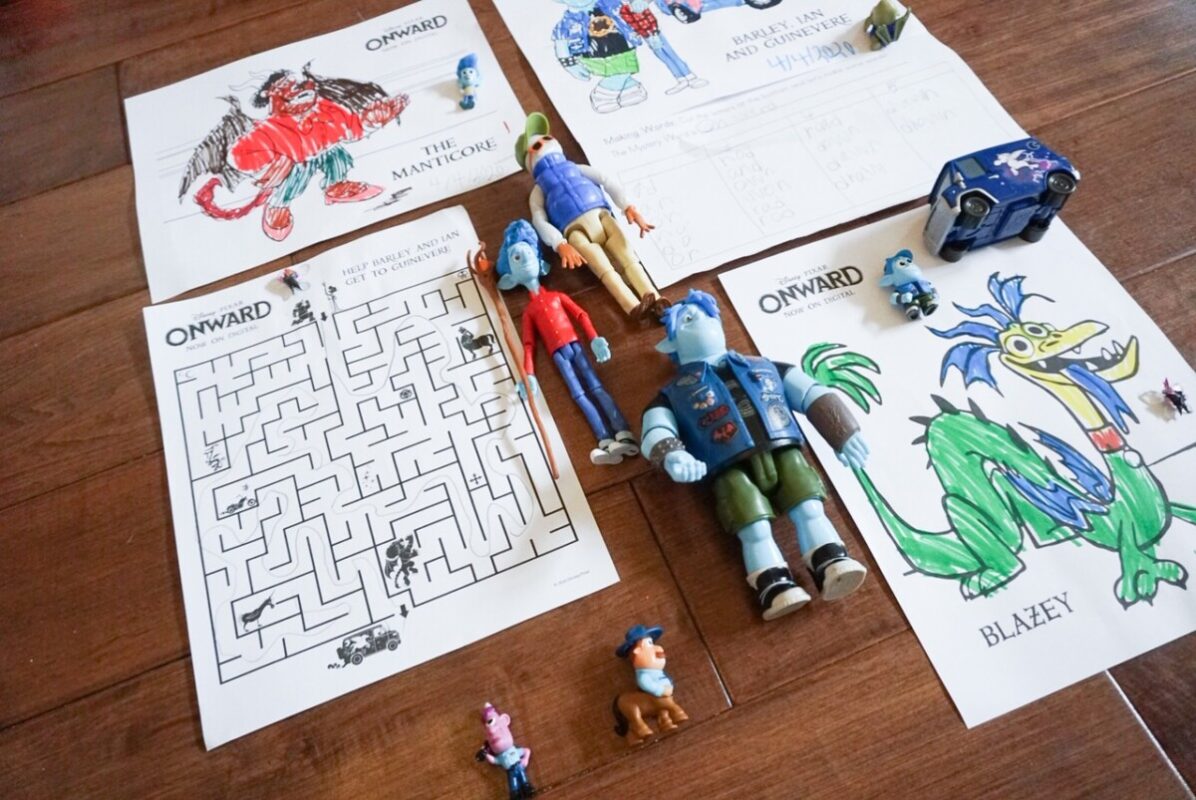 Play Charades- act out parts of the movie and have a parent guess. Or do it virtually and use technology to act out the movie part to a friend and have them guess!
Write an alternate ending to the movie. Did you like the way it ended? Would you want it to end a different way?
Make a list of things you want to do with a special person in your life like Ian made a list of things to do with his dad.
Check out the Disney Parks Blog for more activities and to download a free e-book until April 11! (This book is suitable for kids who are 9-12 years old.)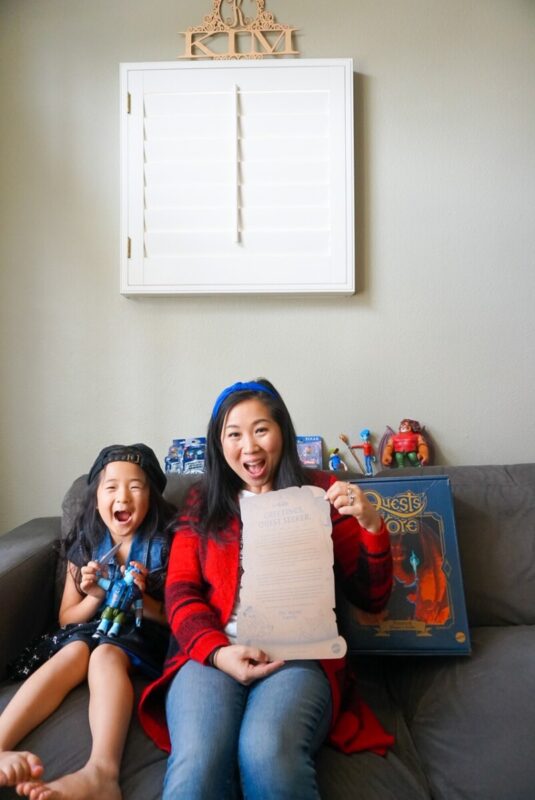 Have you watched Onward? It's on Disney+ now. Special thanks to Mattel for sending us these toys!