Updated for 2023!
Oogie Boogie Bash is the Halloween party at Disney California Adventure Park which started in 2019 at the Disneyland Resort. It runs from September 5th- October 31st on select Tuesdays, Thursdays and Sundays. Read on to find out what Oogie Boogie Bash is, how to get Oogie Boogie Bash tickets, and what to expect during the party. I'll also share our experience when we went in 2019, 2021, and 2023. Tickets sold out quickly in 2022 before I was able to purchase tickets.
I've been to Mickey's Not-So-Scary Halloween Party at Walt Disney World as well as Mickey's Halloween Party which was a Disneyland Halloween Party before they changed it. But Oogie Boogie Bash might be my favorite! I'll explain in more detail later on in this post but here's some basic information about OBB which is also available on the Disneyland website.
What is Oogie Boogie Bash
Oogie Boogie Bash is a special ticketed event that must be purchased separately.
Ticket prices range from $134-$189/ person depending on the day.
Oogie Boogie Bash dates are on select nights on Tuesdays, Thursdays, and Sundays from September 5th – October 31st
You can enter the park 3 hours prior to the party starting. This is considered the mix-in time because non-party guests are still mixed in with partygoers.
Party Hours are 6pm- 11pm.
DCA closes early to non-party guests on party nights.
If you're already inside the park, you can check in at a designated location at the beginning of the mix-in time. Just show them your party ticket.
Guests of all ages are allowed to wear costumes but make sure you follow their costume guidelines.
You can do a dining package at the Wine Country Trattoria (or a dessert party) for guaranteed seating for the Frightfully Fun Parade.
How to Get Tickets
Tickets went on sale for Magic Key Holders on June 27, 2023 no earlier than 9am PDT. They went on sale to the general public on June 29, 2023. There are no special discounts for Magic Key holders. You do not need to make a separate theme park reservation or buy an additional theme park ticket for your party dates. The party ticket is your entry into Disney California Adventure Park only. Each person can buy up to 8 tickets. Tickets are nonrefundable and can not be transferred or resold. Tickets are sold out for this event!
Here are the party dates and prices:
Tues Sept 5- $134
Thurs Sept 7- $144
Sun Sept 10- $159
Tues Sept 12- $134
Thurs Sept 14- $144
Sun Sept 17- $159
Tues Sept 19- $134
Thurs Sept 21- $144
Sun Sept 24- $159
Tues Sept 26- $144
Thurs Sept 28- $144
Sun Oct 1- $169
Tues Oct 3- $159
Thurs Oct 5- $159
Sun Oct 8- $169
Tues Oct 10- $159
Thurs Oct 12- $159
Sun Oct 15- $169
Tues Oct 17- $159
Thurs Oct 19- $159
Sun Oct 22- $169
Tues Oct 24- $169
Thurs Oct 26- $169
Sun Oct 29- $189
Tues Oct 31- $189
What to Expect at Oogie Boogie Bash
There are so many FUN experiences and activities for guests of all ages at Oogie Boogie Bash. Whether it's a parade, exclusive entertainment, character meet and greets, or interactive treat trails, Disney really does an amazing job with this party. They sometimes have special photo opps or freebies for Magic Key holders so be sure to follow the Disneyland Magic Key Instagram page for updates.
Mickey's Trick & Treat
Mickey Mouse and pals host an interactive Halloween party with dancing, a not-so-scary story and a special treat. (I WANT CANDY!!) Mickey's Trick & Treat is located in the Disney Junior Dance Party Theater- now known as the Disney Theater. We really enjoyed it! Show times are 6:00, 6:45, 7:30, 8:45 and 9:00. The only part that was a little bit hectic was the end when the show was over and the Cast Members were going to distribute candy. There was no organized line so it got crowded. The CMs at the exit all distribute candy so head towards the exit!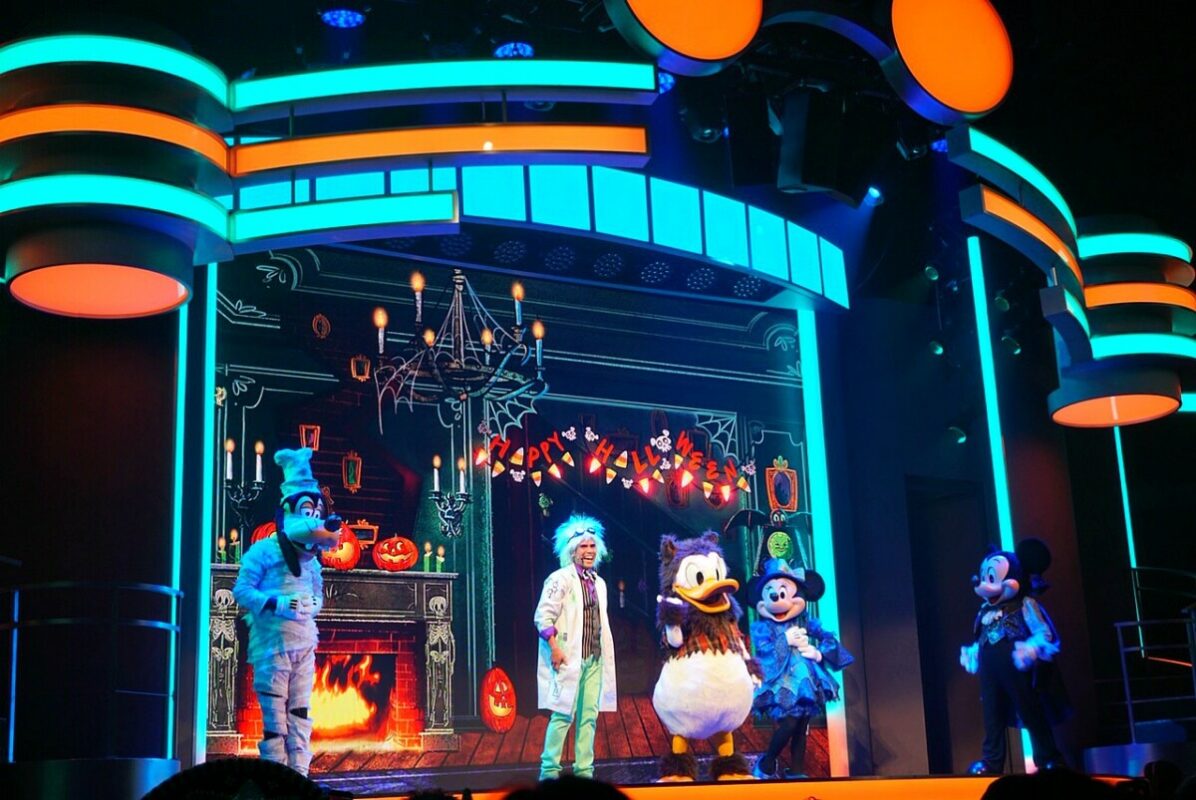 Villains Grove
The Redwood Creek Challenge Trail is transformed into a dream-like haven for the Disney Villains! Villains Grove opens after dusk (around 8 pm) and lines can be long but it moves quickly and is totally worth it. The special effects transform the Redwood Creek Challenge Trail into a magical and unique place filled with projections, lasers, lights, sounds, and smells. Please note that there are no actual characters and this isn't a treat trail but an experience. (This was A's complaint- she wanted candy. LOL.) Strollers are not allowed inside because you have to walk up and down stairs.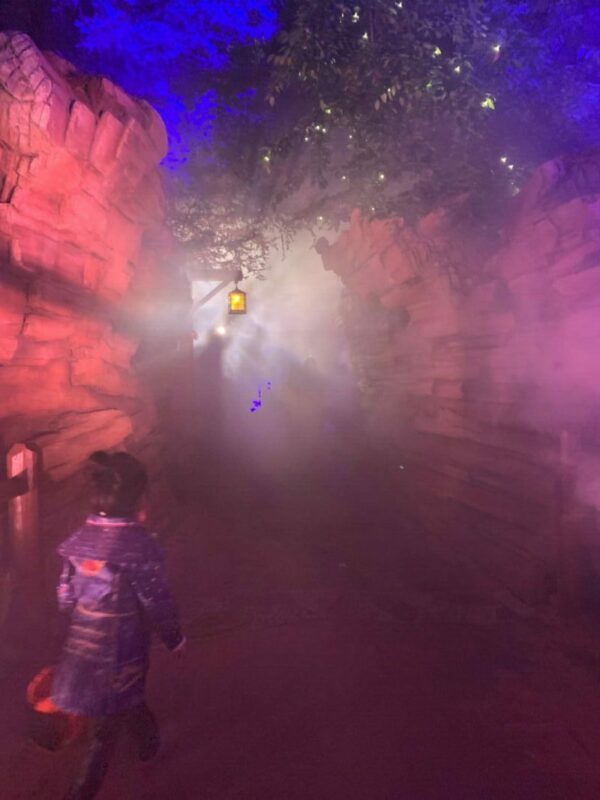 Frightfully Fun Parade
The Frightfully Fun Parade shows during Oogie Boogie Bash at 7:45 pm and 10:00 pm. It starts off at Paradise Garden Park and ends near Guardians of the Galaxy for both performances. Before the parade, the headless horseman rides again! You definitely don't want to miss this. We ended up watching the second performance and waited near Hollywood Land which is the tail end of the parade. We sat on a curb and enjoyed some of our treats.
New Treat Trails at Oogie Boogie Bash
There are 11 treat trails with an assortment of snacks, apple slices, carrots, and tons of candy. The treat trails had 3-5 treat stations so even if you get a handful of treats at each station, by the time you go through the treat trail, your bag will start to get heavy.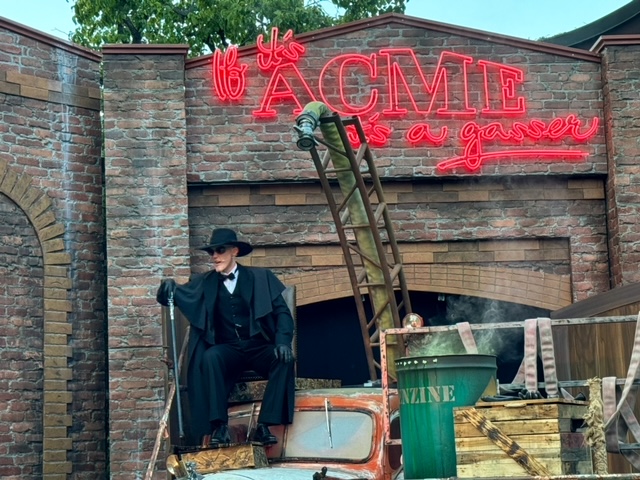 For 2023, the new character treat trails are Yokai (San Fransokyo Square) and Judge Doom (Grizzly Peak Airfield). Don't forget to go see Cruella (Hollywood Land- Hollywood Backstage Lot), Agatha (Avenger's Campus), Sid (Pixar Pier), Oogie Boogie (Disney Animation Courtyard), Madam Mim (near Carthay Circle), Ernesto de la Cruz (Hyperion Theater Courtyard), and Mother Gothel (Grizzly Peak Mountain Road). Be sure to go to the treat trails in Carsland and Buena Vista Street. This one had full-size M&M bags!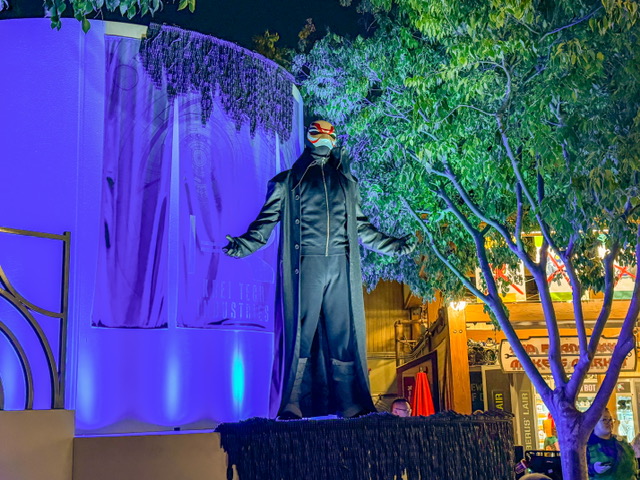 Special Character Meet & Greets
We did not make it a point to try and see any of the special characters. Photopass was included but we didn't take advantage of it because we didn't want to wait in line. The picture below is from 2019 at the end of the party. The line for most of the special character meet & greets were too long and wasn't a "must do" for us.
Our Oogie Boogie Schedule
The other Disney Halloween parties I've attended always felt rushed and like I wasn't able to do everything and see everything I wanted to in the allotted party time. At Oogie Boogie Bash, I felt like I was able to do everything I wanted to and didn't feel rushed! The time did go by quickly but there wasn't anything we didn't get to do that we wanted to.
Here's our schedule (2023):
3:15- Arrived at Mickey & Friends
3:45- Checked in at the main gate with our Magic Key Reservation (and bypassed the Oogie Boogie Bash only lines)
3:50- Checked in at the designated area between Carsland and Avengers Campus to scan our Oogie Boogie Bash tickets, get our wristbands, party guide map and treat bag.
4:15- Met up with friends to take pictures
5:15- Picked up food and ate at Smokejumpers Grill outdoor seating
5:55- Waited at Judge Doom's Treat Trail
6:15- Cruella's Treat Trail
6:30- Went to Disney Theater to wait for the 6:45 pm Mickey's Trick and Treat show
6:45- Mickey's Trick and Treat show
7:05- Oogie Boogie's Treat Trail
7:20- Ernest de la Cruz Treat Trail
7:35- Agatha's Treat Trail
7:45- Rode Web Slingers
8:10- Villains Grove
8:35- Rode Silly Symphony Swings
8:40- Picked up Magic Key Gift- there's also one treat station and a photo opp
9:05- Yokai Treat Trail
9:15- Carsland Treat Trail
9:30- Madam Mim Treat Trail
9:35- Buena Vista Treat Trail
9:40- Found seating across from Madam Mim's Treat Trail to wait for the parade
10:10- Headless Horseman of Sleepy Hollow
10:25-10:40- Second parade
10:40- Cruella Treat Trail again
10:55- Oogie Boogie Treat Trail again
11:00- the end of the party
Why I Liked This Halloween Party
Oogie Boogie Bash might be my favorite Disney Halloween Party! DCA had so much more space for everything. It didn't feel crowded because of the limited capacity. There were a lot of people in lines for treat trails and character meet & greets but the layout of DCA seems better suited for a party like this because rides and buildings are more spaced out. The immersive treat trails were SOOOOOOO amazing and the character treat trails were entertaining! I also love how every year they introduce new villains.
This special ticketed event is a great opportunity to have fun, ride rides with low wait times and see rare characters. We had the best time!
Tips for Oogie Boogie Bash
If you're a Magic Key holder, grab a theme park reservation so you can spend the day at Disneyland and enjoy Halloween time at Disneyland Park before the special event.
Take advantage of the mix-in time to eat, take pictures in daylight, and ride a few rides.
Eat dinner before the party starts- we mobile ordered for a 5:15 pm pick up at Smokejumpers Grill then went to Judge Doom's treat trail before 6 pm.
Have a plan! We knew exactly what we wanted to accomplish- basically get candy. If you want to take a picture with the special characters (like the Sanderson Sisters and Ernesto de la Cruz in 2022) then you need to make that a priority because you might be waiting in long lines for that experience.
Bring an extra bag or two. I brought a reusable bag and A had a bigger treat bag. They gave us SO MUCH CANDY AND TREATS. The treat bags they give you are definitely NOT BIG ENOUGH!
Watch the second showing of the parade. Most people want to watch the first parade so there seems to be better viewing for the second.
Take advantage of mobile ordering so you're not waiting in line for food! Be sure to download the Disneyland App because that also has times for the shows and is such a useful tool!
Divide and conquer. If you come with your family, have one adult take the kids to the treat trails while another one waits for an experience.
Dress up in your favorite Halloween costumes and have fun!! In 2021, we decided to join our friends as Loki Variants and I made these t-shirts for A & I. I am her juice box. (If you've watched the Loki show on Disney+ then you'll know!)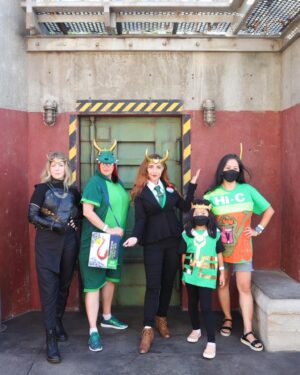 Have you been to a Disney Halloween Party?