As you know, Avengers Campus is now open! It opened on June 4, 2021. I had the opportunity to attend a media preview of Avengers Campus before it opened to the public and wanted to share a few things with you! Be sure to check out "Know Before You Go" on Disney Parks Blog to help you plan your visit! (I was given a one day park-hopper ticket and early entry into Avengers Campus. All thoughts and opinions are my own. Special thanks to my friend Carly from Lipgloss and Crayons for taking me as her guest.)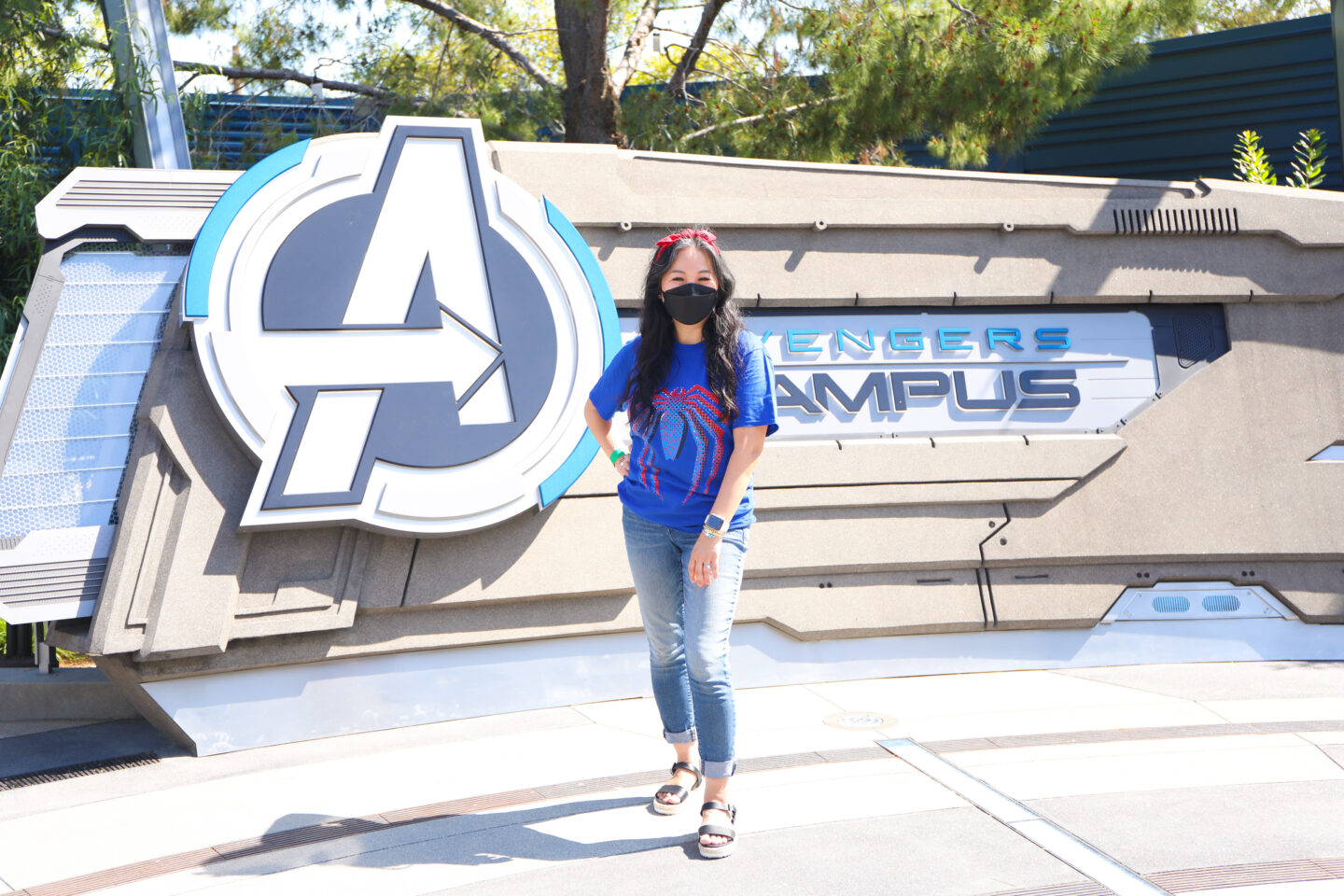 Things You Must See and Do
If you are a fan of the Avengers and the MCU, you will absolutely love Avengers Campus. It is such an immersive and detailed land which makes you feel like you've stepped into your favorite Avengers' movie! Here are some things you shouldn't miss!
WEB Slingers-A Spider-Man Adventure
If you can grab a Boarding Group for WEB Slingers at either 7am or 12pm on the Disneyland app, you will LOVE this new ride! It's great for all ages- no height requirements. It's an interactive screen ride that reminds me of Toy Story Mania. The objective is to nab Spider-bots before they take over Avengers Campus. Be sure to do some extra bicep curls or pushups at home because you get quite a work out on this ride! You can also purchase special web shooters at WEB Suppliers or Backlot Premier Shop to enhance your ride experience!
Ancient Sanctum
Explore the Ancient Sanctum and its mysterious ruins to discover the mysteries of the multiverse! Doctor Strange appears at select times to demonstrate his mystical abilities. Visit after dark to see the orb flow with magical energy. Don't forget to check out the optical illusion floor!
Avengers Headquarters
A lot of the action happens on the balcony of Avengers Headquarters and near the Quinjet. You'll see your favorite super heroes fighting epic battles to protect the headquarters or just interact with each other and you!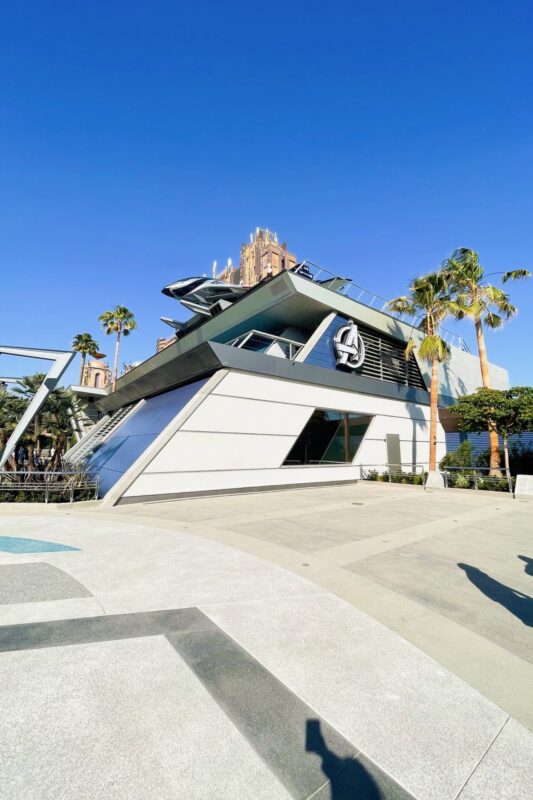 Pym Technology
You'll want to mobile order food from Pym Test Kitchen and drinks from Pym Tasting Lab. We got the Quantum Pretzel, the Not-so-Little Chicken Sandwich, and Pingo Doce Soda. I loved all of it! The next time I go, I want to try the Choco-Smash Candy Bar and Impossible Spoonful!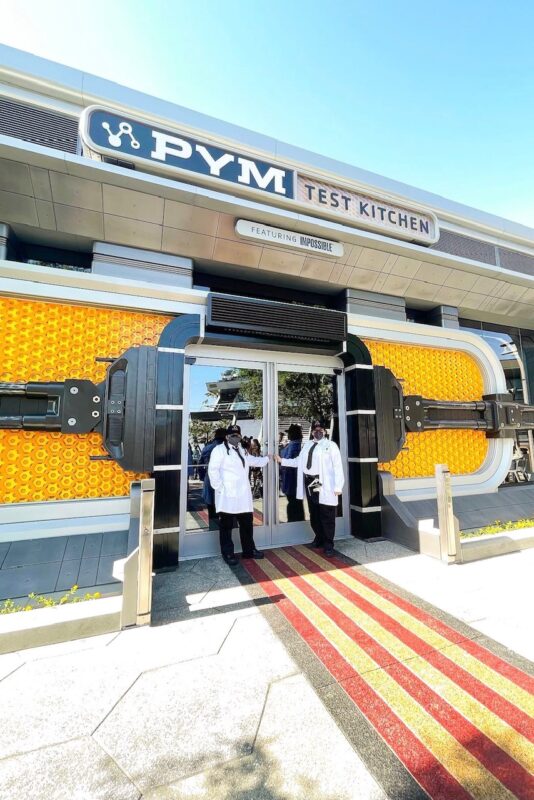 I also want to try one of the shawarmas at Shawarma Palace!
Earth's Mightiest Heroes
You'll be able to see all of your favorite super heroes throughout the day in Avengers Campus. There are several shows that happened at different times during the day. If there's someone specific you want to see, you can always ask one of the Cast Members.
You must catch the Spider-Man show on top of the WEB building.
The Dora Miljae- the Warriors of Wakanda
Black Widow and Black Panther defending Avengers Headquarters
Doctor Strange in the Ancient Sanctum
Guardians of the Galaxy
Loki & Thor, Captain America, Sam/Falcon as Captain America, Captain Marvel, Iron Man, Ant Man, The Wasp all make an appearance throughout the day.
Answer to some of your questions:
Entry into Avengers Campus is included with your ticket to Disney California Adventure Park but is dependent upon capacity. You can gain entry by either having a Boarding Group for WEB Slingers or waiting in a queue/line.
There are seating areas by Pym Test Kitchen and Pym Tasting Lab. They also have seating by the Hyperion Theater with tables and chairs.
There are some areas with shade but the campus is very open so bring a hat and sunglasses if you happen to be there during the hottest time of the day.
If your kids love the Avengers, they will love getting to meet their favorite ones. Disney always has the best character interactions and it still holds true in Avengers Campus.
Bathrooms are located to the right of the WEB Slingers ride.
Some of the merchandise that is in WEB Suppliers can also be found at the Backlot Premier Shop in Stage 17. The WEB Suppliers store is actually kind of small but if you want to check it out, be sure to go there first, get on the virtual queue there (probably similar to how they do virtual queues for the stores in Downtown Disney.)
Mobile ordering food does not guarantee entry into the land. They seem to have started rolling out mobile ordering time slots throughout the day and you need to be inside Avengers Campus in order to make an order.
Guardians of the Galaxy is now a part of Avengers Campus so you can only ride that if you are in the land.
I'll update the post if I find any additional information!