This was our first year going to Universal Studios Hollywood to celebrate the holidays. We went earlier this summer and knew we would love to come back to experience all the fun things that they have to offer!
From now until January 6th, guests can experience the wonder of the holidays at Universal Studios Hollywood. I wanted to highlight two of my favorite areas filled with holiday cheer. Read ahead to see what they are!
The Wizarding World of Harry Potter
I love Harry Potter so being able to experience a bit of its magic is always exciting! During the holidays, it's even more dazzling and so festive! Here are some of the things you MUST check out: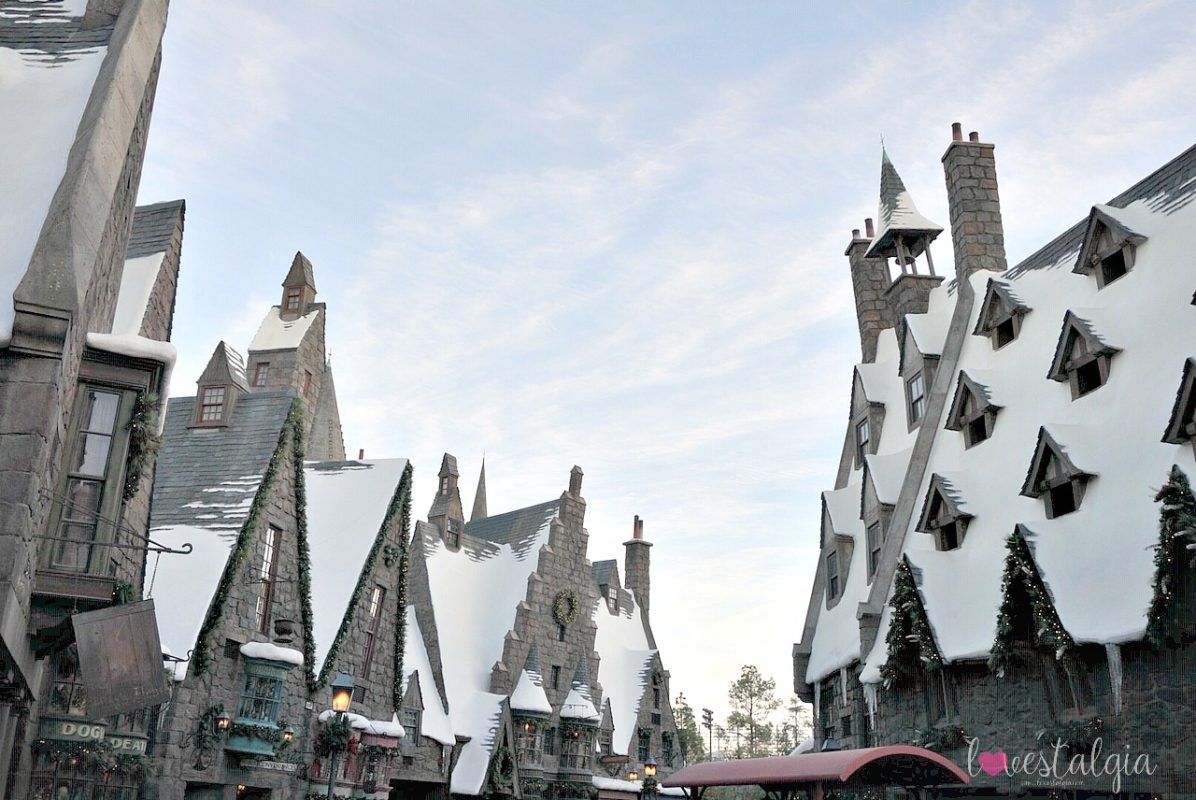 The a capella Frog Choir performances consisting of Hogwarts students and their giant singing frogs
Hot Butterbeer and special holiday menu at Three Broomsticks
The Magic of Christmas at Hogwarts Castle- a night time light projection show on the castle set to music from the movies.
Glistening snowfall (happens in the evening throughout Hogsmeade village)
Holiday decor
Cute holiday merchandise, ornaments, snow globes and tree toppers for the Harry Potter fan in all of us!
The light projection show on the castle was pretty amazing but there was a huge line to get in. We were inside Hogsmeade around 4:30 but left to go somewhere else and didn't realize how crowded it would get. My advice to you would be to hang around and eat dinner at Three Broomsticks, go shopping, get a wand and cast some spells and try to catch the first show.
When we were there, the first show was at 6pm but there was an unofficial show at 5:30 which a lot of people seemed to know about. I remember when we were leaving, we saw people sitting on the stage waiting and it wasn't even 4:30. The best viewing would be further away from the castle. The stage area (where the Frog Choir performs) is an excellent place to see it!
Grinchmas
Christmas wouldn't be Christmas without some antics and shenanigans. That's where the Grinch comes in. You can experience Grinchmas on Dec 8-9, and daily from Dec 14-30. You can experience Grinchmas at Universal Plaza which is the heart of Universal Studios Hollywood! Here are some things you must see and do while you're there!
See the 65 foot tall Grinchmas tree. It's AMAZING! There's a tree lighting performance at 5:30 which is a must see!
Photo opps with The Grinch, his faithful dog Max and citizens of Who-ville. The lines for The Grinch are LONG so be prepared. There's also a line for Max but it wasn't as long as the one for The Grinch. The citizens of Who-ville walk around so you can take pictures with them throughout the area.
The Who-liday Singers perform a cappella songs of various Christmas favorites.
Martha May Who-vier and the Who Dolls performance
Show times are posted throughout Who-ville of the various performances. Our favorite part was seeing the tree light up after we listening to Cindy-Lou Who and her Who friends retell Dr. Seuss's How the Grinch Stole Christmas.
Universal Studios Hollywood
The park is decorated with festive holiday decorations which really puts you in the holiday spirit. There are lots of photo ops with some of your favorite Universal characters! A loves the Minions so we had to take photos with some of her favorite characters from the movies.
We are not that familiar with Universal Studios Hollywood but here are some helpful tips I've learned so far:
Escalator-If you have a child in a stroller and want to go to the lower lot, you take the escalators down. But you also take the stroller on the escalator. There's a van you can take but it's a bit further away.
Be sure to download the Universal Studios Hollywood App and use their free WiFi! The app comes in hand to look at wait times, show times, and figuring out where things are.
A's favorite area is "Super Silly Fun Land" because there's a playground, carnival like games, and the Super Swirly Ride. This area is great for kids and is right by the Minions ride.
There are so many things to see and do for young kids. Some of the rides have height requirements but there's still plenty to do and see!
Be sure to check out all that Universal Studios Hollywood has to offer this holiday season. You won't regret it!
We were given tickets to Universal Studios Hollywood but all thoughts and opinions are my own.