Ask any of my friends and they will tell you that I was the unofficial photo-historian of our group growing up. There was rarely a moment when I wouldn't have a camera with me (even back when it was all film!) Friends would joke that there would be barely any pictures if I wasn't there. It was only natural that as I grew older, I would carry that love of taking pictures and capturing memories into adulthood. Now as a mom, I am constantly taking pictures of our family and of my daughter to freeze that moment in time.
What's a person like me supposed to do with all those pictures? I'm ashamed to admit that I have thousands and thousands of pictures backed up on my cloud drive and a little overwhelmed with where to start organizing them. I love the look of photo books and printing out pictures but where do I even start?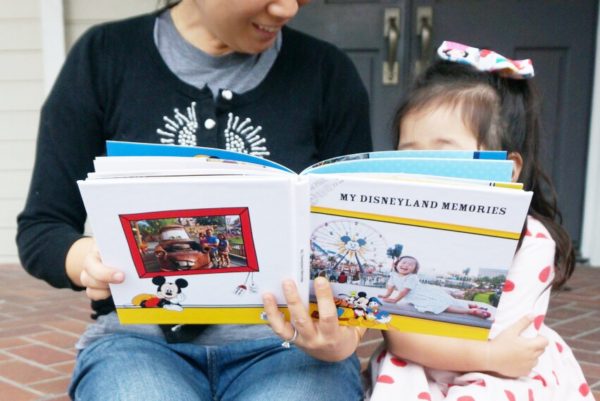 That's when I found out about Shutterfly's Make My Book Service. Have you heard about it? If you haven't, you're in for a treat! Shutterfly has made a new way of making photo books that's so EASY and painless! All you have to do is upload the pictures you want to put in your book and select from over 20 book designs. In about 3 business days, the Shutterfly designers will return a preview for you to look over. You can edit and swap out pictures or order the book as is. A one time design fee of $9.99 is added to your order if you end up purchasing your finished book. You can opt to not order it but after seeing how perfectly they make it, it's hard not to!
Being Disney lovers, I decided to compile a book of Disneyland memories from all our trips for the past few years since we became annual pass holders. I also wanted to make it into an autograph book but after receiving such a beautiful product, I'm having second thoughts of having anyone write in it.
It was so much fun for us to take a look at all the memories from the past three years. It also made me realize how quickly time flew by! We first took A to Disneyland when she was 18 months old. She is now almost 4! There are so many amazing memories with friends, family, and seeing all of her favorite characters.
When I received the preview of my book, I didn't change a thing because the Shutterfly designers did such an amazing job of arranging the pictures perfectly as well as the design elements. I couldn't believe it!
My daughter absolutely loved flipping through the pages and remembering the snippets of that day. Her memory is better than mine because all the trips run into each other but she was able to recall things from specific Disneyland trips based on the picture. She also asked so many questions and made numerous comments as she looked at the Shutterfly photo book.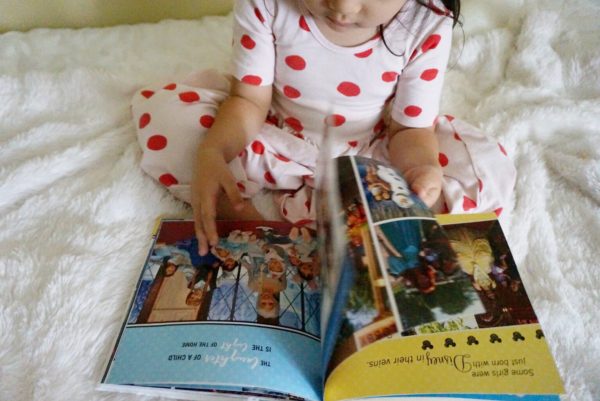 What do you do with all your pictures? Have you made a photo book? Try Shutterfly's Make My Book Service to capture all your memories. It's so easy to do and you'll get such an incredible keepsake that you'll want to keep forever.