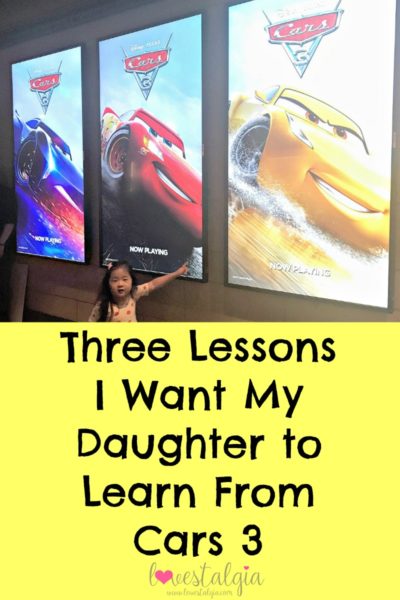 On June 12th, we had the opportunity to see a screening of Cars 3 at the El Capitan Theater. If you are a fan of the Cars series, this movie is something you need to watch. Without spoiling the movie too much, I wanted to share three lessons I want my daughter to learn from Cars 3. But there are SPOILERS so if you didn't watch the movie yet, don't read this post until after you've watched the movie!

You can't rely on your past achievements to dictate your future achievements.
Lightning McQueen was used to being the fastest race car but with the new generation of race cars, he got served a slice of humble pie when Jackson Storm beat him. He didn't take it too well at the beginning and after a horrible crash, went into hiding for 4 months in Radiator Springs. After some soul searching, he eventually realizes that he needs to do things differently in order to beat Jackson Storm. He couldn't rely on his legacy as the fastest car to carry him through- he had to work hard, train hard and train smarter.
I want A to know that no matter how good she is at something, she can't just ride on those accolades to carry her through. I want her to continue to better herself and always grow and learn.

Don't let fear stop you from following your dreams.
Cruz Ramirez is a race trainer at Rust-eze Racing Center that debuts in Cars 3. But that wasn't what she wanted to do when she was growing up. In the movie, we find out that her dream was to be a race car but in her first race, she let her fears get the best of her. She was told she wasn't a race car and so she became the next best thing- a race car trainer.
Growing up, I had a lot of fears. Honestly, I think it has stopped me from doing things when I was younger. I still have some fears especially since the world we live in right now is scary. But I want A to be as fearless as she can be. To be a confident young lady who will be all she was created to be. To not let other people's words stop her from pursuing her passions. Ok, I'm not sure what her passions are as a 4 year old. Currently, it's anything she sees on Youtube- Splashlings? and she LOVES Legos and building things. They can change daily, sometimes hourly or even in increments of 10 minutes but you get the idea. Ultimately, I want her to be confident enough in herself to pursue her dreams.
Sometimes the way you succeed is by lifting others up.
At the end of Cars 3, there's a twist where Lightning McQueen ends up swapping places with Cruz Ramirez mid race. He ends up taking on the role of coach like his old coach Doc. This was probably my favorite part of the movie for a number of reasons but mostly because of the fact it shows just how much Lightning McQueen's character has developed and grown since his debut in Cars. Instead of trying to take the glory by trying to win this race, he gave Cruz Ramirez the chance to do it. To allow her to follow her dreams.
I want my daughter to have that kind of heart and character. I want her to be successful and have a wonderful life but not at the expense of others. And if there's an opportunity for her to do good by encouraging others or lifting someone else up, for her to have the wisdom and compassion to do it.
There are so many other lessons in Cars 3 but these were the main ones that really resonated with me. It's such a heartwarming and entertaining movie for the whole family. It brings the Cars movies full circle.
Will you be seeing the movie? What did you think about it? It's in theaters now so go watch it if you haven't!
In the meantime, here are some activities sheets for you and your family!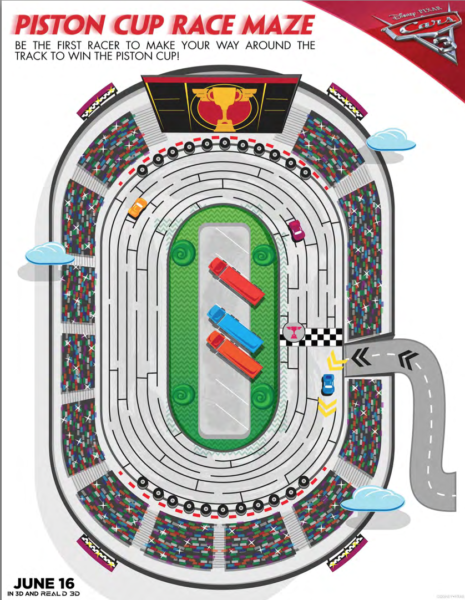 Cars3Maze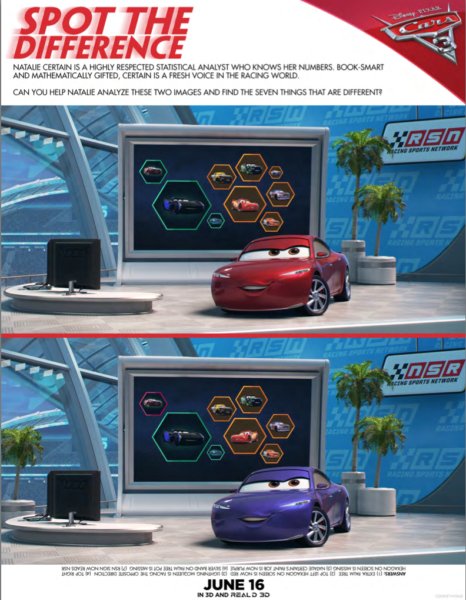 Cars3Spot the Difference
Check out my other Disney related posts here!