I was sent this beautiful PR package from ColourPop and Disney for their newest Disney Designer Collection: Midnight Masquerade! I've purchased ColourPop Cosmetics lipsticks before and have always loved them. One of my favorite reds is from the Disney Villains Collection (Evil Queen)! Their products are always so affordable and great quality plus they're made in the US!
The Midnight Masquerade Collection is the third collaboration between ColourPop and Disney. It features 8 princesses (Belle, Cinderella, Rapunzel, Tiana, Esmeralda, Megara, Aurora, and Giselle.) It's inspired by the limited edition dolls by the same name that are being released every Saturday from now until Nov. 2. You can also check out this YouTube video about the collection!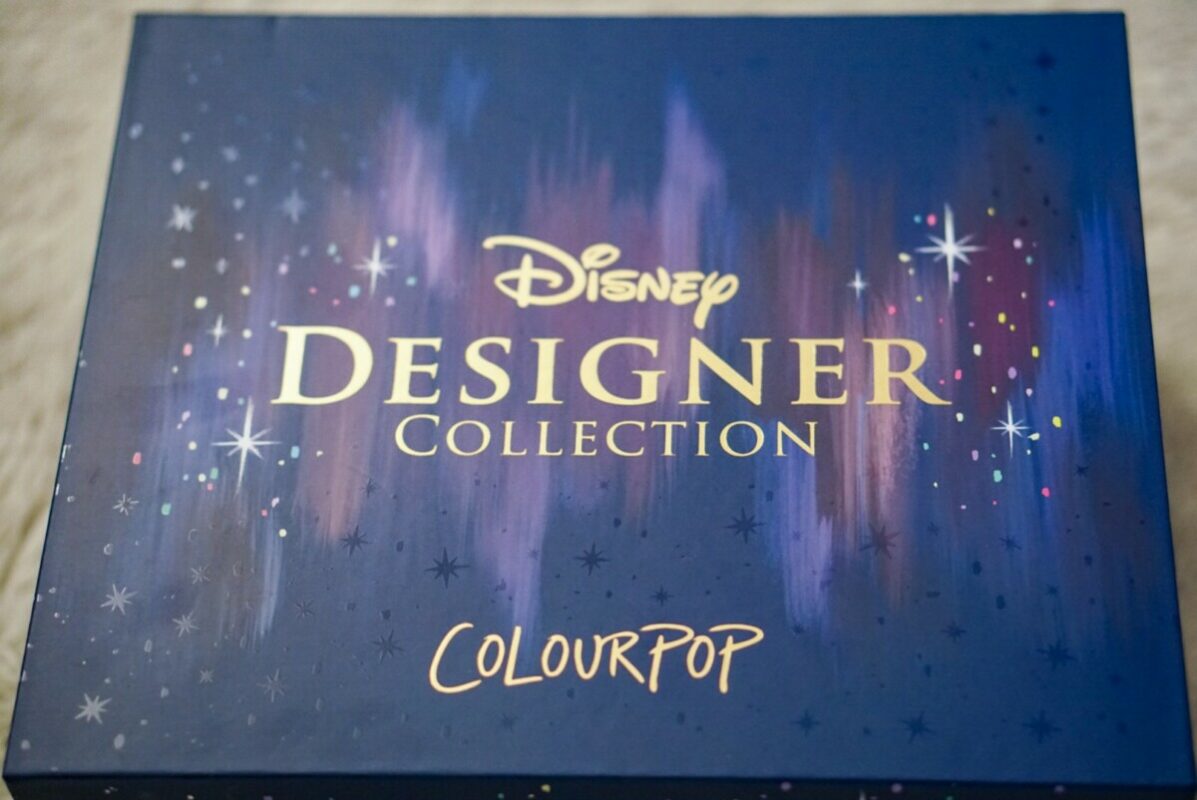 The collection features an eyeshadow palette, cheek colors (blush or highlighter), lip colors and makeup bag. ColourPop came out with a new lipstick formula for this line called the Lux Liquid Lip and I love it! The lipstick feels luxurious and velvety! You can purchase the products in bundles with the eyeshadow palette, cheek and lip or individually. Here are some up close shots of the products!
Midnight Masquerade Eyeshadow Palette
The eyeshadow palette features 15 matte and pressed glitter eyeshadows. The colors are Spinning Wheel, Damsel, Pip, Enchanted, Mama Odie, Diali, Floating Lantern, Mrs. Potts, Royal Ball, Frog & Wife, Nutmeg, New Dream, Gaston, Quasimodo, and Merryweather. So pretty!
Lip & Cheek Kits
The Lip & Cheek Kits are housed in a box with beautiful artwork of the masks and the princesses. It's visually stunning!! Once you open up the kits, you'll find a mirrored compact with the princesses' art on the front and the coordinating lipcolor.
Cinderella- A Dream is A Wish Your Heart Makes
The Cinderella kit features Prince Charming Lux Liquid Lip and Horse & Carriage Highlighter Compact. It's her signature pink lip and pearl highlighter!

Tiana- Down in New Orleans
Tiana's kit contains Prince Naveen Lux Liquid Lip and Kissin' A Frog Blush Compact. It's a red lippie and terracotta blush.
Esmerelda- Topsy Turvy
Esmerelda's kit feature Phoebus Lux Liquid Lip and Court of Miracles Blush Compact. It's a raspberry lip color and coral blush.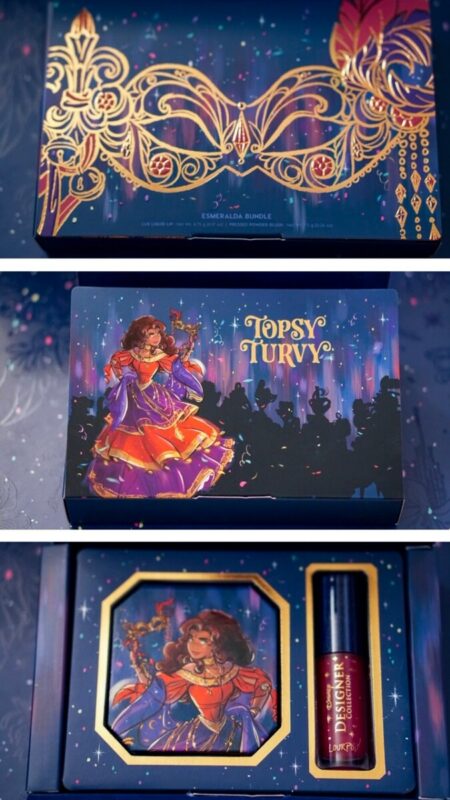 Aurora- Once Upon a Dream
The Aurora kit features Prince Phillip Lux Liquid Lip and Coronation Highlighter Compact. The lipstick is her signature red and a peachy highlighter!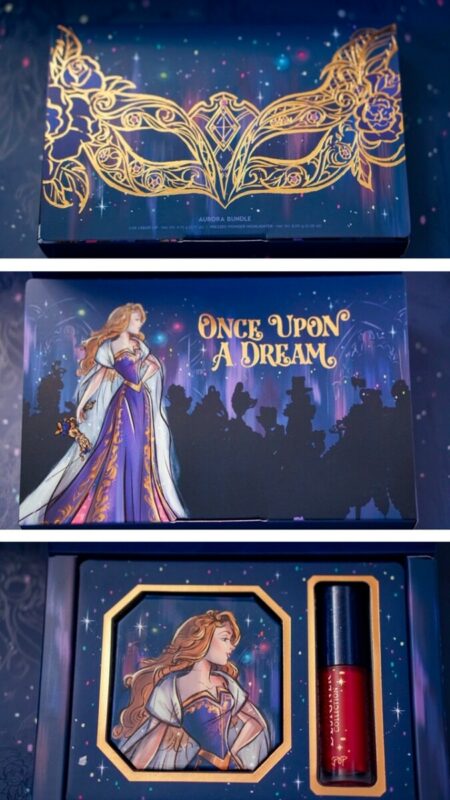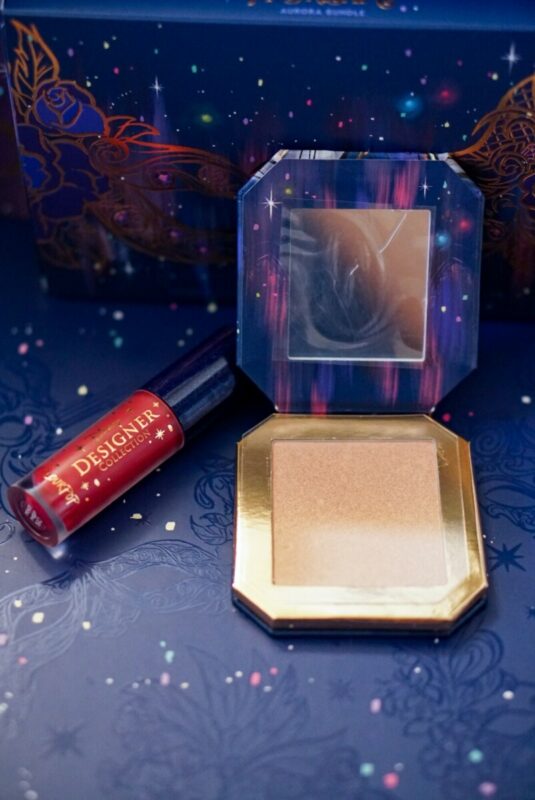 Rapunzel- I See The Light
Another kit that's available is Rapunzel's kit which has Flynn Lux Liquid Lip and Floating Lights Blush Compact. The lip color is a rose color and a cool toned pink blush.
Belle- Beauty and the Beast
Belle's kit contains Beast Lux Liquid Lip and Enchanted Mirror Blush Compact. It's a pink warm nude lip color and warm pink blush.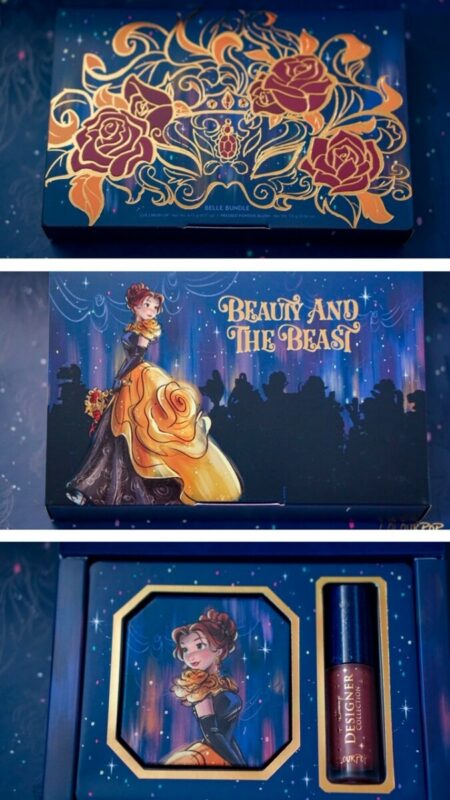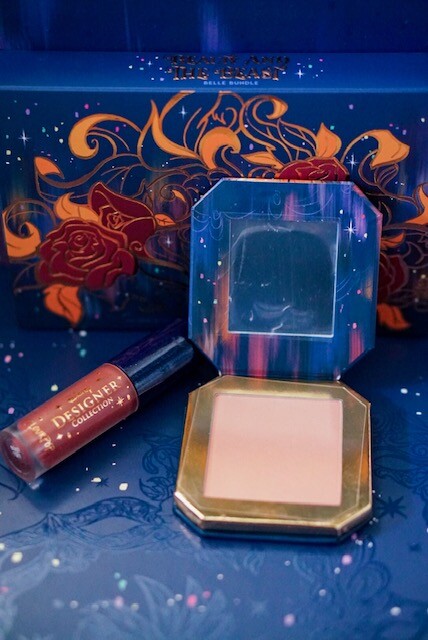 Megara- Zero to Hero
Megara's kit has Wonderboy Lux Liquid Lip and Big Tough Girl Highlighter Compact. The lip color is a pretty berry color and a lavender highlighter.
Giselle- Ever Ever After
Finally, Giselle's kit has Prince Edward Lux Liquid Lip and Anadalasia Highlighter Compact. The lip color is a coral shade plus a peachy highlighter.
I love how the names of the products coordinate together! The colors are stunning and if you are a fan of ColourPop and Disney, then be sure to pick something up from this collection! The only thing I don't have is the makeup clutch but you can see a picture of it here.
This collection is available now on ColourPop's website and Shop Disney. It will be at Ulta on Oct. 13th.