Get ready to be blown away by the reimagined Mickey's Toontown at the Disneyland Resort. After being delayed from their original reopening date of March 8th, Mickey's Toontown reopened on March 19th. We were able to go to a media preview day before the grand opening and wanted to share some of our experiences. ***We were given one day park hopper tickets, food vouchers and the Perfect Picnic Basket and blanket. All thoughts and opinions are my own.***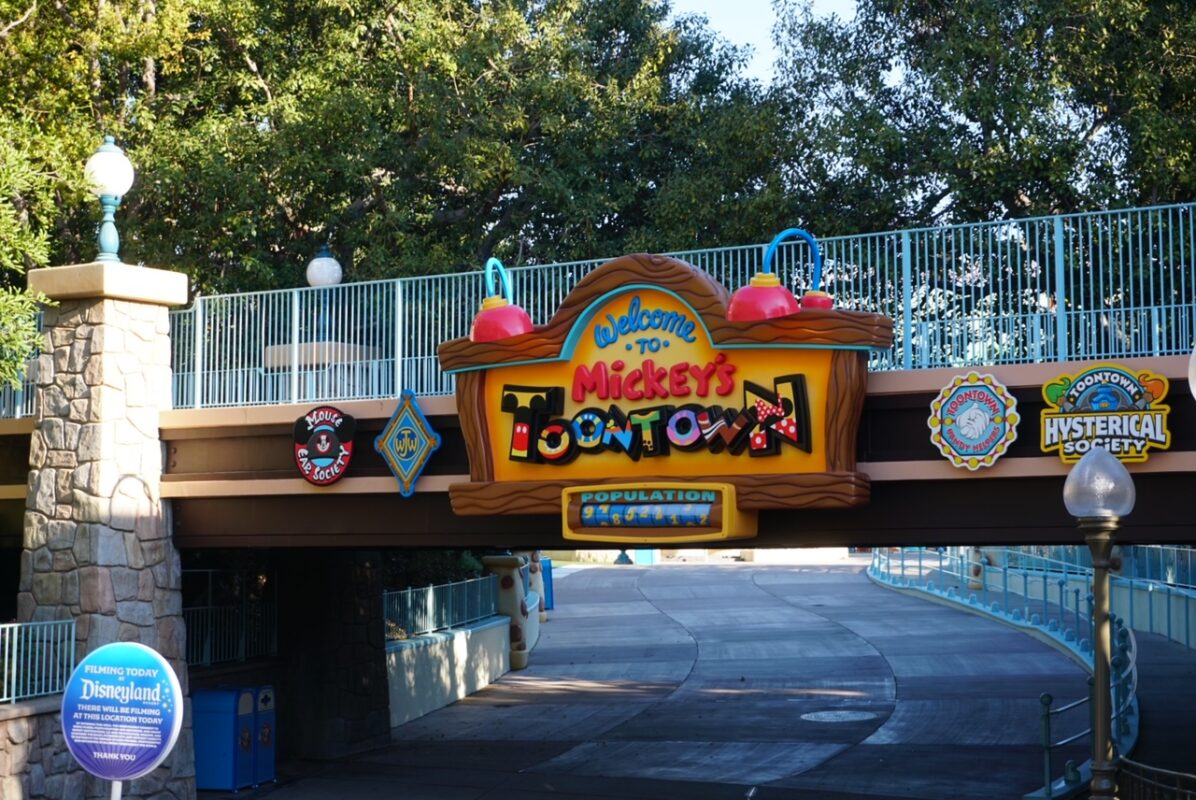 What's new at Mickey's Toontown:
Places to Play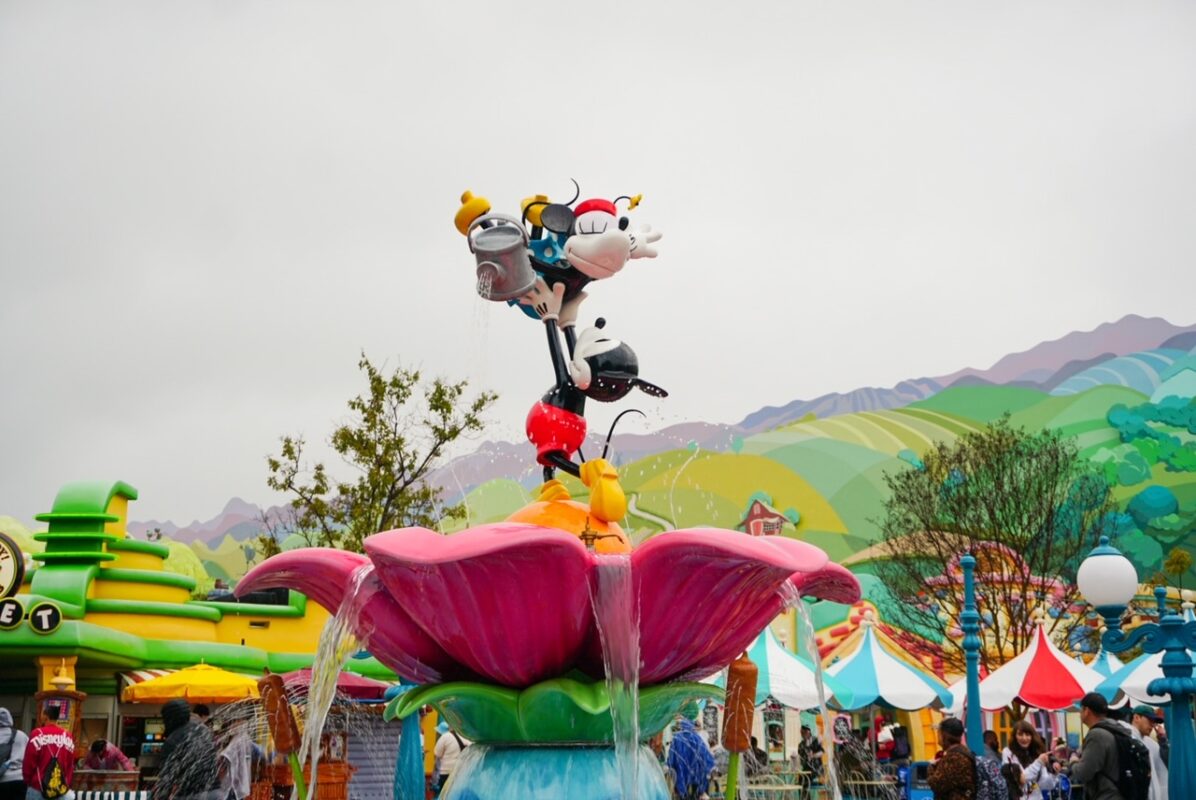 As soon as you enter Mickey's Toontown, you are greeted by CenTOONial Park which features a fountain with water tables designed for play. There's a nearby Dreaming Tree with sculpted tree roots for kids to climb, play and dream. The Dreaming Tree is an ode to a large Cottonwood tree back in Walt's hometown of Marceline, Missouri. It was a scared spot where a young Walt Disney would sit, draw, imagine and dream. If you look closely at some of the roots, you'll see the words dream and play etched in letters and Braille.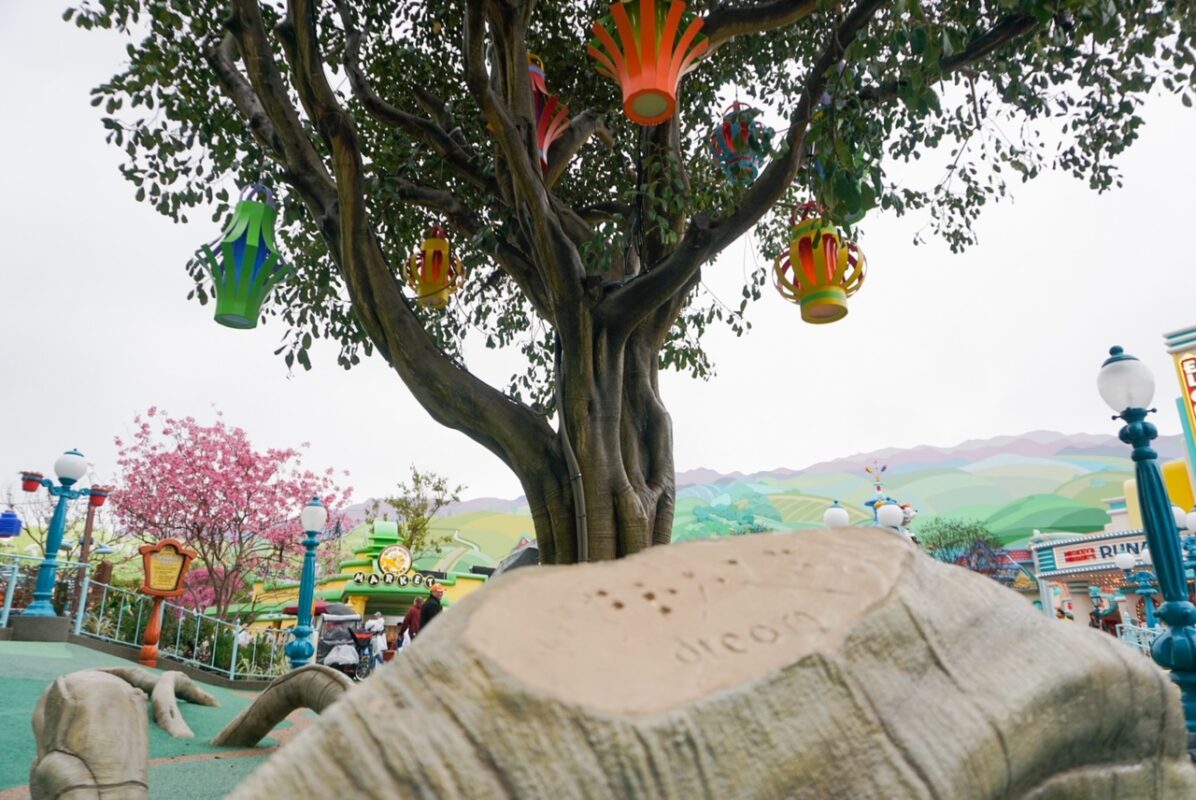 Goofy's How-To-Play Yard and Goofy's House is upgraded with a more functional yard that's accessible for people of all mobilities. In this whimsical sound garden, you can play on a musical bridge, fort and roller slides. If you look down at the ground, you'll see colorful squares to play hopscotch around a bird house. Inside Goofy's home is an interactive candy-making contraption that runs throughout the house. Be sure to take a look at all the family pictures throughout his house as well as the details on the door frame that connects his house with Donald's boat. If you look up, you might also get a peek at his attic. All of these little details by Walt Disney Imagineering are wonderful!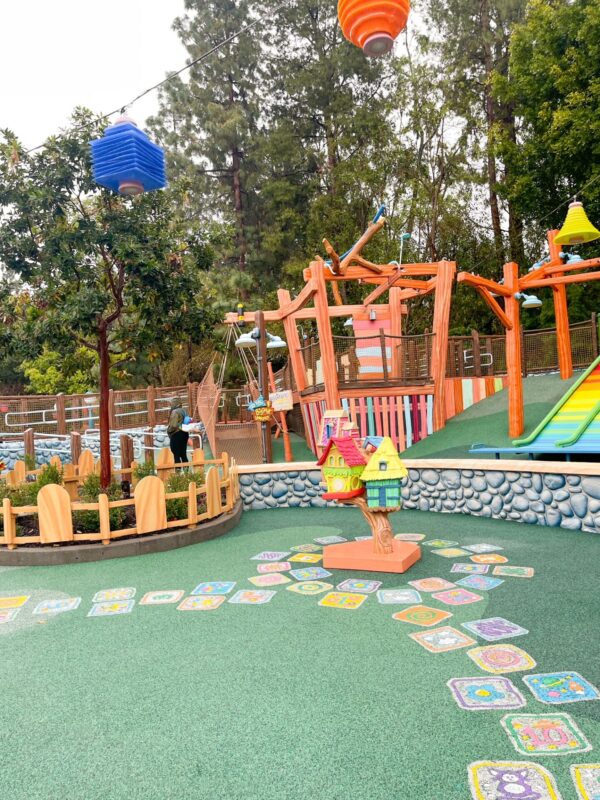 Donald's Duck Pond is a fun interactive area where kids can make a splash or explore the outside of his boat. In front of Donald's boat you'll find spinning water lilies, balance beams and rocking toys. You can also look into the boat's portholes and interact with Huey, Dewey, Louie and Webby. There's also a splash pad with a gate that is perfect for young children!
Places to Eat
Café Daisy is a new sidewalk table eatery with new food items that we loved! We were able to try the following diner classics that are offered by Chef Daisy Duck!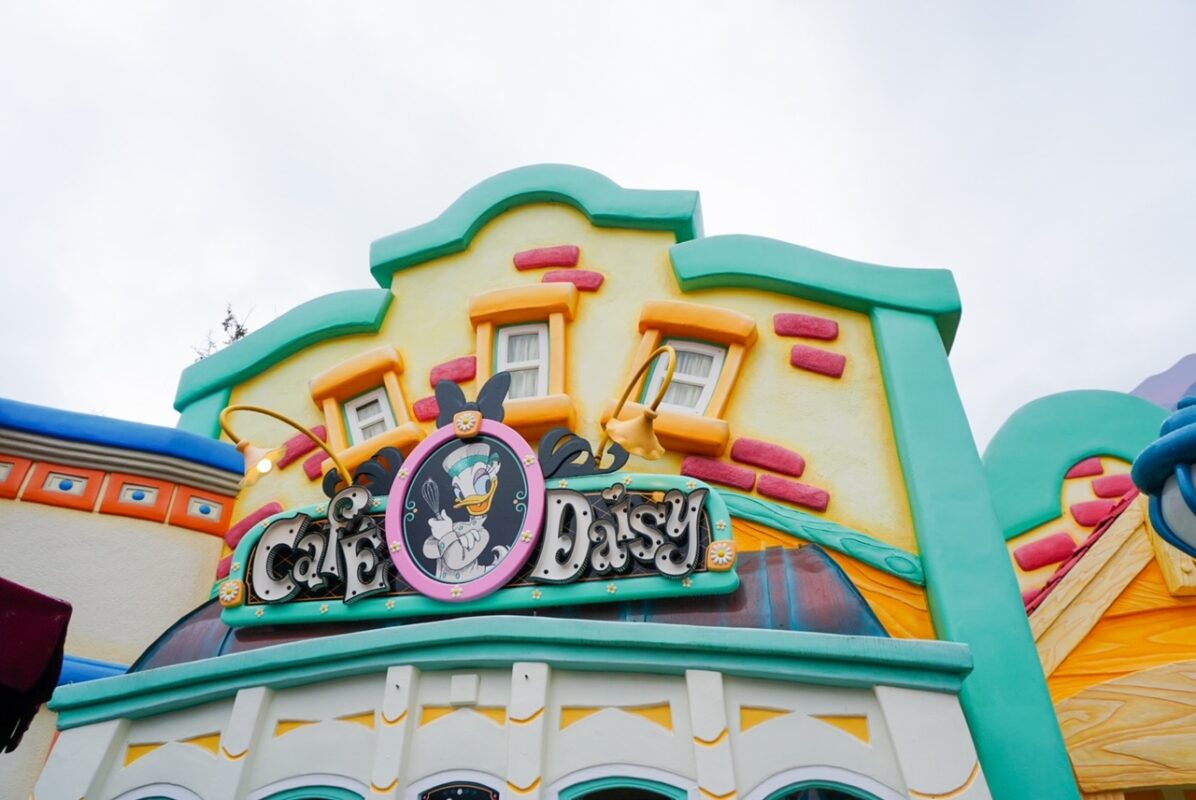 We loved the Picnic Time Watermelon Lemonade which is a Minute Maid Zero Sugar Lemonade, watermelon syrup with watermelon gummies. It was sweet and tart.
I had the Pepperoni Pizza Flop Over. It was tasty but a little greasy. The Specialty Cold Brrr-ew which is a Joffrey's Coffee Cold Brew Caramel Mudslide with Salt-Carmel-Toffee Sauce and topped with Whipped Cream was good too. It wasn't overly sweet.
My husband tried Daisy's Dressed Up Dog which is a foot long all beef hot dog with chili- cheese sauce, mac n cheese, and parmesan potato crisps. He said it was delicious!
A had the kid's meal Pepperoni Please! Pizza and liked it. It was smaller in size than the usual kids pizza that they used to have. The kid's meals come with a mandarin orange, applesauce and choice of water or milk.
I went back another day to try Minnie's Mini Corn Dogs which is a kid's meal. I loved it! It came with 7 mini corn dogs. I also had Daisy's Goody-Goody Donuts which came in a bag of 5. I loved these too. They are served warm.
Mobile ordering is offered at Café Daisy and there were many tables around the cafe where you can sit to eat.
Good Boy! Grocers is a friendly roadside market where you can grab snacks, drinks, slushees, and the Perfect Picnic Basket and blanket. The Perfect Picnic Basket is $25.99 and comes with 3 snack items and your choice of juice or small water bottle. You can add the Perfect Picnic Blanket for a total of $36.99.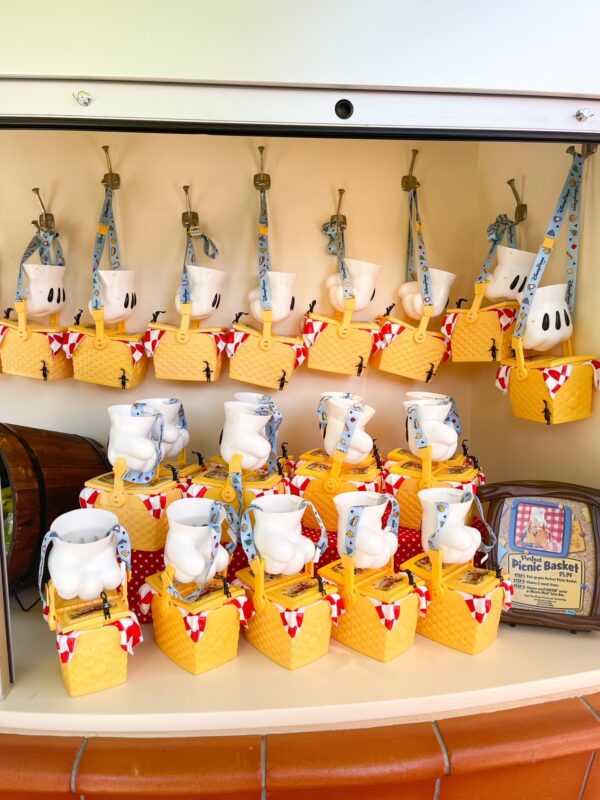 Things to Ride
Mickey & Minnie's Runaway Railway is a brand new attraction that opened on January 27th during the kick off of the Disney 100 Years of Wonder Celebration. This family-friendly ride-through attraction stars Mickey Mouse and Minnie Mouse and is full of surprises. I know this ride has been open at Walt Disney World but we never rode it because we wanted to ride it for the first time at our "home" park. We loved the El Capitoon Theater and all the special surprises in the line queue. You can ride this attraction via a stand by line or purchase an individual Lightning Lane.
Gadget's Go Coaster has been reimagined and renamed to Chip 'n' Dale's GADGETcoaster. When A first rode it when she was little, she was not a fan but she went on it again- and loved it. Don't miss this fun-sized coaster by Toontown's very favorite tinkerer, Gadget Hackwrench.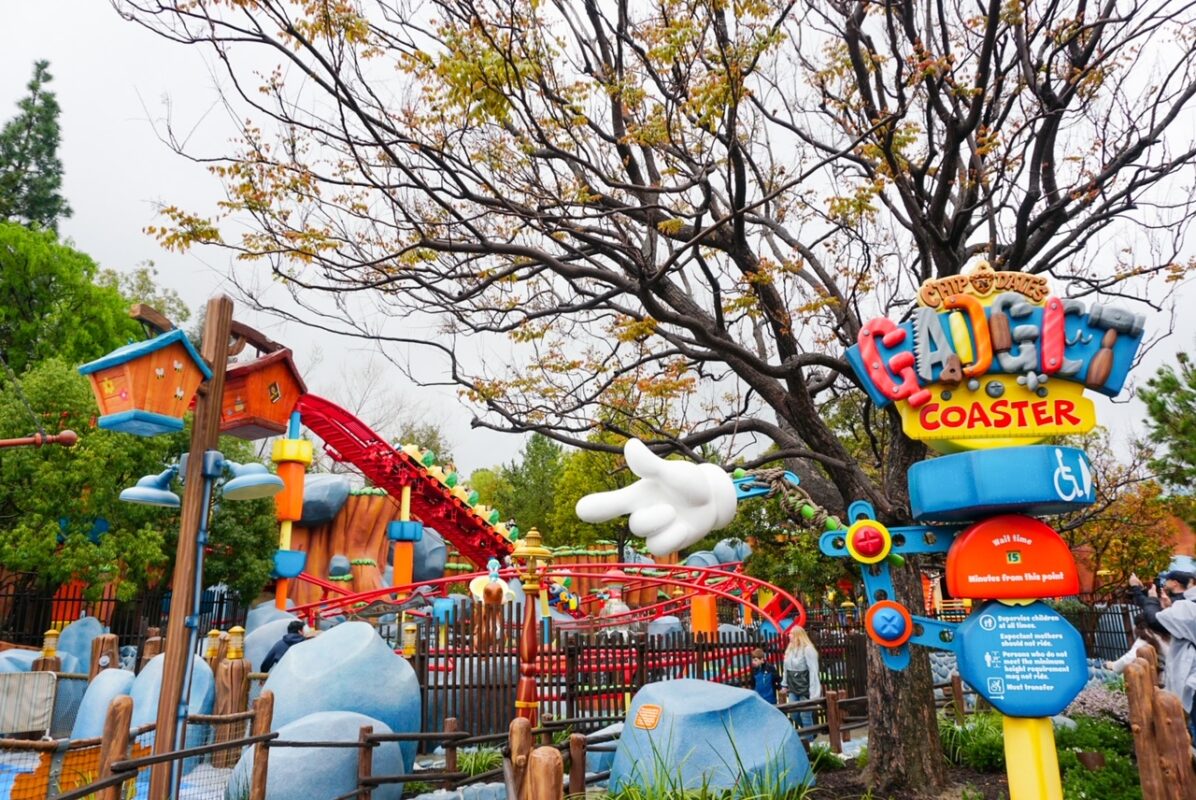 Roger Rabbit's Car Toon Spin is still in Mickey's Toontown. You get to ride a zany taxicab through the streets of Toontown and follow the adventures of Roger Rabbit.
Things that are the same: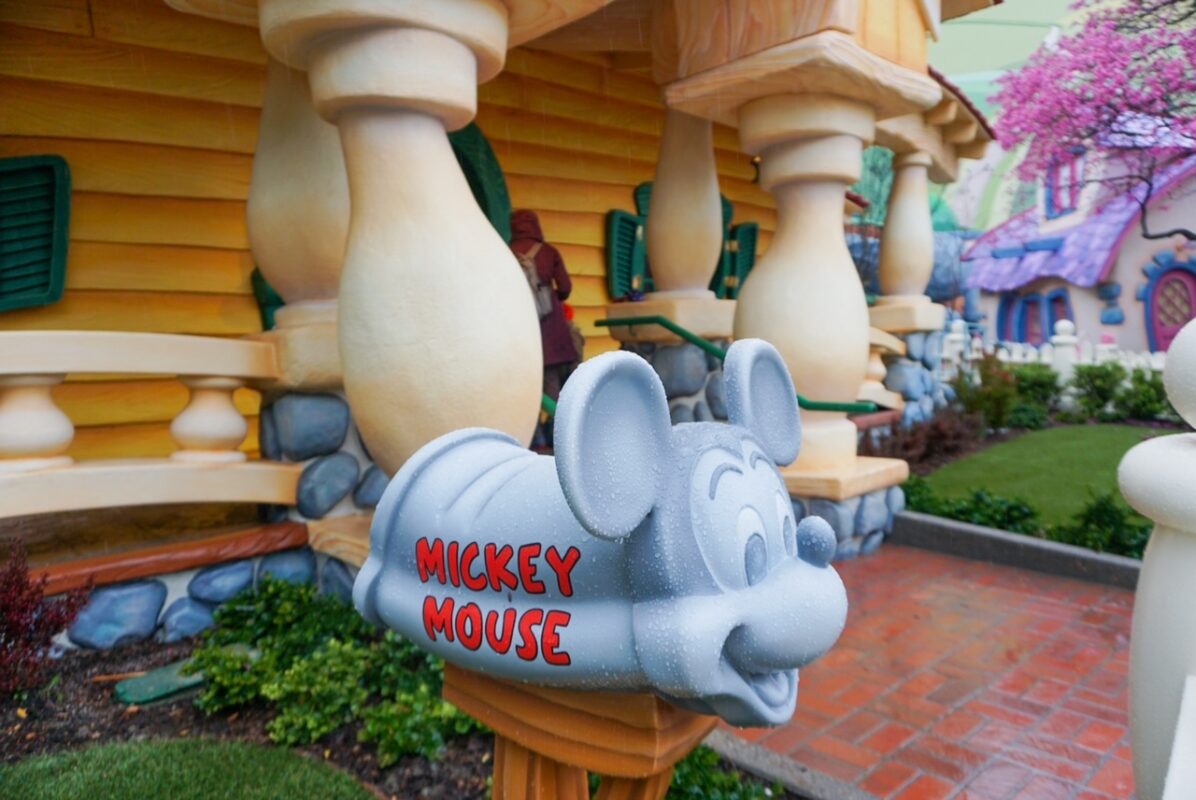 Mickey's house is still there. His mailbox (as well as Minnie's) is now on the inside of their fences. He still has his meet and greet. He has a new outfit and the outfit he wears when you meet him will depend on what room you go into.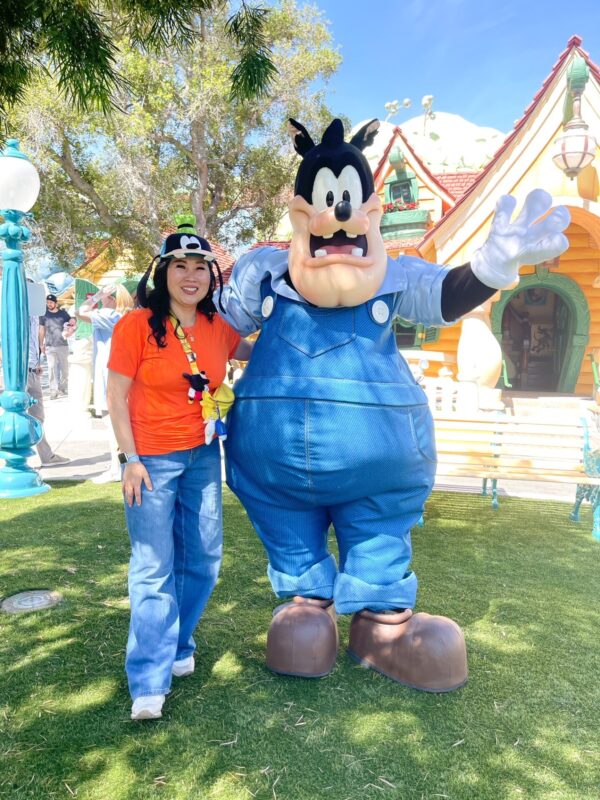 Minnie's house is still as beautiful as ever and looks newly painted. She has meet and greets outside in her gazebo unless it rains- then they move it inside. During the media event, we were able to roam around Minnie's house before we met her. We got to explore her house and kitchen. There are many interactive parts (oven, fridge, and dishwasher.) During regular meet and greets, you might not be able to look at everything in her house.
All your favorite characters, such as Goofy and Donald Duck, can be found walking around through out the land. You'll also have to be sure to meet Pete, who is meeting for the first time ever at a Disney Park.
Shopping & Other Thoughts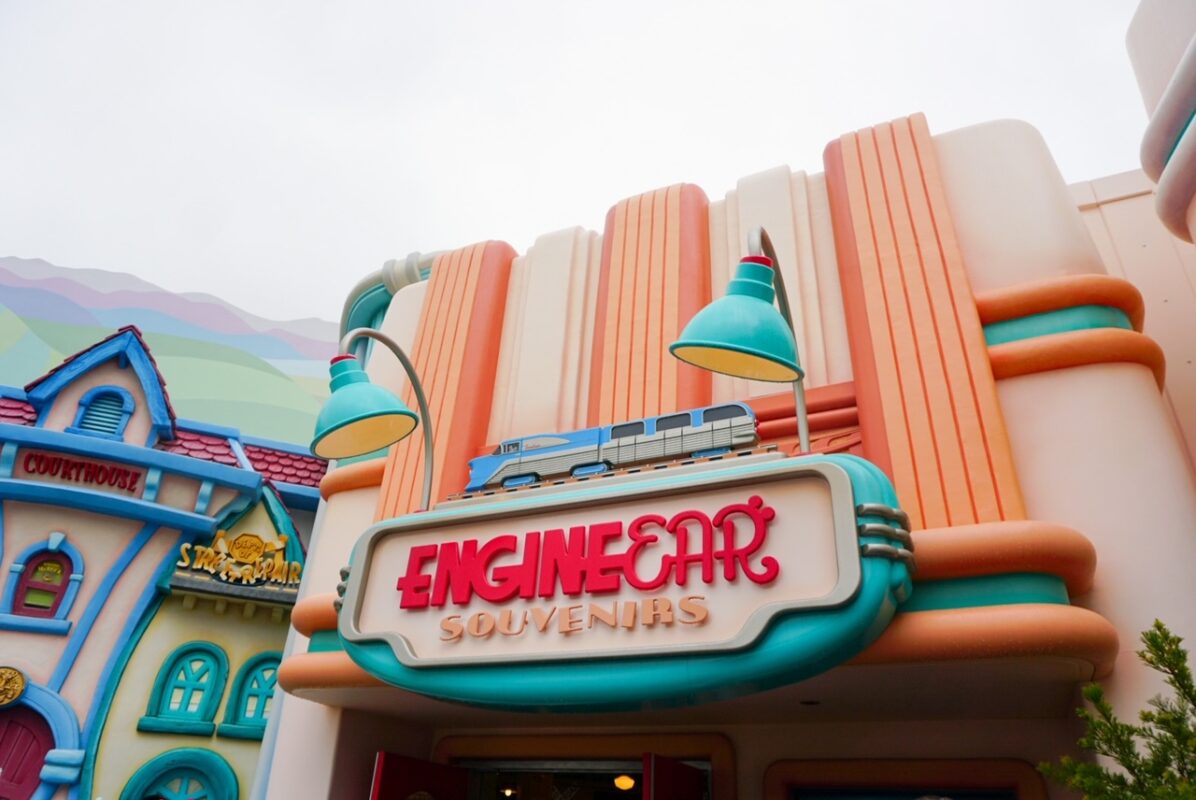 Don't forget to check out EngineEAR Souvenirs which is located between Mickey & Minnie's Runaway Railway and Café Daisy. You also walk through it after you ride the new ride. You'll find some exclusive merch that can only be found in Mickey's Toontown.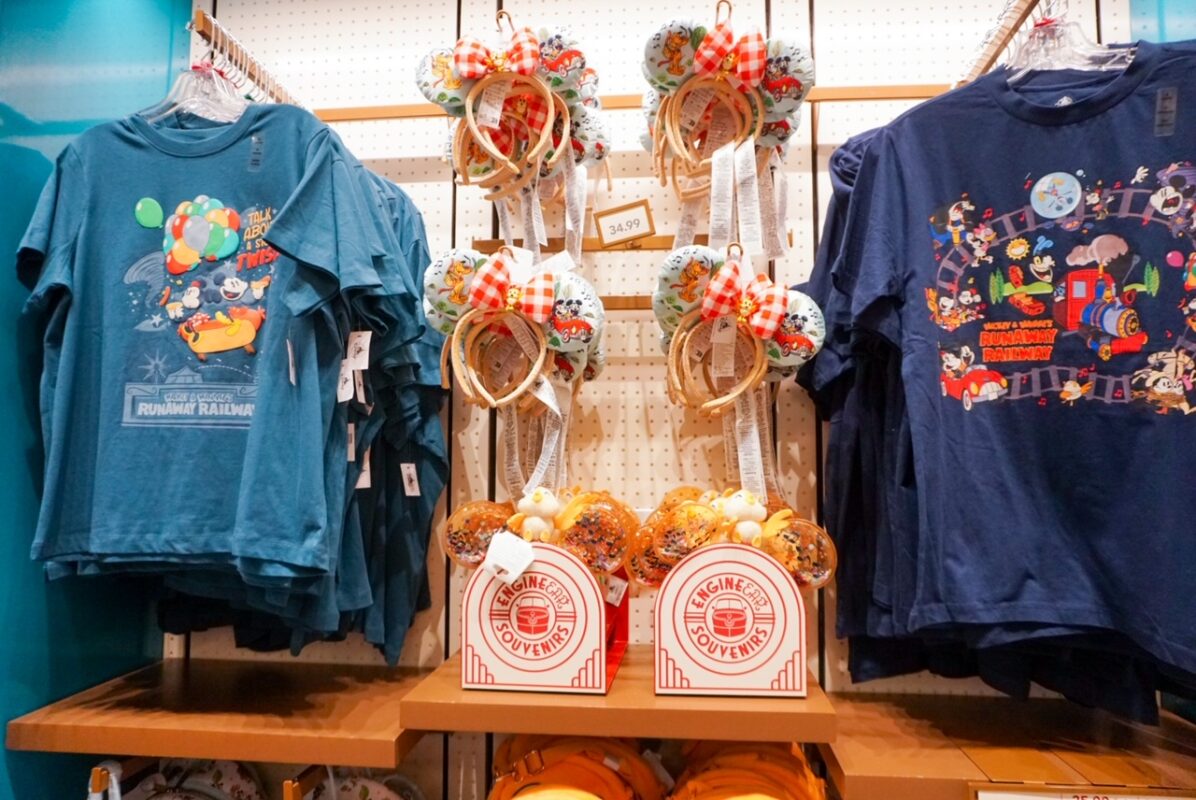 The biggest change of all is how there are so many open green spaces to run, sit and play. The ground is even and sidewalk curbs are non-existent. The benches are thoughtfully placed under shady trees to sit and experience the new land. There are so may new areas of grassy play spaces to run, play, sit or picnic. My favorite place of all is the area called Popcorn Park (next to the popcorn cart) which is a quieter area for those that might need a break from the hustle and bustle of the day. A water refilling station with a water fountain is located right before you enter the green grassy area.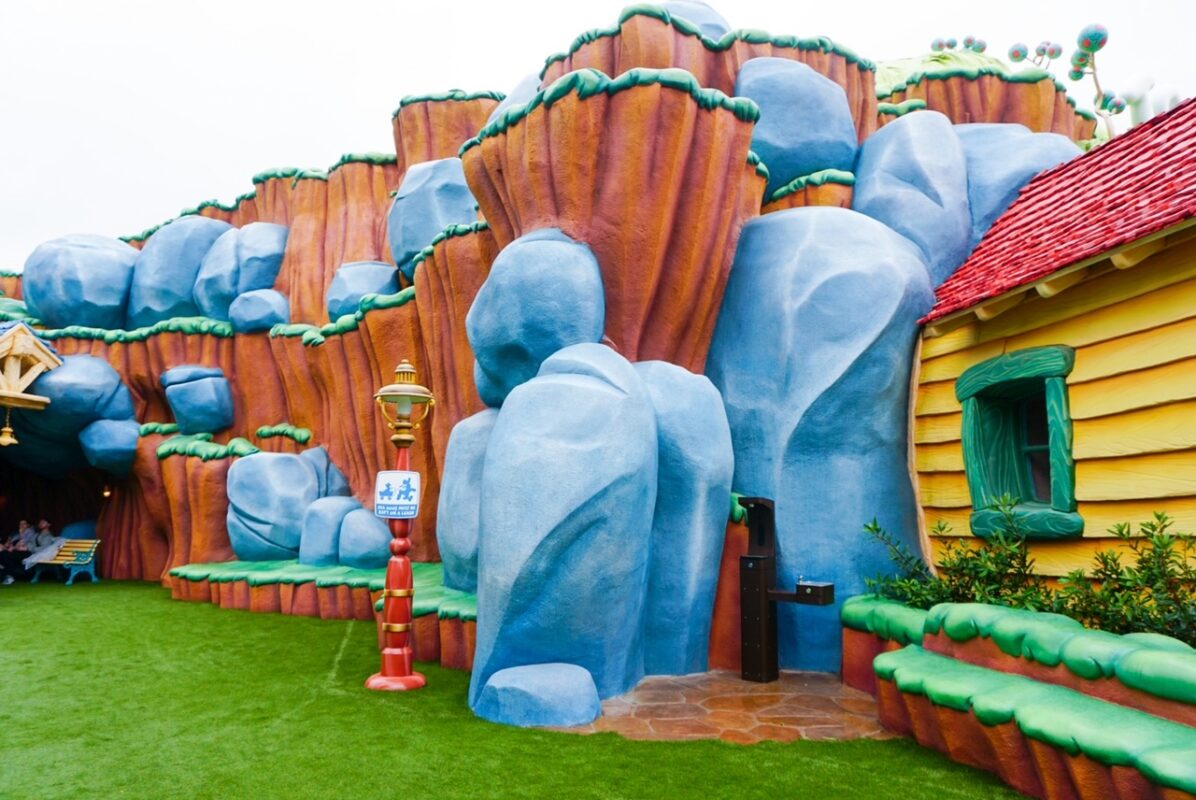 Things We Loved
Goofy's house and How-to-Play Yard– it's more accessible and functional. I loved how much more open it is and how kids of all ages can play.
Popcorn Park– it's quieter. Yes, Chip 'n' Dale's treehouse is missed, but I liked this area that's tucked away in the back for those that need a break.
Green Grassy areas– there were many and it was wonderful to see kids playing, running and even rolling on the grass. I also loved seeing families finding spots to have a little picnic or just relaxing.
Toontown is back– even though anyone can go into Toontown, it's the only place that's meant for kids. There was a void when it closed but it's back and better than ever.
The newly reimagined land is such a great place for kids- with new interactive play experiences, water play area and so many new ways to play. I feel like Disneyland Resort was missing a place just for the tiniest of guests. Although Mickey's Toontown welcomes guests of all ages, it's a wonderful place for kids to be kids. Welcome back Toontown, we've missed you.
Thank you Disneyland and Disney Parks for inviting us for a sneak peek. This may be one of my favorite places at Disneyland!