Hi Friends! I hope everyone is doing well. Just wanted to show you how I used to teach phonics to my students when I taught first grade. It's a modified version of the Sonday System Learning to Read by Arlene Sonday.
Materials Needed:
Sound Cards (Note Cards with the letters of the alphabet, vowels in red.)
White Board
Dry Erase Markers
Pie pan or plate with salt or sand to write sounds.
Paper or Journal (optional)
Stuffed animal or ball for extended activities
Directions:
If your child has never worked with a white board before, they may get excited and want to scribble scrabble all over the place. You can choose to give them a few minutes (with a timer) to scribble and draw on it. But also remind them that after the lesson is over, you will give them time to draw a picture so that they know they will have an opportunity to use the white board freely.
Practicing Sounds
Sing the ABC Song of your choice.
After the song is over, go through sound cards as students say them.
Give your student their whiteboard & dry erase marker. We will be spelling and practicing words.
You will say these vowels and consonant sounds one at a time and students repeat it, then write it, and then repeat it/write it again.

"How to you write ___ "
"What sound does it make?"
"Write it one more time."
"Erase."
Example of sounds to work on: /a/, /e/, /d/, /z/, /i/
Writing Words
After this part of the lesson is over, your student will practice writing words.You can decide how many words they will write. 2-10 words depending on level.

"Get ready for some words."

You'll say these words, student says the word, and student will sound out the word with their fingers then write it on their board.

"How do you spell ____?"
"Say it one more time."
"What does it spell?" Good.
Example of words to spell:

1.met  2. day 3. seed 4. of 5. nap 6. ten  7. map  8. mop

After this part of the lesson is over, you'll have your student read the words twice and during the second time, they will erase the word as they say it.

Get ready for two sentences. or Get ready for a sentence.
Practicing Sentences
Student will also write this sentence—you say it, they repeat it and count how many words, then they write it. As they are trying to write it, repeat the sentence in parts.
Remind your student about sentences- "Every sentence begins with a capital letter and ends with a punctuation mark. A telling sentence ends with a period. An asking sentence ends with a question mark. An excited sentence ends with an exclamation point."

Example of a sentences: I can dash to the hill.
Example:"I can, I can dash, I can dash to, I can dash to the, I can dash to the hill."

Have your student read the sentence. Have them read it again and erase each word as they read it.
Give your student some time to draw whatever they want. Then they will share it with you.
You can download the directions (what I just wrote above) here.
Here are 15 lessons you can do with your student to go with the directions above!
Click here to download the PDF.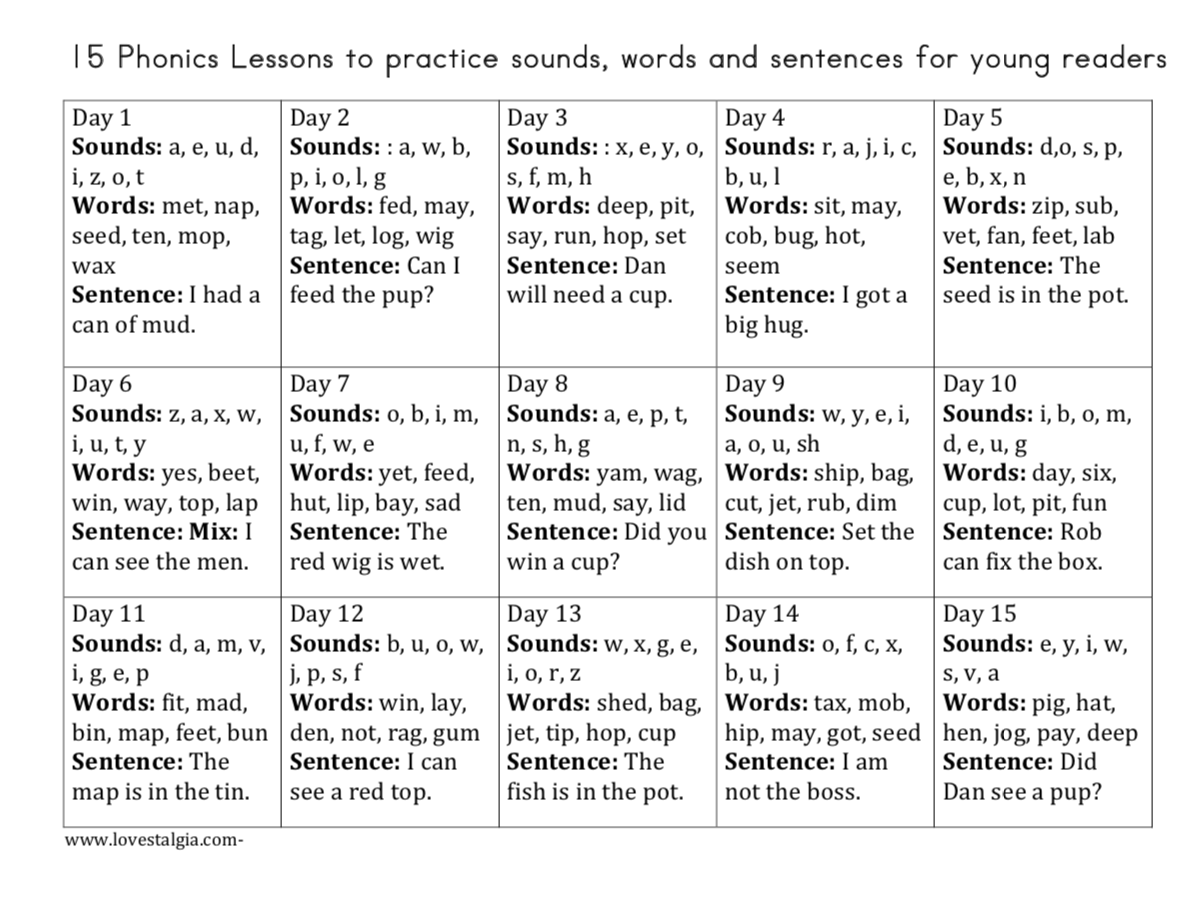 Extend the Activity:
Write the sounds or words in an empty pie pan or tray with salt or sand.
Give them some play dough and have them spell the words or sounds.
In their journal, they can write pick a word or two and write rhyming words.
Pick one of the letters. In their journal, they can write other words that start with the same letter.
Use the words they spelled and have them write sentences.
Draw a picture for the sentences they wrote.
Get a stuffed animal or soft ball and play a game where you toss it to your student, say a word, and ask them to repeat the word and then when they toss it back to you, tell you either the beginning sound, middle sound or ending sound. (Segmenting the phoneme.)
How to make Sound Cards:
You can use notecards to create your sound cards. I made mine when I used to teach first grade. They are laminated and have lasted me all these years! Write them as lower case letters.
Vowels: a, e, i, o, u
Consonants: b, c, d, f, g, h, j, k, l, m, n, p, q, r, s, t, u, v, w, x, y, z
Vowel teams: -ay, ai, ee, ea
You can use add these sounds to learn and practice later.
Digraphs: sh, wh, th, ch
Consonant blends: bl, cl, gl, pl, sl, br, cr, dr, fr, gr, pr, tr, sc, sm, sn, sp, st, sw
I hope this is helpful! Please let me know what else you need!