What comes to mind when you think of a weekend in Vegas? The words "family friendly" is probably NOT one of the first things that come to mind. But I was quite surprised by the amount of family friendly activities that are available behind the glitz and glamour of Sin City. Since A was born, we've been to Vegas three times and each time we go, we always end up having a great time (besides that one time when our car got stolen but that's another story for another time).
Traveling light is not in my vocabulary and when you have a baby or toddler in tow, you tend to take everything and the kitchen sink in case you need it. Vegas is about a 4-5 hour drive from Southern California and our daughter usually naps on the drive there so we tend to drive. We also like having our car in Vegas even though the traffic on the Strip is horrible at times because it gives us the flexibility to do things off the Strip.
ACCOMMODATIONS
The two hotels we have stayed at as a family are Aria and Vdara. Between the two, I personally like Vdara better because the rooms are bigger and because there's no casino, so there's no smoking. They also have a little kitchen or kitchenette, refrigerator, and stove in the rooms. You can request cookware if you want to cook your own food. Some of the rooms even have a washer and dryer! You can also request to have the rooms that face the Bellagio Fountains so you can watch them from your room late at night.
Other properties that are rated family friendly:
Mandalay Bay bigger rooms with an amazing beach and pool area. They have a wave pool and lazy river.
MGM Grand Hotel has one of the most amazing pool areas in Vegas which includes caves, a lazy river, and more. They also have an arcade and is home to the Rainforest Cafe.
ACTIVITIES
We went to Vegas when A was 6 months, 18 months, and 2 years old. My favorite time so far has been our last trip because she seemed to enjoy herself more than the other times when she was younger. At 6 months, we basically came to Vegas to look at Christmas decorations and eat. There wasn't that much for her to do because she was young, I was still breastfeeding, and she had to have her two naps. Our most recent trip at 2 years old was the most fun because she enjoyed everything and we were able to do more together.
Here are some of the activities we did the other two times we went.
1. Mandalay Bay Shark Reef The Shark Reef Aquarium at the Mandalay Bay Hotel is home to over 2,000 animals in over 1.6 million gallons of water. There are about 15 different species of sharks as well as piranhas and crocodiles. It costs $20 per adults, $14 for children 4-12 years old and children 3 and under are free. I took A when she was 18 months old and she did not like it very much. It was too dark inside for her liking, but I loved it. I think if I took her at 2 years old, she would have liked it a lot more.
2. Container Park located in Downtown Las Vegas, this outdoor shopping center has many boutique shops, unique restaurants, and entertainment on the main stage. They also have a big play area in the middle called the Children's Tree House and Play Zone with a treehouse, slide, and plenty of things for kids to play with. We went when it was 106 degrees out so we didn't play in that area because it was too hot, but we did play with some giant lego pieces which were by the stage under the shade. It would be a fun place to come when it is cooler for the kids, but a nice eclectic place to explore for lunch or dinner any time of the year.
3. Siegfried and Roy's Secret Garden and Dolphin Habitat Located at the Mirage Hotel is the famous Siegfried and Roy's Secret Garden and Dolphin Habitat. I took A while hubby had to do some work and we had a great time. It costs $22/ adult, $17/children 4-12 years old and kids 3 and under are free. It is a self-guided tour so you are free to explore at your leisure. We really liked watching the dolphins jump in and out of the water. There's an underground viewing area to watch them as well. We went when it was hot so the animals in the secret garden were lounging around and sleeping, except the white tiger that was hamming it up for guests.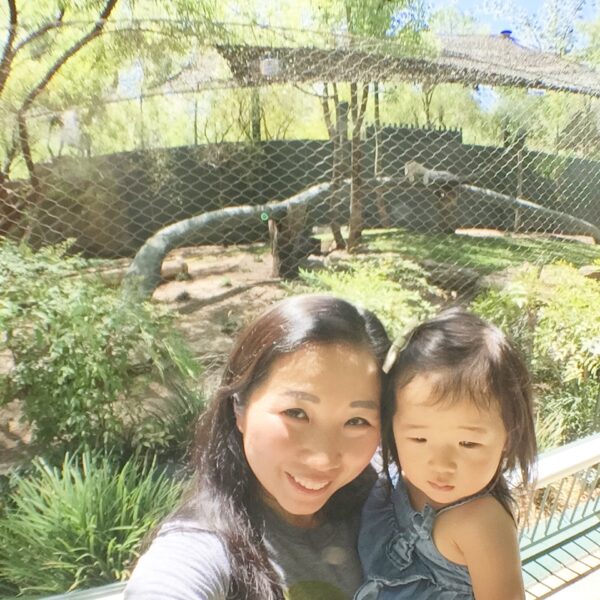 4. Discovery Children's Museum This was probably our favorite place to go with A. It is such an amazing children's museum located about 15 minutes off the strip. It's close to the Las Vegas Premium outlets so you can shop while your husband takes your kids to the museum! We especially loved the art room where we decorated a piece of cardboard to make into our very own puzzle. They even had an area just for younger toddlers with a little crawl space for crawlers. This hands-on museum has something for everyone and is definitely a place we will visit again! I went into more detail about our experience at the museum in this post.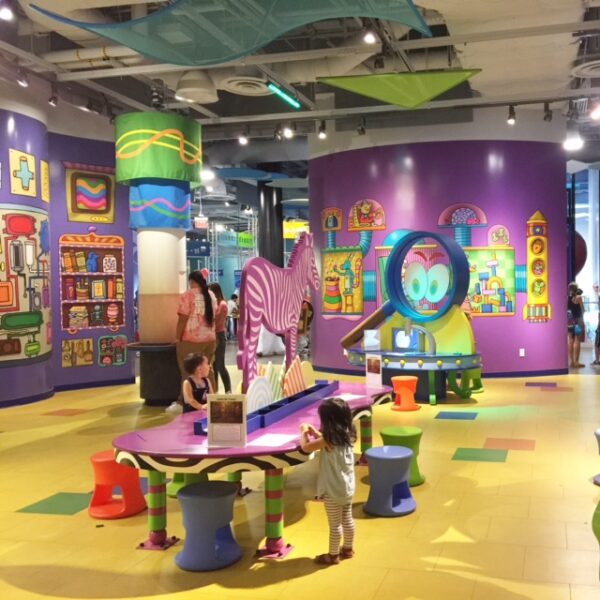 5. Town Square Another outdoor shopping area with a gated children's park for kids to play. It has a splash pad, a maze, treehouse, slides, and more. We didn't get to go here but this is on our list of places to visit the next time we go to Vegas.
FOOD
There are so many restaurants to eat at in Vegas the choices are endless! We always go to at least one buffet. My favorites are Wicked Spoon at the Cosmopolitan, Bacchanal Buffet at Caesar's Palace, or Bellagio Buffet. Some other favorite places to eat are Secret Pizza at the Cosmo, Shake Shack at New York New York, and Lotus of Siam off the Strip. The food is so amazing!
Have you ever been to Vegas as a family? What were some of your favorite things to do there?